URL: https://www.tampabay.com/weather/Forecast-Persistent-cloud-cover-warm-weather-for-Tampa-Bay-weekend_165321877
Forecast: Persistent cloud cover, warm weather for Tampa Bay weekend
By Devin Rodriguez
Published: February 9, 2018 Updated: February 9, 2018 at 07:53 AM
Itíll be an unnaturally warm weekend in Tampa Bay with temperatures sticking around the low 80s, nearly 10 degrees higher than an average weekend in February.
But there will be plenty of cloud cover shielding the bay. Starting Friday afternoon, expect cloudy skies and a 20 percent chance of rain, 10Weather WTSP meteorologist Grant Gilmore said.
Friday night, cloudy skies may start clearing up after midnight and the chance of rain will drop to near zero. The temperature will remain in the low to mid 60s.
This weekend should start with partly cloudy skies and low chance of rain. Saturday will have highs around the low 80s. There will be more sunshine during the day then what one could expect Sunday, due to a front that will begin moving Sunday morning, Gilmore sid.
Saturday night should see temperatures around the 70s with partly cloudy skies, which spells ideal conditions for heading out to the <Santí Yago Knight Parade, an illuminated night parade that starts around 7 p.m.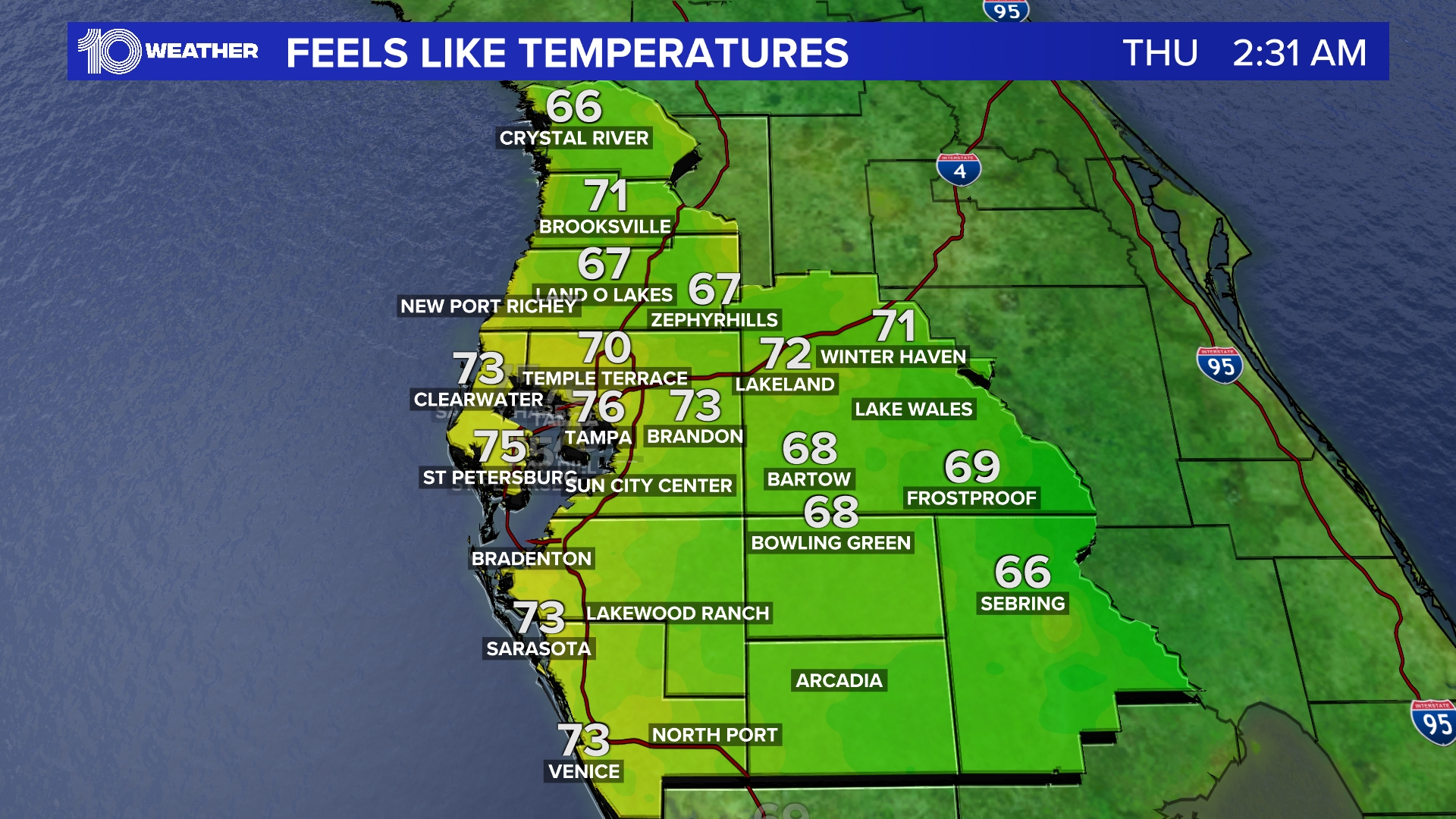 10News WTSP
It will also be an ideal weekend to head out to the Florida State Fair, which will be running until Feb. 17.
On Sunday, a front moving north will raise the chance for a few isolated showers, around 30 percent, which will persist into Monday, Gilmore said.
Warm weather and sunny skies are expected by next week.
MORE WEATHER
DOWNLOAD: Get the tbo Weather App and see where storms are headed
LIVE RADAR: Interactive storm track, hourly outlooks, 10-day forecasts and weather alerts
ALERTS: The latest advisories from the National Weather Service