Eyelet: A fling for every spring
Pop quiz: Name one spring look that's at once flirty, preppy, trendy and classy.
Answer: Eyelet. As in, I love it.
The fabric is demure, while the styles in which it comes this spring are anything but. Think short shorts and peek-a-boo tops, in colors that scream fun.

My classic white eyelet sundress is waiting to make its spring debut. It was a clearance buy several years ago that can go from the office to the country club to a date night dinner without blinking. (Ok, I don't hob nob at country clubs, but you get the drift.)

Now I have my eye on a flirty pair of coral eyelet shorts, above, $14.80 at Forever 21.
I'm also enchanted by a J.Crew preppy eyelet tee with a Peter Pan collar, below, $118, the perfect companion for the patterned bottoms that are all the rage.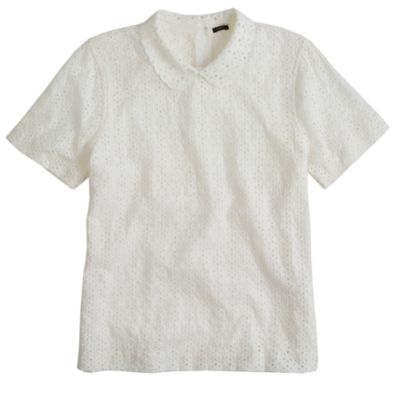 Calling all other eyelet fans: What else do I need to be lusting after?

Deal Diva Letitia