New Year's Eve loungewear looks that say, "I'm comfortable yet FESTIVE."
Who needs labels? Labels are overrated, designed to keep us in society's manufactured moat lines.
"Kids' department" for example. It could mean so many things to so many people! To some, it might mean, "a place for children to shop." For others, it might mean, "maybe I could squeeze into those. It's just one night..."
Great, we agree. That brings me to these pants, which I spotted in the Target "girls' department" (semantics) when shopping with my fiancé and his daughter.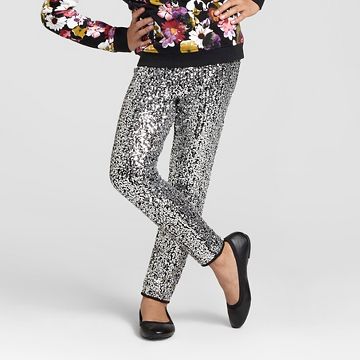 I hurried to them, pretending I was interested in them for the child and not myself, but we all know the truth. They only had size small, which were sized, you know, for a small child. A week later, I stopped into another Target, thinking that if I could find some in the extra-large region and did some lower body stretches, I might be able to make them work. Alas, I found only pants sized for... what do you call them? Kids.
Plan B time. We're having a family-friendly New Year's Eve this year, and I want to sparkle while still maintaining a high quotient of chill. Is that really so much to ask? All I need is a pair of stretchy pants that are covered head to toe in glitter, something that says, "Can you refill this popcorn?" and also "I am festive as the night is long."
These are obviously the "adult" version, because the Sequined Pants Industrial Complex does not want people older than 12 to experience true joy, lest they revolt. I like them. I might pick them up on the way home from work. I wish they were fully sparkly. I feel Seasonal Affective Disorder. Discuss. Target, $22.99.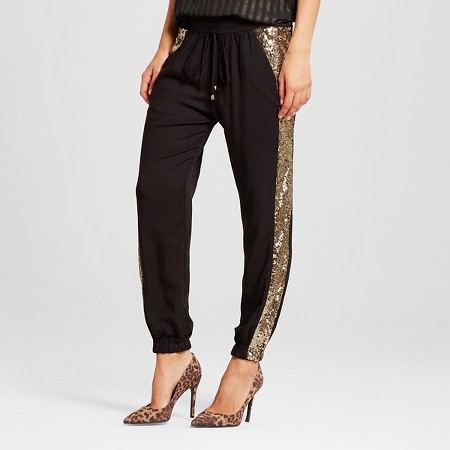 What other options do we have? These also look pretty dang luxurious, and something in which you could swan about your home while carrying a large mug of Glögg on say, a Tuesday. Target, $36.99.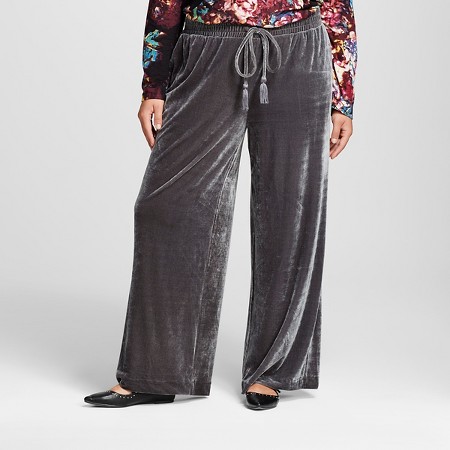 Here's a sweatshirt with some funny business on it. It's a little understated, but so is your binge marathon of The Crown. New York & Company, $34.96.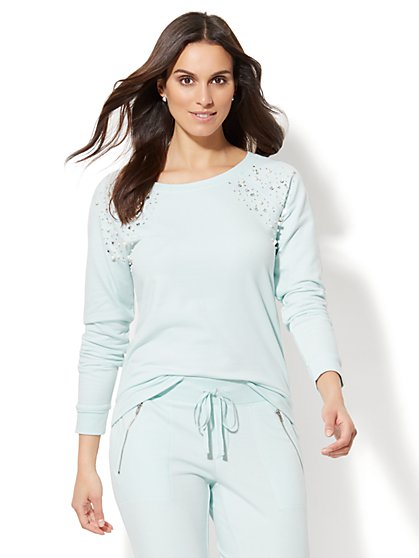 There's this thing they teach us in writing school called, "show, don't tell." It involves describing what's going on using details, actions, feelings and sensory reactions, instead of just telling the reader verbatim what happened. When I teach my inevitable adjunct course, Descriptive Holiday Loungewear 101, I will use this as a teaching tool, along with Ernest Hemingway novels. This is what you should NOT wear on New Year's Eve, unless you want to be arrested by the Obvious Police. Still, if you don't want to listen to me because you're a rebellious college student who is figuring out where she stands on purposeful prose, it's on sale for $12.99 at NY&Co.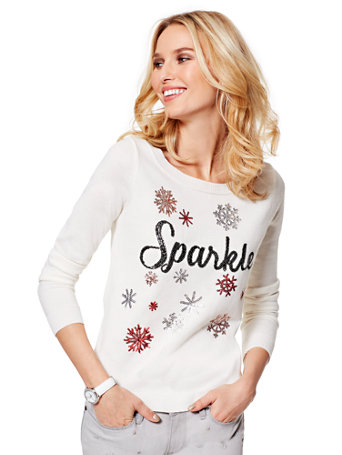 Naturally, Victoria's Secret PINK, reliable home of "got to catch my plane for spring break in Panama City" options, would have some glitter PJs. This sweatshirt has the brand's signature dog, and loving dogs is a great way to start the new year. Support. $49.95.
Honestly, I might just wear this. $27.99, Kohl's.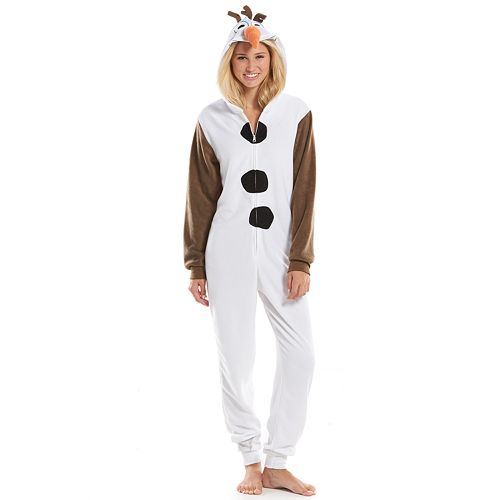 Yep.