I forever sing the praises of Gran Hotel, the gasp-inducing Spanish drama that is hands-down the most addicting show I have ever binged. It's been remade in Italy, Mexico (as El hotel de los secretos) and Egypt (as Grand Hotel but on Netflix as Secret of the Nile), and next up it's the United States — and specifically Florida.
ABC greenlit a pilot for an Eva Longoria produced adaptation set at a Miami Beach hotel. The production filmed last month at Fontainebleau Miami Beach, and Longoria told the South Florida Sun-Sentinel that she was optimistic that the show would get a full season pickup announcement by May.
RELATED: 38 period dramas you can stream right now
If you're unfamiliar with the original and why you absolutely should see it, and wondering how this will differ from Jane the Virgin, also a telenovela drama set in a Miami hotel, let me summarize: The soapy series is often called "the Spanish Downton Abbey" as it follows the upstairs and downstairs folks at a glamorous hotel on the Spanish coast in the early 1900s.  But less #richpeopleproblems, more murder. The cast includes the aristocratic Alarcón family with at least three killers among them and the staff that includes a serial killer, a thief, an aspiring social climber … and a secret Alarcón heir. There's also baby-snatching, affairs galore, constant schemes to take over the hotel and, yeah, lots and lots of murders. The OMG moments just don't quit, and you will binge all three seasons on Netflix faster than you ever thought humanly possible.
RELATED: 12 period dramas to watch if you miss 'Downton Abbey'
Now, onto the Longoria adaptation. Set in present day at the Grand Riviera Hotel, "the last family-owned hotel in Miami Beach" according to Longoria, it follows the Cardenas family who own it and the staff. Longoria and Ben Spector are executive producing, Brian Tanen (Grey's Anatomy, Devious Maids, Ugly Betty) is writing, and Ken Olin (This Is Us, Brothers and Sisters, Alias) is directing. Ramón Campos and Teresa Fernández-Valdés of the original show as well as other Spanish hits Velvet and Cable Girls are also executive producers.
And now onto the cast.
The true stars of the original ensemble are star-crossed lovers Julio (Yon González, Cable Girls), a servant, and Alicia (Amaia Salamanca, Tiempos de guerra, Velvet), an Alarcón, who is engaged to the villainous hotel manager Diego Murquía. It's not entirely clear who is playing the Alicia role in the American production, but it looks to be Denyse Tontz (The Fosters) as Paloma, "the beautiful, intelligent, eternally optimistic and faithful daughter who has dedicated her life to impress and please her fickle father while she takes care of all those around her and is dedicated to learning the family business," according to Deadline. In the original, there are two Alarcón daughters, Alicia and Sofia, and that description could fit either, though it leans more toward Alicia.
What's more clear is who is playing the Julio role: Lincoln Younes (Home and Away, Down Under) as Danny, "a very handsome, charming young man that's recently started working at the hotel" and will fall in love with the owners' daughter, according to Deadline. In the original, Julio starts working at the hotel under a false name to investigate the disappearance of his sister, who worked as a maid at the hotel. He subsequently investigates a dozen other mysteries and carries on a clandestine relationship with Alicia.
RELATED: The 5 best Spanish period dramas on Netflix
So far descriptions of the new adaptation hint that it will focus less on those star-crossed lovers and more on the misdeeds and underhanded dealings of the hotel owners.
Oscar nominee Demián Bichir is starring as Gonzalo Cardenas, owner of the hotel. In the original, the Alarcón patriarch, Don Carlos, had died just before the start of the series, and investigating his death becomes a major plot point for Julio and Alicia. Through flashbacks, it's revealed that Don Carlos (Jordi Bosch) was trying to poison his wife, Teresa, who then had reason to try to kill him in return, as did hotel manager Diego. Descriptions of Gonzalo liken him to Diego, who is by the end the show's greatest villain, so it seems likely Don Carlos and Diego have been merged for the new show. Additionally in the original, Don Carlos had a nephew named Gonzalo (Alfonso Bassave) who schemed to defraud the family of some valuable mining property.
Opposite Gonzalo is his (second) wife, Gigi Cardenas, played by Roselyn Sánchez. The role is ostensibly based on the original's Doña Teresa Aldecoa Alarcón (Adriana Ozores), the ruthless matriarch who will do anything to defend the hotel she owns. Teresa is demanding and the ultimate schemer, who basically has the dirt on everyone and isn't afraid to use it to kill off threats, literally and figuratively. In the new adaptation, Gigi "is the embodiment of Miami glamor" and descriptions say she's loyal to her twin daughters.
MORE TV: The new 'Roseanne' is the political family fight we all need
Those twin daughters are original characters created for this version: Yoli (Justina Adorno) and Carolina (Feliz Ramirez). The twins are described as "gorgeous and self-obsessed" and stepsisters to Paloma. One can only hope they'll have some of the drama of the original show's eldest Alarcón daughter, Sofia, who pretends to be pregnant, steals someone else's baby, commits a murder, commits another unrelated murder and starts an affair with a priest — perfect for confessing her many sins, right? Not to mention that Sofia's husband was the well-meaning but hapless Alfredo, Marques de Vergara, whose title helps keep the family looking good amidst scandal upon scandal.
The Cardenas' other child is a son, Javi, "no-filter playboy who loves to disobey his father." Played by Bryan Craig, this character is obviously based on the original's Javier Alarcón (Eloy Azorín). In the original, Javier is not just a playboy but also basically a witless scoundrel, given to wild drinking, bringing prostitutes into social gatherings and getting himself into binds like a shotgun wedding and facing a firing squad for deserting the army.
MORE REMAKES: 'Greatest American Hero' reboot coming to ABC
Among the staff roles announced so far is Chris Warren as Jason, a kind and friendly waiter whose mother is the manager. That would place him in the original's role of Andrés Cernuda Salinas (Llorenç González), later revealed to be Andrés Alarcón. Before discovering his true parentage in a crazy saga (way after like everyone else in the hotel knows), Andrés is a happy-go-lucky waiter who helps Julio and Alicia in their investigations, listens to his stern madre, Angela, and falls in love with the staff's major schemer/drama causer, Belén.
That role will be played by Anne Winters as Ingrid, "a beautiful hotel employee … humorously candid about not liking her job (or any job, really)" who "spends much of her time trying to find shortcuts to a richer, easier life." In the original, Belén (Marta Larralde) pretty much does exactly that … deviously and full of blackmail. There's the way she tries to blackmail Diego after getting pregnant with his kid (whoops), how she marries Andrés knowing he'll inherit, how she makes a deal with Doña Teresa for her baby, how she throws in with the nephew Gonzalo's fraud scheme to get back at Teresa and Diego, how she tries to frame Andrés for murder … Oh her schemes are too numerous to count.
Always opposite of Belén in the original was Andrés' mother, Doña Angela (Concha Velasco, Cable Girls), the housekeeper. That role in the new series is filled by Wendy Raquel Robinson as Mrs. P, "a lovable, no nonsense staff manager at the hotel." Angela mostly stays out of the fray or advocates doing the right thing at the wrong times, but also notably has a longtime affair with the hotel owner.
MORE REMAKES: '9 to 5' remake coming, with same cast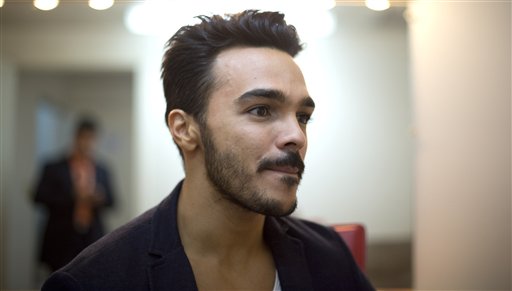 Also in the cast of the adaptation is Shalim Ortiz as Mateo, "the director of guest experiences at the hotel who knows every guest by name." In the original, a character named Mateo mans the front desk and mostly serves to be oblivious to the hotel's many schemers. It seems more likely that this Mateo is based on the original show's maitre d' characters, who mostly serve as foils to Angela. Among them are one who has an opposites-attract relationship with Angela, a serial killer and Diego's arch nemesis from a previous life. So, plenty of fun material there.
Also listed in the cast on IMDB are singer/telenovela actor Jencarlos Canela (also seen in Eva Longoria's Telenovela and as Jesus in Fox's 2016 Easter special The Passion) as El Rey (the original show briefly features King Alfonso XVIII); Darin Ferraro as a waiter; and Lauren O'Quinn as the chef.