Big Media = Big Disappointment
As news spreads today that vice presidential chief of staff I. Lewis "Scooter" Libby is the man in
CIA leak case
investigator Patrick Fitzgerald's
indictment crosshairs
, I'm struck by a curious mix of satisfaction and disappointment.
Satisfaction, because the nation has finally learned what I've always suspected -- that the Bush administration has hyped up the cause for war in Iraq by using the press to spread bogus information and punish anyone who spoke up against them.

(Leaked upon CIA agent Valerie Plame and husband/Bush critic Joe Wilson)
Disappointment, because it wasn't the nation's journalists who finally got to the bottom of this.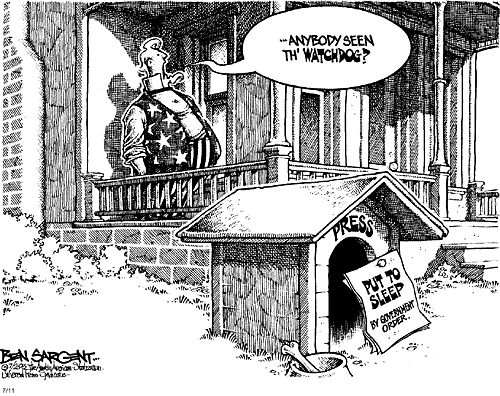 Instead, it took a leak-proof prosecutor with a reputation for hard-nosed, apolitical investigations to drag the truth out of big media bigwigs such as Robert Novak, Tim Russert, Matt Cooper and, yes, Judith Miller. Bamboozled by subjects who sought to hide their true motives behind off-the-record comments, these journalists -- Miller and Novak especially -- will have a lot to answer for, once the dust clears.

(The leak case's Mutt and Jeff -- Miller and Cooper)
What are the lessons so far?
1) Anonymous sources, accepted as the way of the world in Washington journalism, must be curtailed more than they are now.
It is a telling sign that even the stories on the leak investigation, which have slowly detailed the danger of relying too heavily on anonymous sources in political reporting, are filled with facts provided by confidential sources. One recent story last week by the Washington Post's crack reporter Jim VandeHei, citing Fitgerald's focus on Cheney's office, featured no less than 14 separate attributions to anonymous sources without a single on-the-record source (fortunately, St. Petersburg Times editors passed on publishing the story).
Anyone who has worked in journalism long knows sophisticated sources ask to go off-the-record like they're asking for sugar with their coffee. Tales abound that some Washington sources have taken to asking that their comments be attributed to someone else, and arrangements like Miller's agreement to cite Libby anonymously by referencing a job he held years ago, are more common that we'd all hope.
2) As the Washington media's incestuous relationship with its sources is laid bare, it's plain we have a lot of public trust to regain. I don't expect a lot of public sympathy for a federal Shield Law giving journalists a special, First Amendment right to conceal sources from prosecutors, if we can't demonstrate we're acting repsonsibly with the freedoms we already have.
3) Though this may sound technical, journalists must be more specific about the circumstances under which they will protect a sources identity. The core of the journalists' involvement was honoring a pledge to protect sources who had been given blanket promises.
It is time for reporters to make clear how far they will go to protect sources' identities; I suggest journalists agree to protect confidentiality until they face certain jail time on contempt charges, or unless the source lies to them. Some Times reporters already present that kind of conditional identity protection to off-the-record sources, and given federal prosecutors' zeal for taking journalists to court, it seems a realistic step.
What do you think? Are there other lessons to be learned from this ongoing Washington political/legal/journalism drama?