Blogging Revolution or Empty Gimmick? I'll Report, You Decide
It's getting to the point where people can slap words like "blog," "interactive" and "on demand" on just about any media offering to get some attention.
My case in point this time around: an operation called Tampa News Blog.
A friend at Mother Times turned me onto a press release announcing the debut Wednesday of this new outlet, which promised to be "the first known news blog that provides only local news and does so in an interactive blog format" -- a finely-honed definition if ever there was one.
Turned on at noon Wednesday, Tampa News Blog is to be the first of 50 city-specific local news blogs offered by the Orlando-based Blog Spot Network (at least, according to their release). Along with an array of posts featuring news stories culled from all the big local news outlets, there are places for users to place free classified ads selling everything from boats, cars and condos to houses and recreational vehicles.
But the problem with the new Tampa News Blog is that, well, it's um....
Boring.
I mean, the idea of a site which gathers together some of the free content spewed online by the Times, Tribune, Bay News 9, et. al., makes loads of sense. But there's not many stories here and the subject matter -- Tampa Police Debut Rescue Vehicle, RNC Site Visit to Tampa Coming in August -- is hardly the most interesting stuff available.
Seems to me that the mainstream news outlets all have good to middlin' collections of local news online, and quirky blogs such as Sticks of Fire and the Weekly Planet's Blurbex get the super-local, interesting stuff. So why should anybody read Tampa News Blog?
They better figure out an answer to that question, quick. Because people will only be impressed by fancy catch phrases for so long.
When it Rains...Well, You Know...


The media gods decided to make all hell break loose this week, media news-wise, which makes bloggifying it all quite a challenge.
Do I chortle at Dubya's awkward attempt to embarrass Los Angeles Times writer Peter Wallsten for wearing shades during a Presidential press conference, only to find out later that Wallsten is legally blind and has a optic disease which gets worse upon exposure to UV rays, like, sunlight? (Wallsten gets the grace under fire award for shrugging off Bush's faux pas, by saying "I never told him.")
Do I marvel at the way CNN ran several in-depth stories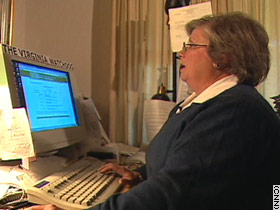 Wednesday on cyber-activist B.J. Ostergren, a Virginia woman who makes the point that too much personal information is available through government records online by posting personal information of celebrities she's discovered online -- including Gov. Jeb Bush's social security number?
Why do I marvel? Because CNN aired incredibly similar profiles of Ostergren and her work in May of 2005, featuring her on its news show Daybreak and Lou Dobbs Tonight. How much press does this woman need for the same protest and stunts?
Do I wonder about the way ABC anchor Bob Woodruff dropped by ABC News headquarters in New York Tuesday -- an appearance one ABC News staffer said left few dry eyes in the building? It came one day after New York magazine published a blistering account of the jockeying for the World News Tonight anchor chair which cast new anchor Charlie Gibson as a tough, ambitious guy who pushed Diane Sawyer and Elizabeth Vargas out of the way to seize the job.
Why do I wonder? Because the New York story also cast Woodruff as a slowly-recovering shell who recently "had a piece of prosthetic skull put in his head" and whose "memory and speech are still shaky." Woodruff's fit look and sure speech seemed an effortless, living rebuttal to a story filled with lots of gossipy, anonymously-sourced material.
Do I puzzle at the way Tribune Co. seems to be unraveling before our eyes -- as the company's second-largest shareholders call for the business to break up its array of TV stations, newspapers and other media outlets to improve the stock price (see the letter here). The New York Times had a compelling piece Wednesday about the Chandler family, former owners of Tribune's Los Angeles Times, and why they oppose current management's efforts to buyback stock and prevent shareholders from forcing a sale as happened to Knight-Ridder.
Seems these days in media, bigger isn't necessarily better.
Finally, do I wonder at the apparent lack of news available to the folks at the Newspaper Association of America's trade journal Fusion, which decided to feature a Q&A with yours truly in its Summer 2006 issue?
At least I have an answer for that one: I'm going to be grateful for the attention and keep my mouth shut. These days, any publicity is great publicity.