The New Face of CNN...
...Is
Anderson Cooper
.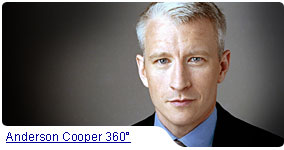 Which is no surprise to those who saw Cooper's zeal to dive into big stories, his reputation-making turn covering Hurricane Katrina and his impish appearances beside old school curmudgeon Aaron Brown on what has always supposed to be the channel's flagship program, the 10 p.m. show NewsNight.
Indeed, one might say the last, belated casualty of Katrina has turned out to be Brown himself.
CNN a few hours ago made official what had been rumored for days, that starting Monday Cooper will helm an expanded, two-hour Anderson Cooper 360 airing at 10 p.m. (perhaps taking advantage of the reruns which start on some competing cable newschannels at 11 p.m.) Wolf Blitzer's made-for-satire Situation Room moves an hour down to 7 p.m., also airing from 4 p.m. to 6 p.m. weekdays.
This game of musical chairs has left the 56-year-old Brown without a seat as the music stops, pushing him out the door after four years at CNN.
Certainly, part of this is the ongoing transition between old and new-school anchors. Brown was always the overly intellectual curmudgeon, looking over his spectacles at the day's news events, while Cooper was the puppydog-eager talent who would get up to his elbows in a story, sometimes before he really knew what it was.
Brown held up newspapers to show off the next day's headlines; Cooper surfed the Internet over his on-set laptop. Brown affected a detached, molasses-slow approach to coverage, Cooper offered lots of stories with equal portions journalistic focus and wry interpretation. In an internal memo, CNN president Jon Klein kissed off Brown with the typical "leaving to spend time with his family" line -- as if forcing him to work with Cooper on NewsNight didn't put the writing on the wall weeks ago.
(Klein later told me that their "tentpole" strategy of programming -- featuring Blitzer and Cooper over five hours of programming each weekday -- "didn't leave that many options open for Aaron; we mutually agreed the best decison was to part ways.")
But this is also about CNN having the smarts to replace a guy who sometimes treated his job like it was a bit of an imposition -- could you imagine Coop missing coverage of the Columbia shuttle disaster to play in a golf tournament? -- with an enthusiastic presence who embodies most everything the new CNN is trying to be. Coop is youthful middle age, journalism smarts, boundless energy and an appropriate level of charm/humor.
There are those who will decry his now-official status as the It Anchor. But Cooper is the guy who writes columns for Details magazine and appears everywhere from Oprah to Late Night with David Letterman. And to get viewers just like him to stop lapping up Greta Van Susteren on Fox, CNN needed to go with their best guy. And at a time when the old guard has already pretty much left the building at NBC, CBS and ABC, it makes sense CNN would go through the same transition now.
Best of all, he's not Ryan Seacrest. Yet.