As Usual, Katherine Harris Gets It BassAckwards
When then-presidential candidate George W. Bush wanted to avoid embarassing questions from a national campaign media out for blood, he would schedule a collection of interviews with local TV stations -- talking over the heads of the national media directly to voters through local anchors who often didn't know enough to ask the right, pointed questions.
Leave it to Katherine Harris to turn that strategy on its head.
Avoiding a state press corps which has savaged her off-balance Senate campaign, Harris ran to Republicans' favorite TV refuge -- Fox News Channel -- to announce she was funneling $10-million of her inheritance money into her ill-advised run for office.
In the same way vice president Dick Cheney ran to Fox News when catcalls about his shooting accident grew too loud, Harris chose to try righting her floundering effort on the conservative-friendly program Hannity and Colmes (curiously, it was an August 2005 appearance on that show, in which she shamelessly flirted with the very married Sean Hannity, that first sparked talk among big name Republican donors that
she might be out of her depth).
Nevermind that a poll released hours before her appearance showed her 20 points behind incumbent Bill Nelson. Or that her campaign lost three important staffers this week: finance director Mike Miller, pollster Ed Goeas and fund-raising consultant Anne Dunsmore. Or that she's not yet fully explained away illegal donations she received from defense contractor Mitchell Wade.
Expect a lot more of this tactic, as Harris plays to her strengths -- blind loyalty from the Republican faithful and a vague attactiveness -- by courting GOP-friendly national media and buying lots of commercials. Here's hoping the good folks in Nelson's Senate district realize that if a bubble-head like this gets elected, everybody loses.
Trapped in a Media Feeding Frenzy
For Stacey Kelley, the last straw was the reporter who wanted to follow her to her doctor's appointment.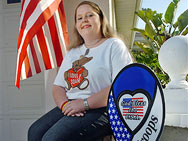 Kelley has been the subject of intense media interest since news broke last week of her fight with a neighborhood association to keep her Support Our Troops sign in her front yard -- despite rules in the development which prohibit it. She's appeared on CNN, Good Morning America and a host of media outlts from Tampa to Iceland to plead her case, which involves a demand that the association allow her sign in tribute to her husband, an Army private serving in Iraq.
But she had to tell the reporter tailing her to the physician's office to knock it off; she'd speak with him later. Now, she says neighbors are upset because a host of local and national media outlets are staking out her home, and the confusion even sparked a brief feud with a local radio station.
Kelley says she agreed to appear on WQYK-FM's Cledus T. Party show, as the jocks there were raising money for her legal bills. But when a producer showed up claiming to be from "the radio station" she went long, not realizing it was someone from rival Skip Mahaffey's US103.5 FM morning show until it was too late.
For a time, she wasn't sure if the folks at WQYK would even release the funds they'd collected on her behalf; she now says that's been resolved. But Kelley stands in the middle of a self-created media storm that has lasted more than a week now -- the price she's paying for using international media attention to put pressure on her local neighborhood association.
"They're all very nice, but you can't just pop out of nowhere and scare me (with questions)," she said, noting that her husband has grown upset that the flood of emails Kelley receives makes their online communication more difficult.
She's also unable to work her job -- Kelley won't say where -- because her media-unsavvy boss doesn't understand all the attention she's been getting.
"He didn't really believe this was all over a sign this small," Kelley said.
I know how he feels.
Pundit Alert!
I gave National Public Radio's audience a piece of my mind Tuesday, filling in at the last minute on Ed Gordon's News and Notes roundtable with Mary Frances Berry, former head of the U.S. commission on Civil Rights and Roland Martin, executive editor of The Chicago Defender. The topics this time: the verdict in the federal trial of Atlanta's former Mayor Bill Campbell, and reaction to the bouncer suspect in the highly publicized murder of a graduate student in New York City.
Pundit Alert, Take 2!

I also showed up on Fairness and Accuracy in Reporting's radio show Counterspin on Monday, talking about my story on the mainstream media's inability to kick off a national dialogue on the larger issues raised by Hurricane Katrina. It's always gratifying to have your work recognized by a national media outlet -- especially the discerning folks at the lefty advocacy group FAIR.