As Wilma Turns to Florida, So Does the TV Anchor Nonsense
What's the only thing worse than knowing a Category 5 hurricane
might be heading for you
?
The realization that, if it does come, Anderson, Shep and Brian are sure to follow.
After years of El Nino fed near-misses and the storms that raked Florida this year and last, you think we'd be used to all the salivating by TV news types when a system looks determined to turn St. Petersburg into an island.
Still, it was a bit unsettling to see how excited CNN's Anderson Cooper got Wednesday at the prospect of Hurricane Wilma slamming the Sunshine State back to the Stone Age.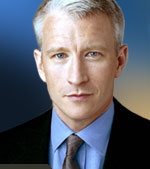 Cooper was broadcasting from New Orleans, where you get the sense he and other anchors are subtly, ashamedly longing for the days when widespread disaster and ineffectual politicians made covering hurricane news a dashing, vital affair.
It didn't take long for TV to turn the life-saving gravitas of Katrina coverage into shameless photo-ops of Matt and Katie helping President Bush build a wall which might end up in some hurricane victim's home someday. Here is where TV news is most dangerous; not when there's real news, but when there isn't.
Consider poor NBC correspondent Michelle Kosinski, a veteran of the search for Natalee Holloway, who let producers talk her into reporting on flooding in New Jersey while sitting in a canoe. That alone should be the punchline, but it turned into high comedy when two guys waded into the shot, proving that Kosinski was sitting in ankle-deep water while telling tales of widespread flooding.
"I wish I had said right off the bat, just so it was totally clear, 'Katie, Matt, we're in a foot of water here, but out further it's waist-deep and the current is strong,'' Kosinski told the New York Observer, courageously blaming her producers for making her do the shot in shallow water.
This is may be our next big media problem: when TV news gets used to disaster. If sending Shep and Anderson out to stand in hurricane force winds isn't enough, what comes next? This time, it's Kosinski in a mildly embarassing example of what happens when sleep-deprived TV crews think a little too far outside the box. But if Wilma really does come to town, I'm less afraid of the havoc she'll bring than what Geraldo Rivera might do to really send a message to that woman at the New York Times.
One consolation: If the TV news types are waiting for a Katrina-level meltdown in the wake of Wilma, then they don't know our Governor Jeb -- the Bush brother with a brain -- very well.

(Can you guess which one is the loser here?)
One look at Jeb spouting evacuation instructions in Spanish and they'll know: They're in a state that knows how to handle its natural disasters. Here's hoping they don't wind up creating any media-fed catastrophes instead.