How to experience 'Hamilton' without seeing the show
Maybe you heard. Hamilton won 11 Tony Awards Sunday night. If you had trouble getting into the show on Broadway before, good luck getting in now. Brainchild and star Lin-Manuel Miranda is reported to be leaving the groundbreaking hip-hop telling of Alexander Hamilton's life in July, and tickets to see him before his tenure ends have skyrockted as high as $10,000. Maybe you're ready to accept that you won't see it in New York for a long time, until a new cast has been swapped in, or until it comes on tour to your town. It does not mean you can't have a fully immersive Hamilton experience RIGHT NOW by cobbling things together on the Internet. Neither of us has seen Hamilton, yet both of us are obsessed to the point of actual concern from our friends and family. Here's how we did it!
Binge listening
STEPHANIE: This is how I learned all musicals in my formative years, because what 17 year old has tickets to anything? In high school, it was kosher to lock yourself in your bedroom for six days at a time and listen to Sondheim. As an adult with responsibilities, it's generally less accepted. That said, I have done most of my Hamilton binge listening in the car, and it helps greatly to have a commute. Thursday morning, for example, I mastered nearly every lyric to Satisfied, and I'm obviously fully prepared for the role on Broadway now. In fact, I'm well on my way to being able to do a dramatic presentation of all of Hamilton, the way I may or may not have once performed the first act of Rent around a campfire after a tiny drop of whiskey, sources say. NOTE: I believe you should binge Hamilton from start to finish. It's very operatic in that nearly everything is sung, and you will not be missing any major chunks of the story by relying on the cast recording. And the story starts to show itself so much more if you listen to the songs in order. About the 10th time, you'll be like, "I finally understand why General Charles Lee had to answer for his words about George Washington, but how Hamilton couldn't step up to the game because of Washington's orders, so Laurens (heart eyes) got up in there and handled the duel and Hamilton was his second and Burr was Lee's second and how OMG IT IS FORESHADOWING, MICHELLE." It doesn't work the same out of order.
MICHELLE: Yes, bingeing musicals. Yes, commute. These are two things I greatly value in life, and never have they been so crucial to my appreciation of a musical than they have been re: Hamilton. I cannot tell you how many times I have had serious thoughts about starting a new life as a rapper, after spitting Lafayette's part in Guns and Ships while pulling into the parking garage at work. Absorbing the nooks and crannies of this show takes time, but it's so worth it. This is DENSE material; it literally has more words per minute than most other popular musicals. I got the Hamilton soundtrack Christmas 2015, and popped the actual CD in my car CD PLAYER (look it up, Gen Z) about a month later. Since then, I don't think I've gone a week without listening to Act 1 or 2 in their entirety. It's how I know both parts to all of the rap battles, trick.
Annotations
STEPHANIE: This was really the lower depths of my Hamilton shame spiral. I discovered that the folks over at Genius had annotated the entire show, with a thumbs up from Lin, and some actual annotations written by Lin himself. Like, really, they go line by line and add historical context or fun facts about the musical inspirations. When I first found the Genius annotations, I was all, "There's definitely no way I will read all of these," and then I proceeded to read all of them. I mean, how can one resist learning that Angelica Schuyler actually DID suggest a sort of harem arrangement between herself, Alex and her sister, HIS WIFE. Genius says: "In one letter, Angelica told Elizabeth that she loved Hamilton 'very much and, if you were as generous as the old Romans, you would lend him to me for a little while.' !!!! DO BEHAVE.
Or, Hamiltome
MICHELLE: Stephanie went into an Internet rabbit hole reading Genius annotations; I bought Hamilton: The Revolution, the official book written by Lin and journalist Jeremy McCarter affectionately dubbed the Hamiltome. It's a gorgeously produced, behind-the-scenes look at how the show was made (McCarter has been shadowing the cast since the show's off-Broadway days), complete with lyrics to every song and annotations from Lin. In short, it is everything. I waited weeks to get it from Amazon, because even when you're not trying to actually get into the Richard Rodgers Theatre, demand for Hamilton enjoyment is high. (Good news: At $25, the book does not require selling your soul to the devil to afford.) It took me a shorter amount of time to read it than it did to get it in the mail, and it has informed my Hamilton experience like nothing else. Miranda's annotations - lyric explanations, playful anecdotes, sources of inspiration - have burrowed into my brain, to the point where I am constantly throwing out trivia about the show and the actual A. Hamilton even if I don't remember why I know it. (Did you know Eliza Hamilton wore a poem Hamilton wrote to her in a locket FOR THE REST OF HER LIFE?! You do now.) Also, it helped me master any lyrics I didn't know. I prided myself on knowing almost every part of My Shot, but "dag I amaze and astonish" eluded me till I saw it in the 'tome.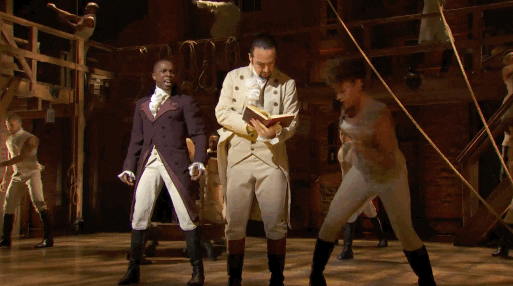 Music trivia
STEPHANIE: It so happens hip-hop is my favorite kind of music, tied with dramatic Broadway melodic singalongs. As such, I have enjoyed trying to spot all the hip-hop references in Hamilton, but I eventually needed a hand. There are several articles that go song by song, but I enjoyed Slate's take. Mobb Deep! Beastie Boys! TRINA! My favorite tidbit was learning that Lin's grindy voice in Helpless was a throwback to those old Ja Rule summertime romance rap jams. It's so perfect. Who wouldn't fall for that? Looking at you, J.Lo.
MICHELLE: Nothing much to add here, Steph, except one of my fave bits of Ham-trivia was also learning about Lin's grindy Helpless voice, and I think about it every time I hear the song, and also about 10 other times a day, because, obsessed.
Reddit/YouTube
MICHELLE: Okay, I might lose you with this one. But for the uninitiated, the website Reddit is a place for fanatics of many kinds. They have "sub Reddits," which are essentially topic pages about … well, anything. There's one for Hamilton (it's dubbed "#YAYHAMLET" because of this tweet Lin has pinned to his Twitter profile for ages, and yeah, I discovered that via Reddit). Reddit can be a bit much at times, to the point where it can make even the most fanatic fanatics seem sane, but the Hamilton one in particular is a good place to find authentic stories from people who have actually seen the show, or are trying to get tickets, or are simply obsessing over it from afar just like you. For a look at the actual production, check out the Hamilton channel on YouTube, where there is a vast treasure trove of profesionally shot show clips, plus interviews with the cast and a collection of #Ham4Ham videos, the outside-the-theater-door shows Lin puts together for those waiting on the streets of New York City to enter the Hamilton lottery. Most of those street shows have been filmed, plus there are another bunch of #Ham4Hams that were online-only, and therefore v. watchable by YOU.
Friendship
STEPHANIE: Find someone with whom you can discuss your Hamilton illness, free of shame. People who are not as woke on Hamilton will humor you for a little bit. But you'll swiftly notice a turning point. You will say something like, "Speaking of current affairs, doesn't this remind you of when Aaron Burr became a Democratic Republican to run against Hamilton's father-in-law? What an opportunist!" And your loved ones will look at you and plead, "Homie, it's time to get help." That is why I pretty much only talk to Michelle now. It keeps things nice and clean, and maintains the rest of my adult relationships at a non-verbal, functional level. Without friends who understand, you will never be satisfied.
MICHELLE: I have found it's very hard to find a person who can't appreciate Hamilton. At the very least, they bob their head along to the sweet, sweet rhythms. But finding someone who knows it on your level is indeed one of life's greatest pleasures. Surround yourself with true Ham friends who won't give you unrelenting side eye when someone at work says "Well, in defense of that point" and you sing "YOUR SENTENCES LEFT ME DEFENSELESS!" Because yeah, that thing where everything reminds you of a lyric in the show is real and borderline terrifying unless you have someone there, holding your hand and spouting "Look around, look around, at how lucky we are to be alive right now!" with you.