Star Wars Week: Attention, last minute Christmas shoppers: These are the 'Star Wars' gifts you're looking for
Editor's note: With the seventh part in the Star Wars saga, The Force Awakens, arriving in theaters this week, we're celebrating all things geeky from a galaxy far, far away here on the Feed. From helping get you up to speed on what you need to know to offering recipes for a Star Wars marathon and joining the debate on which order to watch the movies in, we've got you covered, rebel scum.
If you haven't finished all of your Christmas shopping with just a week to go, shame on you! Just kidding. There's still one person left on my list of the family of 16 (including siblings-in-law and nephews), too. May the Force be with us all, given that retailers expect more shoppers for Super Saturday than for Black Friday.
But the good news is that if you have any nerds on your list, the amount of Star Wars merch out is greater than ever, as movie critic Steve Persall points out in examining whether the movies are driving the merch or the merch is driving the movies. (Don't worry. He liked the movie regardless.)
Herewith: some excellent Star Wars gifts you're looking for.
Remote/app controlled BB-8
This is the creme de la creme of Star Wars merch, causing absurd amounts of excitement when The Force Awakens toys, books and more were released on Force Friday in Semptember. There are two versions, both on my Christmas list: the nice one, an app-controlled ball of joy from Sphero for $150, and then the cheaper remote-controlled but still cute one for $70 from Target.
Millennium Falcon Air Hog
Continuing in the theme of thoroughly awesome remote controlled Star Wars toys is this ACTUAL FLYING MILLENNIUM FALCON from the geniuses at Air Hogs. The full sized one, available at big box stores like Walmart and Target, is $88-$110. There's a smaller version, however, for $25-$50. Hyperdrive not included.
Death Star waffle maker
WHO DOESN'T WANT A TASTE OF THE DARK SIDE FOR BREAKFAST? To quote Sharon Kennedy Wynne, "Leggo my Death Star." This fine piece of kitchen equipment is $40 and on back-order in most places until the first week of January, so you'd have to have a patient giftee (or an out-of-town one who'll visit late). There's also a Darth Vader one. Honorable mention goes to the Darth Vader toaster, which was only just dethroned as the ultimate galactic kitchen appliance.
R2-D2 measuring cups
Full confession: I have these and I rarely use them because it's so adorable and also difficult to make sure the tower of cups is stacked just so to stay together. But you can't deny their appeal. YOU JUST CAN'T. They're $15 right now from ThinkGeek, a highly recommended treasure trove of all things nerdy.
A lightsaber selfie stick
Is there anything more 2015 than this? I think not. It's $20 from ThinkGeek.
This Yoda/yoga mat that also offers some motivation
Clearly this Yoda mat has not seen me, er, try yoga. "YOU WANT THE IMPOSSIBLE!" comes to mind. But maybe your more flexy friend will see this as some motivation. It's $25, and again there's also a Darth Vader version that is surprisingly also motivational ("the Force is strong with this one").
Millennium Falcon sunshade
This is especially useful here in Florida, where cars get about as hot as Tatooine in the summertime (with all the humidity of Dagobah). I have one that recently bit the dust, so if you want to buy me one, I wouldn't complain. It retails for $10-$15, available from Amazon, Hot Topic and ThinkGeek, among others. There are also a handful of less realistic but still damn cool ones at Think Geek, like this Boba Fett one.
Wookiee slippers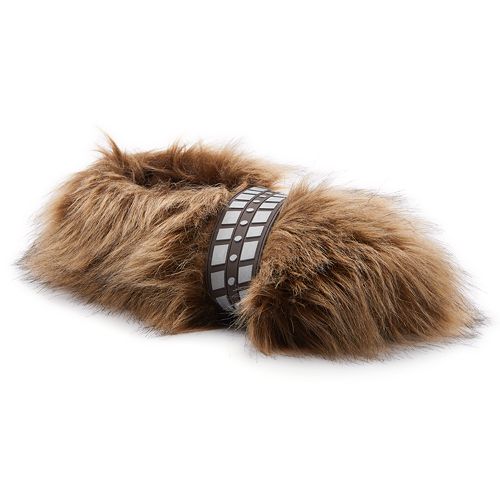 Okay, so these are a lot less useful in Florida, but maybe you're like me and have cold feet and a hatred for cold floors. These come in men's and children's sizes for about $20.
If the nerd in your life is very fashionable, i.e. too fashionable for those Wookiee slippers, do check out Lydia's post about the Star Wars fashion choices. And if all else fails, you can always try to score your dear nerd some Star Wars tickets, though keep in mind that The Force Awakens seems to be heading toward a record-breaking box office weekend at hyperspace speeds.