This week's pop culture news, including 'Bachelor in Paradise' updates and why Miley Cyrus quit smoking marijuana
More news from 'Bachelor in Paradise'
Corinne Olympios has broken her silence and released a statement after allegations of misconduct involving her and contestant DeMario Jackson forced the cancellation of Bachelor in Paradise. It was reported that the two engaged in sexual activity while Olympios was allegedly too drunk to consent.
"I am a victim and have spent the last week trying to make sense of what happened on June 4," Olympios said.
Olympios is reportedly ready to take legal action against Bachelor in Paradise, but her contract could pose as a problem. It states that contestants waive their right to sue producers for "negligence, personal injury (including without limitation, any injuries arising out of the transmission of a sexually transmitted disease or unwelcome/unlawful contact or other interaction among participants)."
Jackson has released his own statement, telling E!News that his character has been assassinated.
Read more: 'Bachel in Paradise' suspended over misconduct, reportedly related to sex and consent
Bow Wow denies publicity stunt

Rapper Bow Wow has denied that he paid fans to chase him through the street for a social media post.
The rapper, real name Shad Moss, was filmed in Charlotte, North Carolina running away from a flock of screaming women.
Many on social media questioned the legitimacy of the video, given the fact this isn't the first time Bow Wow has exaggerated online.
Back in May, Bow Wow was caught posting a photo of a private jet with a caption suggesting it was his ( he flew commercial). And in November he tweeted that he passed on the opportunity to watch the Atlanta Falcons play from a private suite because as he was too tired from filming.
Turns out that the NFL team had a bye week when he posted the now-deleted tweet.
This time he is sticking to his story.
TMZ caught up with Bow Wow to ask him about the claims.
"Our tour buses was parked, like, not really where they're supposed to be," he said. "I remember just being at the top of the loading dock with Jermaine, and Jermaine is like, 'Yo, you cannot go out there.' I'm like, 'Look, I'm not about to stand here in the loading dock all day. We gotta get to the bus.' So I told him, I said, 'Well, I'm going to try to run around the crowd,' and he's like 'Good luck.'"
Whatever you say Bow Wow.
Miley Cyrus goes undercover with Jimmy Fallon

A simple wig disguise might have worked on Hannah Montana, but there's no fooling a crowded New York City subway station.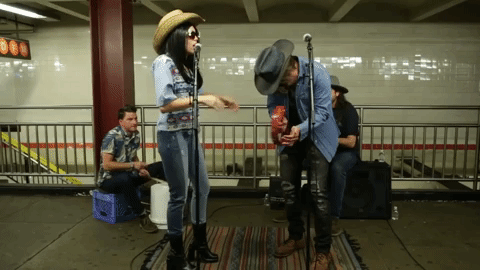 Miley Cyrus and Jimmy Fallon went undercover during Wednesday's episode of The Tonight Show to perform Dolly Parton's Jolene. Despite being dressed in cowboy hats and shades, Cyrus' distinct voice quickly drew a crowd. The pair then took off their costumes and performed Party in the USA. Everyone was late to work.
During Wednesday's episode, Cyrus also talked to Fallon about giving up marijuana.
"It's like no one's ever died from weed, but no one's ever smoked as much as I did," Cyrus said.
Cyrus went on to say that she's extremely passionate about her upcoming album, which was another reason she quit smoking.
"And this record at this moment is the most important album that I've ever made. So I wanted to make sure that I was super clear in the way I'm talking," she said.
Speaking of disguises
Tom Felton, 29, best known for playing Draco Malfoy in the Harry Potter films, took to the streets in Prague this week for a bit of street performing. Felton stood in the center of Old Town to sing and play the guitar, and was hilariously ... ignored. He wasn't wearing a cloak of invisibility, but he might as well have been. Felton posted a video on Instagram of people unknowingly walking right past him.
The actor is currently filming his upcoming movie, Ophelia, in Prague.
Yoko Ono gets writing credit for 'Imagine'

Yoko Ono will be added as a songwriter to John Lennon's Imagine.
"Tonight, it is my distinct honor to correct the record some 48 years later," David Israelite, president and CEO of the National Music Publishers' Association, said Wednesday night in New York.
During the event, a 1980 BBC interview with Lennon was shown, where Lennon said Ono deserved a writing credit on the song.
"Actually that should be credited as a Lennon-Ono song because a lot of it-the lyric and the concept-came from Yoko. But those days I was a bit more selfish, a bit more macho, and I sort of omitted to mention her contribution. But it was right out of Grapefruit, her book. There's a whole pile of pieces about "Imagine this" and "Imagine that." ... But if it had been Bowie, I would have put "Lennon-Bowie," you see. If it had been a male, you know.... Harry Nilsson-"Old Dirt Road," it's "Lennon-Nilsson." But when we did ["Imagine"] I just put "Lennon" because, you know, she's just the wife and you don't put her name on, right?
According to Variety, Israelite said the process to add Ono's credit to the song is "under way" but has not been confirmed.
Israelite also told Variety that there could be some opposition because the song enters public domain 70 years after the death of its last creator.
In other news...
Demi Moore lost her two front teeth to stress. See her toothless grin here.
Arrested: Youtube Star Austin Jones faces two charges of production of child pornography. Click for more.
Celeb feuds: Katy Perry switcher her Swish Swish lyrics after saying she was ready to end her feud with Taylor Swift. Here are the new lyrics.