Charlie Puth did his best to sound genuine. Maybe he actually was.
"It's pretty crazy that just four years ago, I was only producing music for other artists. I was only songwriting," he told 9,000 fans at Tampa's MidFlorida Credit Union Amphitheatre Friday night. "Now this, four years later, is just…" He shrugged and shook his head.
Hard to believe there's a feeling Puth, 26, can't put into words. The studio rat turned record-breaking pop star radiates a certain type of big 2018 energy, prowling around the stage with the cockiness of a '80s-movie bad-guy boyfriend.
But as an artist, he's building something deeper. Puth is a funk-pop classicist, the sort of guy who picks Michael Jackson's PYT for a walk-on song, and spends half the show spritzing around on a vintage Roland SH-101 keytar. He would slay, absolutely slay, in a piano bar, even if the hooks he writes are now much too big for such confines.
The best of those hooks hail from his slick new LP Voicenotes. As on the album, Puth opened with the choppy earworm The Way I Am, but then skipped ahead to standout middle cut Slow It Down, a Doobies-go-Daft Punk slice of futuristic blue-eyed soul.
Puth's melodies and spirit may have been in the ballpark of Michael McDonald on Empty Cups or Michael Bolton on Patient, but his voice isn't a leonine beast like theirs. Instead, he possesses a pretty spot-on falsetto, all sensitive and glisteny on We Don't Talk Anymore and Change, a song he dedicated to students down in Parkland. He milked it a bit much on  Patient's lengthy coda and the stiff blues of Suffer, but it was hard to imagine a better vocal fit for the dizzying spires of Boy.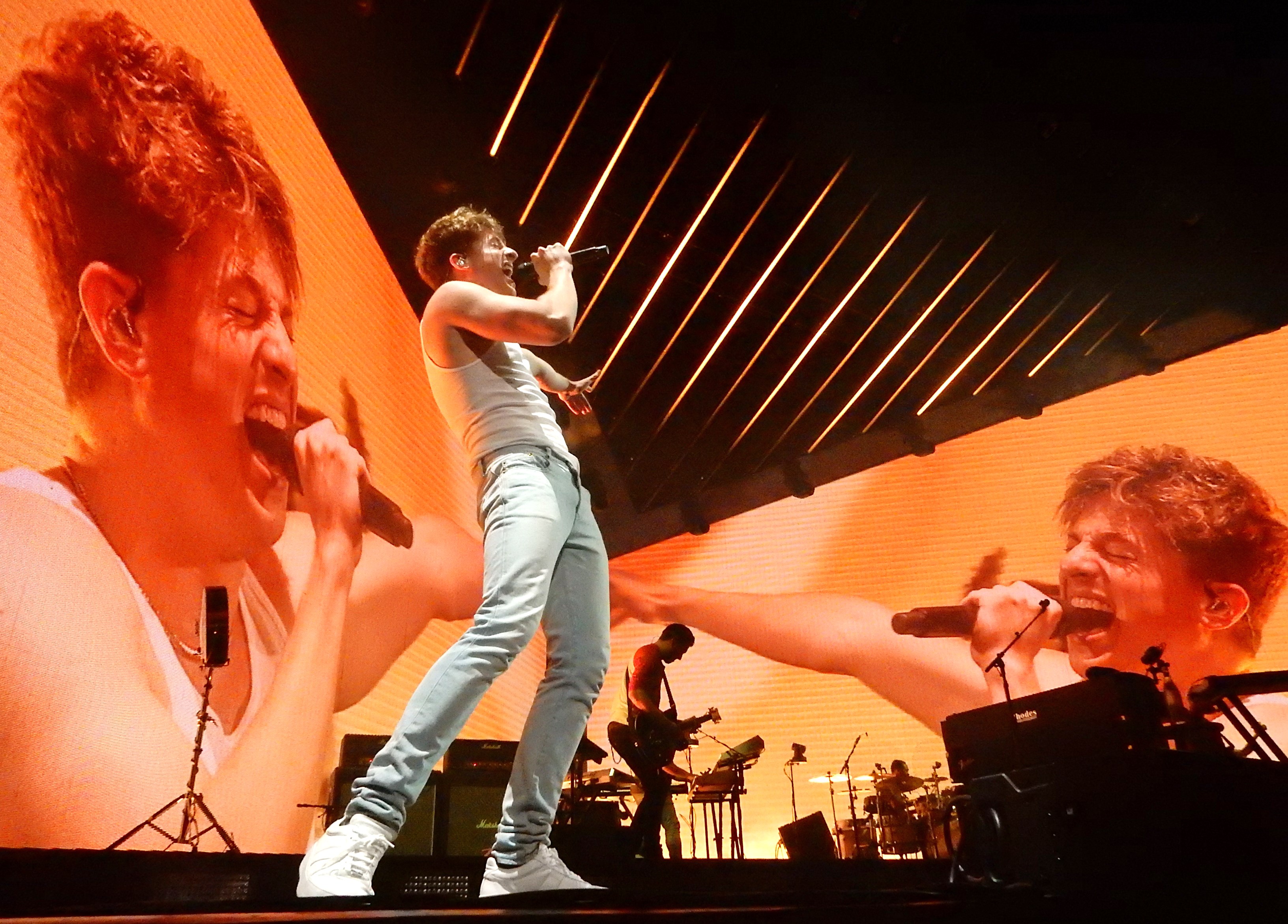 Even pop perfectionists like to mix it up now and then, and so Puth noodled out a funky little keytar jam on LA Girls and interpolated Elvis Presley's Can't Help Falling In Love before Somebody told Me. After that song's undeniable vocal refrains, his breakdown drifted into neighborhood of Phil Collins' Easy Lover, and honestly, he might've knocked the show up a notch if he'd gone there.
The moments that best showed Puth's rapid evolution came when he'd toss off an old hit, like the solo-ish Marvin Gaye or simplistic One Call Away, and follow it with a song from Voicenotes, like the plucka-da-bass funk of Attention. The old stuff got fans singing; the new stuff got them dancing. That's progress, the type that suggests Puth might keep making interesting music for a long time to come.
Opening the show was Oscar-nominated actress and singer Hailee Steinfeld, anchor and star of what's secretly a Top 3 Coen Brothers movie (True Grit) and what will, come December, be the No. 1 movie in America (Bumblebee).
Her Hollywood life popped up at least twice, with her Fifty Shades Freed soundtrack contribution Capital Letters and her tender, finger-snappy Pitch Perfect 2 song Flashlight, which drew shrieks of recognition from the audience.
Despite the best efforts of her dance squad, the spark and spunk Steinfeld, 21, exudes from the screen didn't fully pop from the stage. But as she said, "Music had always been part of my plan, my dream." And her actual singles do have some summery, trop-pop stickiness, particularly propulsive opener Love Myself and rumbling, lady-positive Most Girls. Her new, unreleased song Used to This, about "having fallen in love for the very first time" — presumably with rumored boyfriend Niall Horan — had a fetchingly futuristic chamber-pop vibe, though you probably won't hear it pumping out of Bumblebee's speakers come Christmas.
Amphitheaters might not quite be Puth and Steinfeld's thing just yet. After some nasty late-afternoon rain, the venue announced anyone with a lawn ticket would get an automatic upgrade to covered seating, but even then, there were small swatches of empty blue seats visible beneath the shed.
But Puth is working his way to this level. You can already picture him performing for older festival crowds well into his 70s, no doubt still closing with See You Again, one of this decade's most unkillable sing-alongs.
But that'll be then and this is right now, and right now Puth is young and hungry and striking while he can. At one point he peeled off his tank top and tossed it into the crowd. It was hot and so is he, at least to the fans who grasped at the shirt down front. It's pretty crazy, all right, that he "was making YouTube videos in 2010," he said, "and this is where we're at now."
Even crazier? There's still room for Puth to grow from here. You probably don't want to bet against him.
— Jay Cridlin