Florida is the most important state in America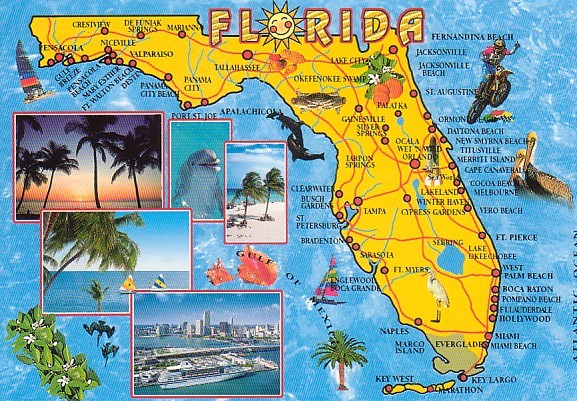 10 reasons that's true, according to the Tampa Bay Times' Adam Smith and Politico's Charles Mahtesian in today's paper:
1. This is a mega state so diverse that it mirrors the nation's moods, sentiments and demographics. Florida is America — today's America and tomorrow's. "It's become a nation-state, just as New York and California were at their peak and Ohio was a century ago," said historian Richard Norton Smith, a venerable chronicler of American politics.
2. "If you look at all the constituencies that are either dynamic or emerging, they're all there," said Ralph Reed, the Faith and Freedom Coalition chair who grew up in Miami in the 1970s and whose parents grew up there decades earlier. "Florida looks today, in political, demographic, political and economic terms, like what the rest of the country is likely to look like in 40 to 50 years."
3. Bob Graham, Florida's Democratic governor from 1979 to 1987 and U.S. senator from 1987 to 2005, said that gives Florida an elevated obligation. "We have a responsibility in how we handle some of these issues," Graham said. "We will either be a positive model for how we handle age and international population or we can set a very bad example and lead to a period of turmoil."
4. We are America's fourth-biggest state and stalking New York as No. 3. But California and New York are reliably blue-voting states, and Texas still solidly red. Florida remains the consistent, supersized nail-biter in presidential elections and no Republican since Calvin Coolidge has won the White House without winning Florida.
5. It's easy to lose sight of Florida's sheer size. Two time zones, 10 TV markets, 58,000 square miles, 19 million people. Driving from Key West to Pensacola is akin to driving from Washington, D.C., to Madison, Wis. Tampa Bay, the top battleground region in the biggest battleground state, has roughly the same number of voters as Colorado or Arizona. The West Palm Beach media market — third-largest in Florida — has roughly the same number of voters as Nevada.
6. "Florida is complicated as hell," said former Republican Gov. Bob Martinez of Tampa. "And that's part of what makes it so fun."
7. Name a pressing issue facing the country and Florida is ground zero.
8. It would be "disastrous for Florida," Graham said, if that retirement security diminishes, or entitlement expenses are shifted to the states.
9. "... if you're a global player, which most people are trying to become, Florida is positioned better than any other state in America: 15 seaports; Miami is the second-biggest financial center in America, second to New York City, and if you travel in Latin America, it's more important than New York City; people already want to move here because they like our weather and our beaches; and when you talk to shippers they know they have to do business on the East Coast, and the best place to do business is absolutely Florida because it's closest to the Panama Canal," Gov. Rick Scott said.
10. Win over Florida, win over the nation.