• What would that Florida heat be without the humidity? It's about to get unseasonably warm this month with highs hitting the low 80s and the overnight lots dipping into the 70s, according to 10Weather WTSP.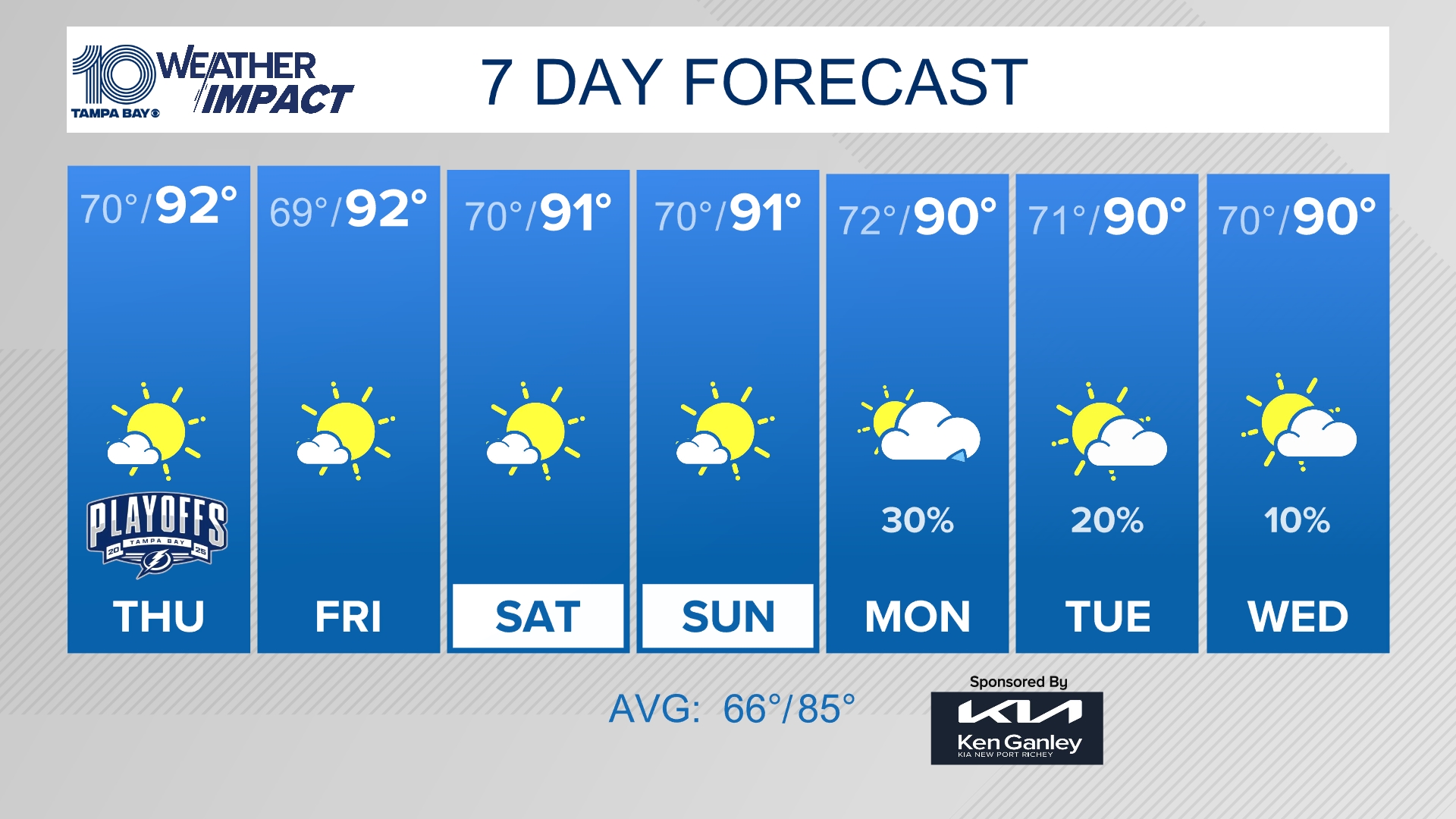 10News WTSP
• As you head out for your morning commute, check out our live blog for the latest traffic updates and road conditions across Tampa Bay.
• Here are the top things to do today in Tampa Bay including a Mardi Gras parade today in Dunedin to celebrate Fat Tuesday, also Gordon Lightfoot on stage and it's Senior Day at the Florida State Fair
• You're out of time. Valentine's Day is Wednesday, and that means your odds of scoring a reservation at a popular restaurant are roughly equal to the odds of you opening your own restaurant in time for dinner. Our food editor shows how you can still have a memorable, romantic meal for Valentine's Day.
• Speaking of romance, wouldn't it be nice if everyone had a spouse who could loan them $1.5 million to run for public office? Well Frank White does. White's a Republican state representative from Pensacola running for Florida Attorney General, and thanks to his wife, he's got money to keep things competitive. But there could be some problems with this sweetheart transaction, William March writes.
• Tanja Vidovic, the former firefighter who won a lawsuit against the City of Tampa for discrimination and retaliation, will make her first public appearance Tuesday at a forum on sexual harassment and discrimination in the workplace. The event was organized by U.S. Rep. Kathy Castor, D-Tampa, is aimed at both employers and employees of small businesses.
It starts at 10 a.m. in Student Services Building at the Hillsborough Community College Dale Mabry Campus. Read the five things you need to know about alleged discrimination at Tampa Fire Rescue and follow Caitlin Johnston at @cljohnst for updates.
• Columnist John Romano takes the Florida House to task for passing an education bill (HB 7055) backed by zero evidence. Why won't Speaker Richard Corcoran the bill is a back-door attempt to expand the voucher program?
• As teens, David Sheren and Georgia Miller were convicted in the brutal death of an 18-year-old girl with cerebral palsy. They were sentenced to life, but recently re-sentenced in light of Supreme Court rulings on penalties for juvenile crime. Sheren, now 41, was the latest to learn his fate. He could be out of prison in less than two years.
• A pattern of leaving teens in foster care unsupervised has already cost a local child welfare agency a $9.2 million contract. But that may just be the beginning of the fallout. The Florida Department of Children and Families on Monday released details of a plan for an intensive review of Hillsborough County's foster care system. DCF has assembled a team of nine child welfare experts to identify "systemic issues," including why the county removes more children than any other and how it cares for difficult-to-place older teens. Christopher O'Donnell has the details.
• Despite the state Legislature's hopes, Florida isn't the "cyber" state just yet. A newly released survey of industry professionals about the state's digital security landscape found that while the Sunshine State lags other states in overall cybersecurity preparedness, it's slowly improving as well as excelling when it comes to educational programs. Malena Carollo has the details.
• The Lightning knew Monday would be a tough matchup, with the Maple Leafs going into their game red hot, winners of eight of their previous 10. And it was also going to be a telling matchup, the Lightning facing a potential playoff opponent two weeks before the trade deadline. And if the Lightning's 4-3 loss is any indication, Toronto could be a thorn in its side by the end of the season. Tampa Bay erased a three-goal deficit before falling in a very entertaining game.
• For the latest legislative coverage from Tallahassee, keep checking The Buzz, which is updated throughout the day by the reporters of the Times/Herald Tallahassee Bureau.