Catching you up on overnight happenings, and what you need to know today.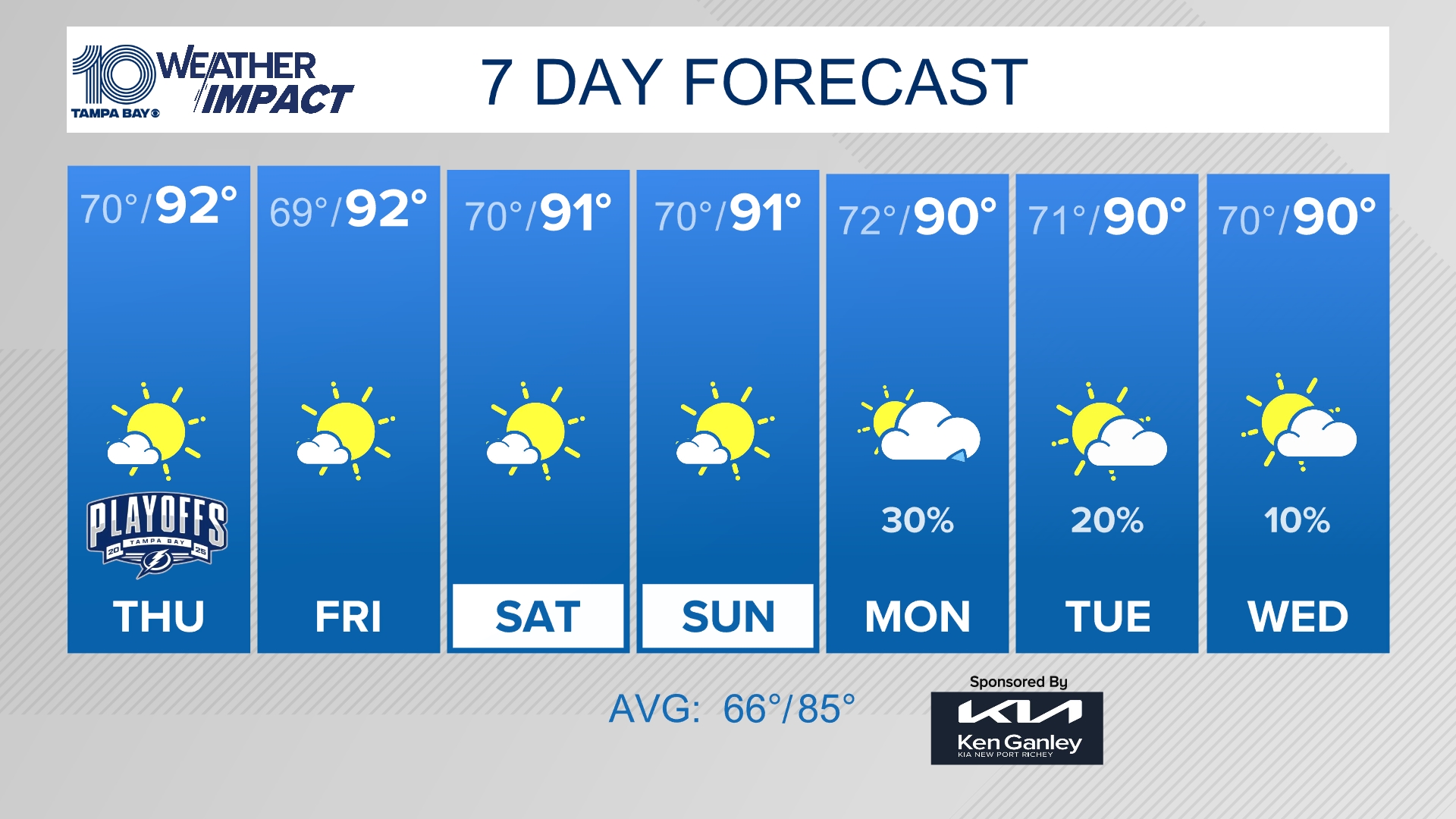 10News WTSP
• Today could bring rain as a cold front moves in from the north, according to 10Weather WTSP. Friday and Saturday will likely bring more rain as temperatures continue to drop, bottoming out on Sunday with highs in the low 60s.
• As you head out for your morning commute, check out our live blog for the latest traffic updates and road conditions across Tampa Bay.
• A judge is set to decide today if the parents of Howell Emanuel Donaldson III, who faces four counts of murder in the Seminole Heights slayings, must answer investigators' questions about their son. Follow Dan Sullivan at @TimesDan for live updates from the 10 a.m. hearing.
• The St. Petersburg City Council is set to meet at 8:30 a.m. to vote on whether to raise reclaimed water rates. As Charlie Frago reports, it looks like the council has the votes to approve some kind of rate hike. Follow him at @CharlieFrago for updates from today's meeting.
• The case of a firefighter suing the City of Tampa for discrimination is now in the hands of a federal jury. The seven-person jury, comprised of four women and three men, started deliberating Tuesday after listened to 13 days of testimony about Tanja Vidovic's experiences at Tampa Fire Rescue. They will reconvene at 9 a.m. Follow Caitlin Johnston at @cljohnst for more from the trial.
• Pointing a laser in the sky at an aircraft is dangerous — and illegal. This week, the Pasco County Sheriff's Office said, its own pilots dealt with such an incident by landing their helicopter and finding the man accused of blinding them with a small laser. Read the tale of how they did it by TyLisa Johnson.
• New Florida State coach Willie Taggart established himself as one of the game's rising stars through his ability to turn three programs around (Western Kentucky, USF and Oregon). Whether he succeeds at his fourth stop hinges on how he attacks a different kind of challenge: Revitalizing a powerhouse program that has started to grow stale. Matt Baker explains what FSU fans can expect from their new coach.
• Hillsborough County commissioners called out two prominent local business organizations Wednesday, citing a lack of diversity among their leadership. The Tampa Bay Partnership, a coalition of business leaders, needs more African-American representation, said Commissioner Les Miller, the board's lone black member. The organization's council of governors, he pointed out, has one black member out of 22. Steve Contorno has the details.
• While the last two weeks of the year — around Christmas and New Year's — are by far the busiest at Florida's attractions and theme parks, the weeks before bring a noticeable dip in crowds. And this year, parks have seen an astonishing rise in the wow factor, aimed at bringing the whole family, grandparents included, out to see lights, fireworks and kids having a blast. Check out our guide here on what you can find if you want a very merry Florida theme park Christmas.
• It's time to plan your weekend! Our writers and critics have put out their top picks on our Weekend Planner page, including concerts by 98 Degrees and David Crosby, Broadway's Book of Mormon, the Harlem Globetrotters and some indie markets for shopping.