Here's what's new this morning.
IN NEIL GORSUCH, AN ECHO OF SCALIA IN PHILOSOPHY AND STYLE
President Donald Trump, in nominating Neil Gorsuch to the Supreme Court, has chosen a judge who not only admires the justice he would replace but also in many ways resembles him. He shares Scalia's legal philosophy, talent for vivid writing and love of the outdoors. His mother was a high-level official in the Reagan administration. Gorsuch, 49, spent part of his childhood in Washington and practiced law here for a decade, at a prominent law firm and in the Justice Department. And, like all of the current justices, he is a product of the Ivy League, having attended college at Columbia and law school at Harvard. Learn more about him in this New York Times profile.
TAMPA CITY HALL TO BEGIN OFFERING EMPLOYEES PAID PARENTAL LEAVE
Tampa City Hall will begin providing paid parental leave to full-time employees after a baby's birth or the placement of a child for adoption or foster care with the employee, Mayor Bob Buckhorn announced Wednesday. The new policy will provide eight weeks of paid leave to primary caregivers. That's the person who has primary responsibility for the care of the new addition to the family and is typically also recovering from childbirth herself.
FED IS LIKELY TO LEAVE RATES ALONE AT A TIME OF UNCERTAINTY
At 2 p.m., the Federal Reserve will likely end its latest policy meeting with an announcement that it's keeping its benchmark rate unchanged at a time of steady economic gains but also heightened uncertainty surrounding the new Trump administration. In its statement, the Fed will likely acknowledge that the economy has continued to move toward the central bank's dual goals of full employment and annual inflation of roughly a moderate 2 percent.
HILLSBOROUGH PLANNERS TAKE TO STREETS TO STUDY PEDESTRIAN SAFETY
[JAMES BORCHUCK | Times]
Danielle Joyce, director of traffic services for the engineering firm GPI, was one of about 60 people who met Tuesday at the Town 'N Country Regional Public Library in northwest Hillsborough County. They split into four smaller groups for a Hillsborough County workshop on improving bike and pedestrian safety. The event was part of Vision Zero, an international initiative dedicated to designing safer roads. The group says that how governments build streets is just as much to blame for pedestrians' deaths as the decisions of the pedestrians themselves.
LARGO MAY SUBSIDIZE ART TO ATTRACT MORE MURALS
Public art is in, and Largo officials want more of it in their city. To catalyze the process, city commissioners are considering a grant program that would allocate city funds for wall murals and artwork to go on traffic control boxes, the metal structures next to traffic lights.
HERNANDO SCHOOLS WILL NOT SEEK NEW FUNDING FOR STARFISH
The Hernando County School District will not seek additional state funding for Project StarFISH — a program designed to address underserved students with mental illnesses — because of forecasts of a tight state budget and incomplete data about its effectiveness.
LIVE COVERAGE: NATIONAL SIGNING DAY 2017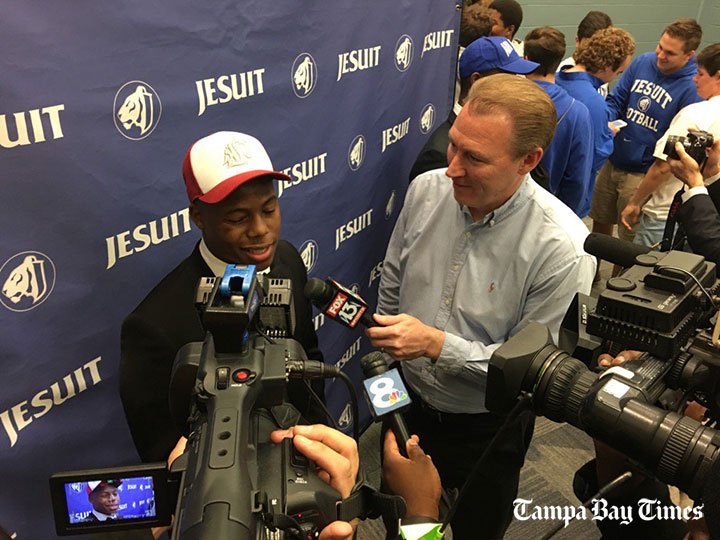 [Times staff]
Whether you follow the Florida State Seminoles, Florida Gators, USF Bulls or one of the many high schools around the Tampa Bay area, the Tampa Bay Times is bringing you all the news from signing ceremonies today, the day high school seniors can officially commit to colleges.
REVIEW: TAMPA WRITER KAREN BROWN'S 'CLAIRVOYANTS' A COMPLEX, CHILLING GHOST STORY
Martha isn't afraid of ghosts. Not that she doesn't see them. The narrator of Tampa writer Karen Brown's new novel, The Clairvoyants, sees the spirits of the dead so often it's become routine. Many of them are the shades of people she hardly knows, distinguishable from the living only by their expressions of longing and confusion. Read Colette Bancroft's review here.
REVIEW: 'SANTA CLARITA DIET' IS THE ZOMBIE SHOW WE NEED RIGHT NOW
[Netflix]
Does the world need another zombie show? No. Does the world need a zombie show starring Drew Barrymore as an undead real estate agent who devours humans in between showing suburban ranch homes? Yes. Read Chelsea Tatham's review of Santa Clarita Diet.