The drier air that has filtered into the Tampa Bay area will give way to the return of some wet weather this weekend.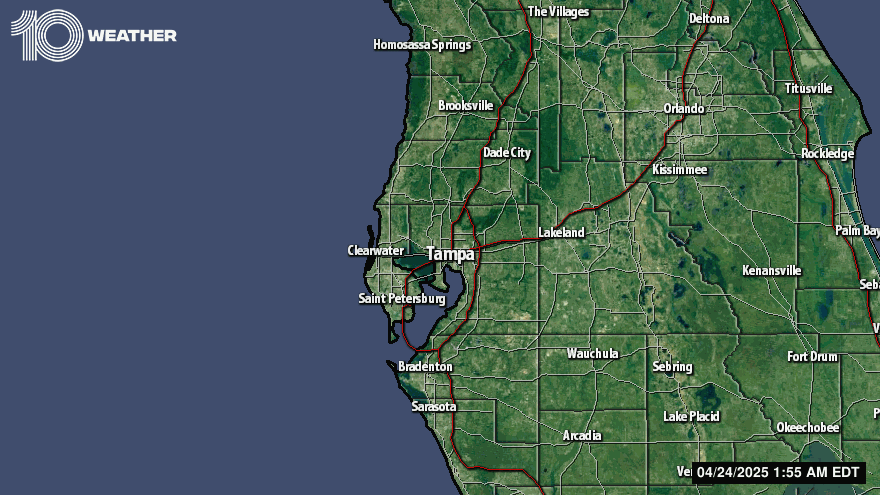 [WTSP]
A sea breeze that begins to roll in from the west will help pull in a little more moisture on Thursday and produce a few more afternoon showers and storms, with highs in the low to mid 90s, said 10Weather WTSP meteorologist Grant Gilmore.
A southeasterly wind will slow that sea breeze down a bit though, Gilmore said, delaying the onset of showers and likely keeping the first half of the afternoon dry before storms ramp up during the evening.
DOWNLOAD: Get the tbo Weather App and see where storms are headed
Those scattered showers should develop along the Interstate 75 corridor.
Still, Tampa Bay residents shouldn't expect too much rain as chances are only at 30 percent.
The rain gradually dissipates through the first half of the overnight, Gilmore said, leaving variably cloudy skies Friday morning.
"A little more moisture combined with a few pulses of upper level energy will increase the chance for afternoon showers and storms from Friday through the weekend," Gilmore said. "All three days will not be a washout, but you should certainly plan on the possibility of a few showers or storms around the area.
Meanwhile, Tropical Storm Irma is expected to strengthen into a hurricane on Thursday, with winds up around 70 mph early Thursday morning. Winds need to reach 74 mph to be classified as a Category 1 hurricane.
Forecasters will continue to monitor the system. Its trajectory remains hazy as it still churns over 3,000 miles away in the Atlantic Ocean.
Contact Samantha Putterman at [email protected] Follow her on [email protected]