Sorry, Tampa Bay residents, the rain won't be going away anytime soon.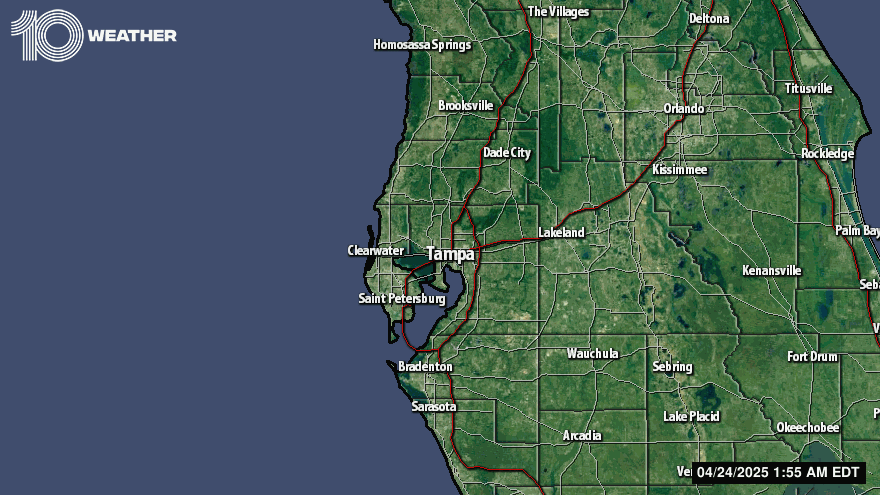 [WTSP]
The region will experience heightened rain chances in the first part of the week due to increased moisture streaming in from the south as the National Hurricane Center tracks two tropical systems in the Gulf of Mexico that have decent chances of developing into tropical storms.
A few isolated sprinkles Monday morning will lead to widespread showers — some with pockets of heavy rain — in the afternoon, 10Weather WTSP meteorologist Grant Gilmore said.
Rain chances begin to ramp up around 1 or 2 p.m. and is expected to taper off during the evening, Gilmore said.
Conditions will be pretty breezy as well, Gilmore said, with wind gusts possibly up around 20 to 25 mph.
The waves of rain are slated to move out of the area overnight on Monday, but the pattern resumes Tuesday, Gilmore said.
Rain chances of around 70 percent for Monday are forecast to remain in place Tuesday and Wednesday before conditions ease on Thursday.
Invest 93, the closer of the two storms, has winds up to 40 mph and is near the Yucatan Peninsula and forecast to move into the Gulf of Mexico on Monday, Gilmore said.
Forecasters have the system tracking north, possibly threatening the coasts of Louisiana or Texas. They warn, however, that a slight jog to the east could bring heavy rain and some flooding to the Tampa Bay area.
The second is much farther away in the Atlantic, posing the biggest threat to the Caribbean Islands.
Contact Samantha Putterman at [email protected] Follow her on Twitter @samputterman.