As Hurricane Irma maintained its Category 5 strength Thursday morning as it continues tracking toward the east coast of Florida, impacts from the storm will be felt across the state — including Tampa Bay.
The storm, however, is not forecast to bring the type of devastation that Hurricane Harvey leveled on Houston.
HURRICANE IRMA: Eight things to know about a Category 5 storm
In the days leading up to the storm's weekend arrival, the bay area will have between a 20-30 percent chance for a few isolated showers and thunderstorms during the afternoons. During that time, temperatures will remain pretty hot, with highs hovering around the low 90s through the weekend, according to 10Weather WTSP meteorologist Grant Gilmore.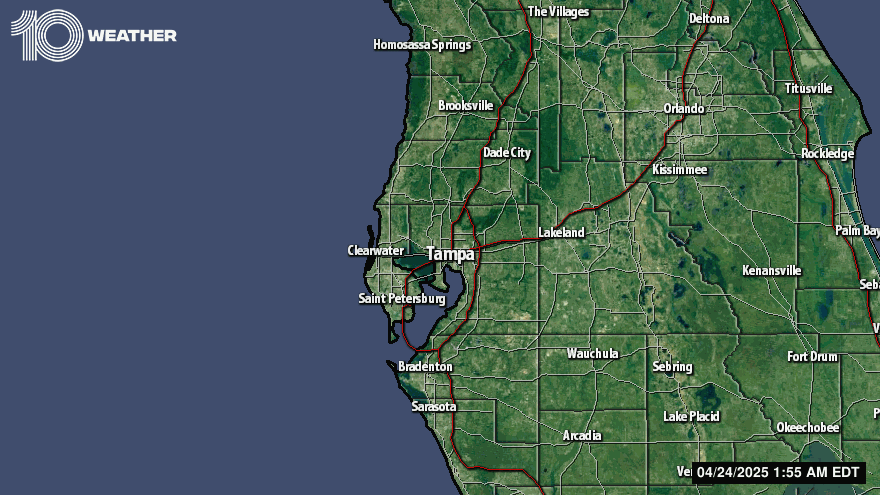 [WTSP]
Given the current forecast and track, which is subject to change, residents in the region can expect to start feeling Irma's effects by Saturday evening — mainly via wind.
"This is not going to be a Harvey event," said 10Weather WTSP meteorologist Ashley Batey. "This is going to be a wind event, and a brief rain event, but it is not going to stall out like Harvey did."
The amount of rainfall the region could receive is highly dependent on where the storm ends up tracking, Batey said, with some areas possibly falling in the 2-5 inch range and others staying completely dry.
When it comes to storm surge, Irma would have to enter into the Gulf in order to become an issue for Tampa Bay, Batey said. While the majority of models on Thursday morning point it away from going that direction, that could change.
Many rivers in the area, including the Alafia in Lithia and Little Manatee in Wimauma, are prone to flooding. But, Batey said, it's a little too early to call as any river flooding across Tampa Bay will depend greatly on the storm's specific path.
As of Thursday morning, Irma is still a dangerous Category 5 storm, moving west-northwest at 16 mph with maximum sustained winds around 175 mph and higher gusts. Hurricane-force winds extend about 60 miles from the eye and 185 miles for tropical storm-force winds.
A hurricane and storm surge watch has been issued for south Florida from the Jupiter Inlet southward, including the Florida Keys. A storm surge watch is in effect on the east coast of Florida from the Jupiter Inlet southward, including the Florida Keys.
The hurricane is slated to possibly make a direct impact to southeast Florida Saturday night into Sunday morning, and that's around the time Tampa Bay would see the worst of it, if the track remains the same, forecasters said.
[National Hurricane Center]
[National Hurricane Center]
Tropical storm-force winds up at least around 40 mph are probable for much of the bay area beginning Saturday and lasting through Sunday, Batey said.
"Late tomorrow night winds will start to pick up a little bit, Saturday night we'll likely see tropical storm-force winds," Batey said. "The worst of what we're going to see will be on Sunday."
Officials urge residents to finish preparing no later than Saturday afternoon.
It is important to already be in a safe place when those windy conditions begin to ramp up Saturday night, Batey said. When they arrive, go to the lowest floor of that space, away from windows and doors.
Monday will be breezy, Batey said, but everything should clear out by Tuesday.
The storm is expected to weaken a bit before approaching Florida, but it is still forecast to be a strong Category 4 with winds around 150 mph.
Contact Samantha Putterman at [email protected] Follow her on Twitter @samputterman.