While Friday kicks off rain-free, it won't stay that way.
Those scattered showers and thunderstorms start to develop in the afternoon and become quite numerous into the second half of the day, said 10Weather WTSP meteorologist Grant Gilmore.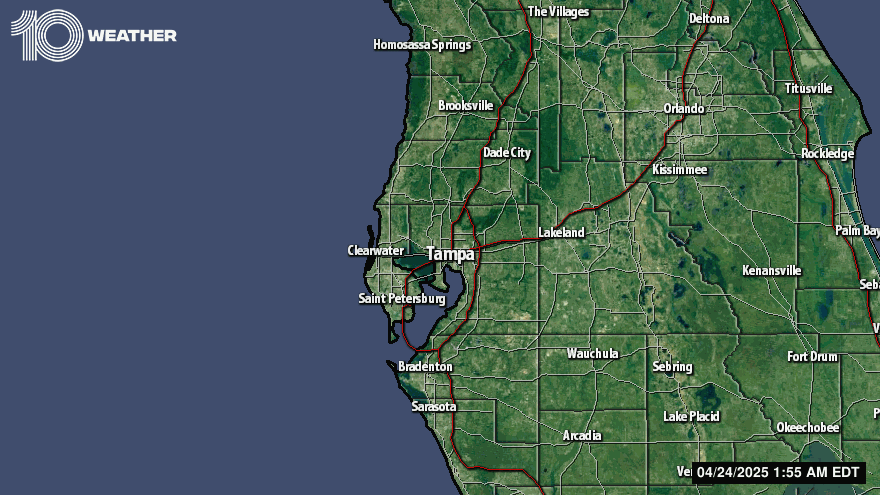 [WTSP]
The elevated rain chances are due to increased moisture from a tropical wave that's moving across the state from the southwest, holding the higher storm chances through Saturday, Gilmore said.
Periods of heavy rain and gusty winds will be possible in some of the larger storms, Gilmore said. While widespread flooding is not expected, some localized flooding may be possible in some spots.
Highs will reach into the upper 80s to around 90, with lows on Friday night dipping to the upper 70s, Gilmore said.
By Sunday, the system will shift east of the bay area, allowing slightly drier air to filter in.
DOWNLOAD: Get the tbo Weather App and see where storms are headed
"By the middle of next week a ridge of high pressure is expected to build over the area," Gilmore said. "This will result in much smaller rain chances and unseasonably warm temperatures."
Highs are expected to climb to the mid 90s by midweek.
Meanwhile, Hurricane Harvey is getting ready to dump a ton of rain on southeastern Texas, forcing mandatory evacuations. The Category 2 storm has sustained winds around 105 mph and is expected to strengthen into a Category 3 before making landfall sometime on Friday night, forecasters said.
Harvey will create even more problems for Texas as it is forecast to just sit over that corner for days, possibly dropping up to 20 inches of rain in some areas.
Contact Samantha Putterman at [email protected] Follow her on Twitter @samputterman.