After a string of dry days across the Tampa Bay area, rain makes a comeback on Thursday.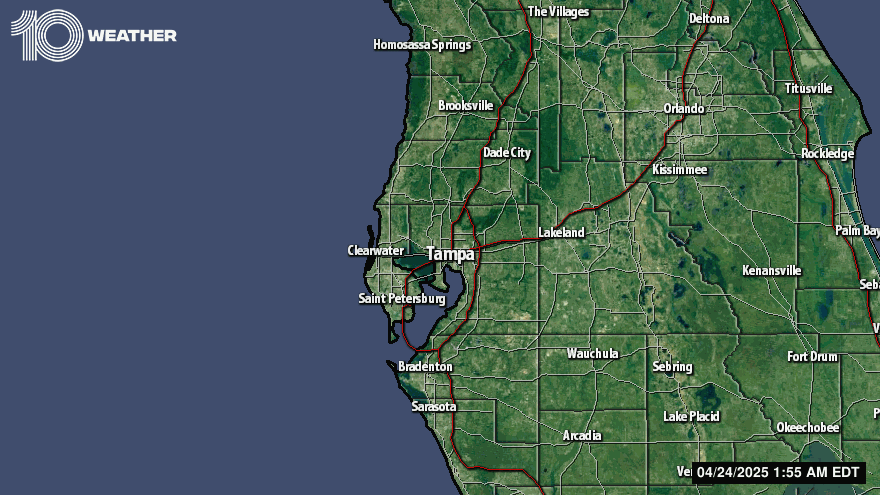 [WTSP]
A wave of moisture moving across the state will bring scattered showers and a few isolated thunderstorms to the bay area, said 10Weather WTSP meteorologist Grant Gilmore.
Most of the rain should start popping up in the afternoon, but a stray shower or two during the morning can't be ruled out, Gilmore said.
Rain chances are 40 percent for kickoff Thursday night when the Tampa Bay Bucs host the New England Patriots at Raymond James Stadium.
"Fans going to the game should probably bring ponchos," Gilmore said.
A high wind advisory is in effect for the Sunshine Skyway Bridge on Thursday due to the breezy conditions that Tampa Bay residents have seen all week. Wind speeds coming out of the north will stay around 10-15 mph with gusts as high as 25 mph.
DOWNLOAD: Get the tbo Weather App and see where storms are headed
Meanwhile, Tropical Storm Nate is forecast to move north through the western Caribbean over the next couple of days before it enters the Gulf of Mexico on Saturday morning.
On the current track, the storm will pass well west of the bay area, but still bring higher than normal tides, heavy rainfall and even an isolated tornado throughout the weekend as it drives moisture from the south, Gilmore said.
As of Thursday morning, Gilmore said, there is roughly a 10-20 percent chance Tampa Bay experiences tropical storm-force winds, which would arrive Saturday night into Sunday morning.
Contact Samantha Putterman at [email protected] Follow her on Twitter @samputterman.