• Friday should be sunny as a cold front comes through the area, with highs in the mid-70s, according to 10Weather WTSP.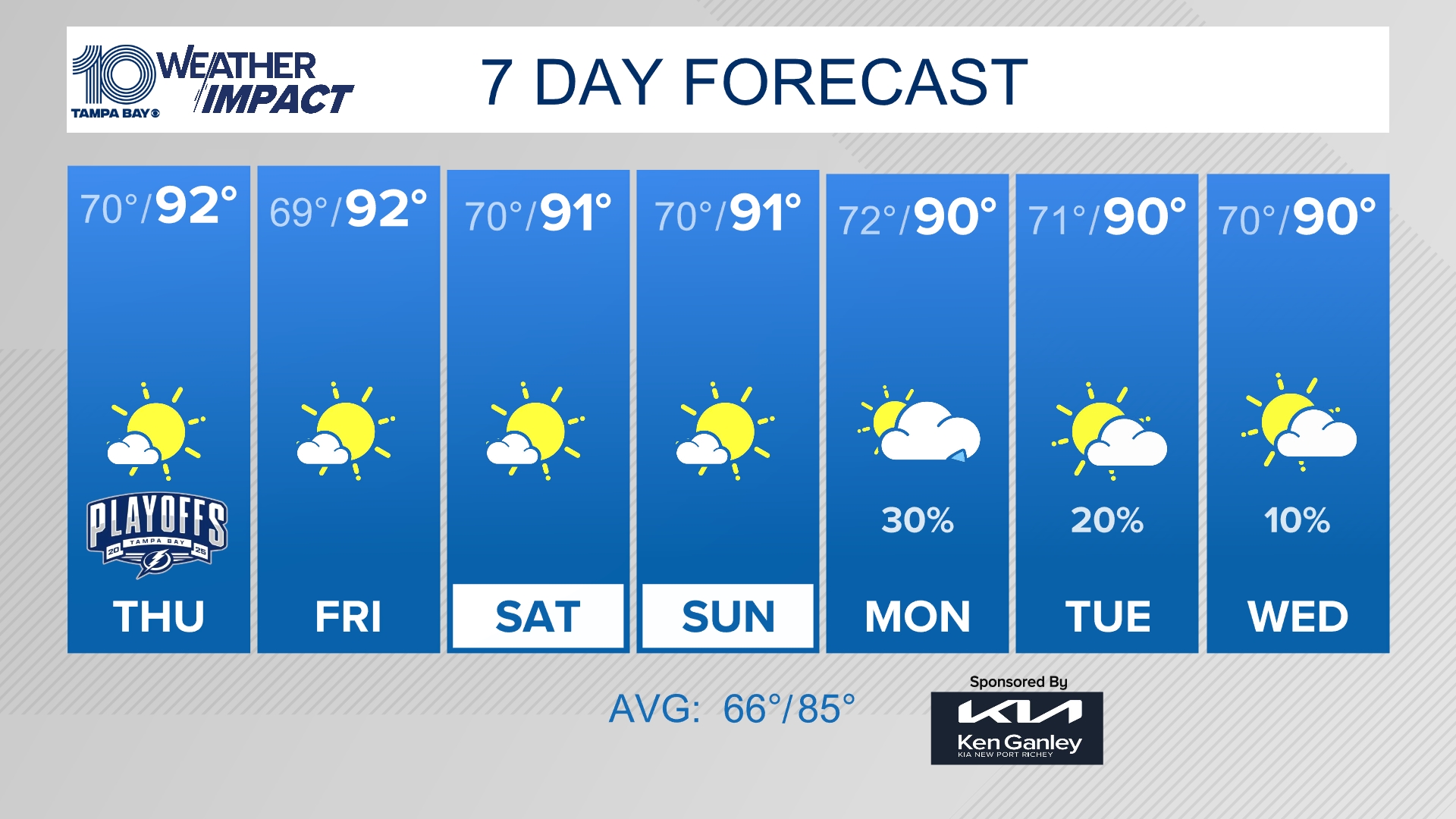 10News WTSP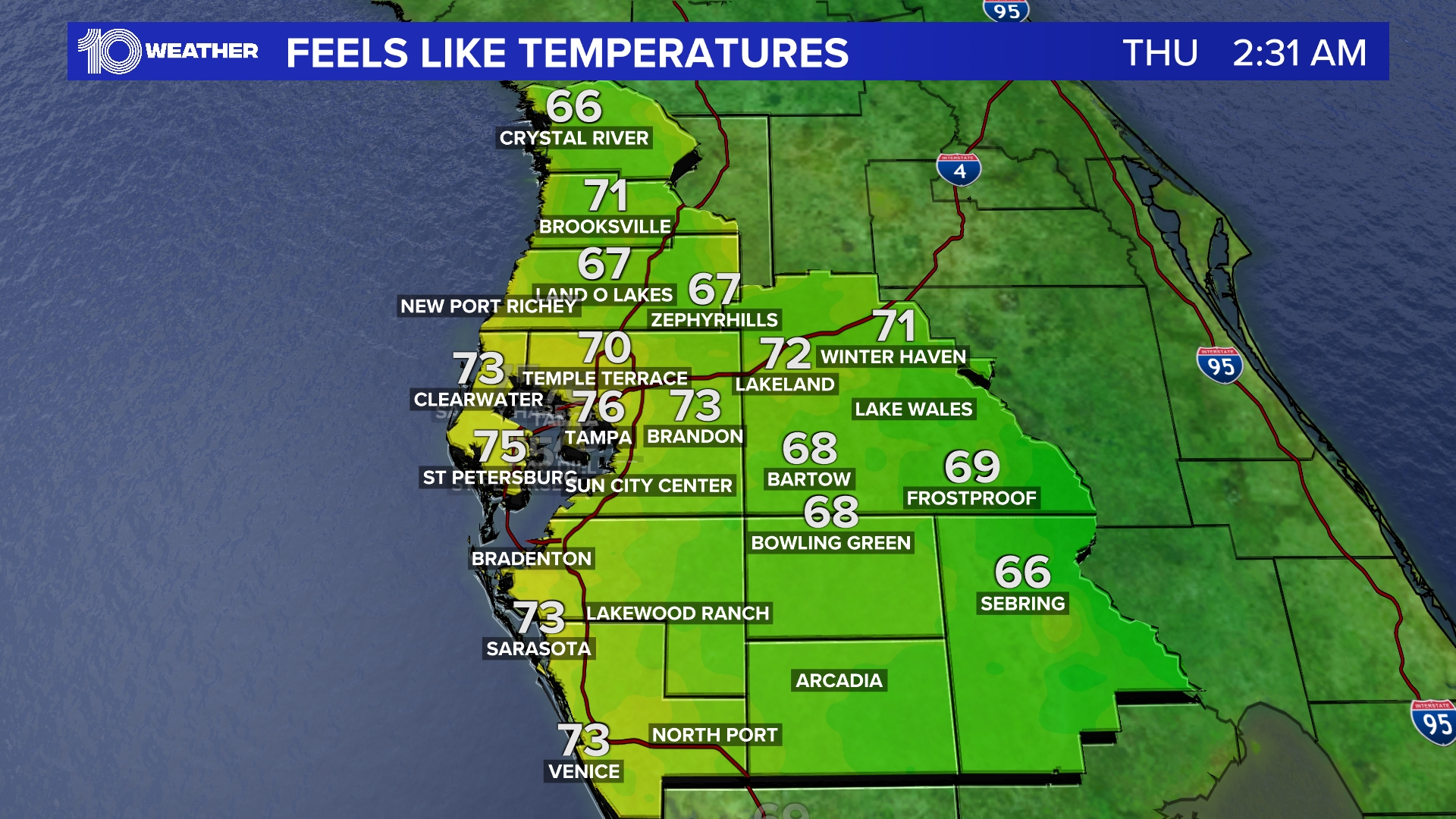 10News WTSP
• As you head out for your morning commute, check out our live blog for the latest traffic updates and road conditions across Tampa Bay.
• The city of St. Petersburg received word late Thursday that it is facing up to $820,000 in fines from the state Department of Environmental Protection for those massive sewage dumps during the last two summers. The DEP has outlined some steps the city can take to avoid those fines, some of which are underway. But it also wants an explanation for why the city chose to shutter the waterfront Albert Whitted plant before it had added new sewage storage capacity. Read city hall reporter Charlie Frago's report here and return for updates later.
• In related news, the city has hired a familiar face in the aftermath of its sewage crisis: Former TV weatherman Bill Logan is the new spokesman for the Public Works department, city officials announced Thursday. Frago explains why the city thinks Public Works needs to better communicate to the public.
• Making medical marijuana more available to those who need it was one of the most popular items on Florida's Nov. 8 ballot, passing with 71 percent support. It nabbed 2 million more votes than Donald Trump. So why aren't the state's top political leaders promoting the ballot measure now to make sure it's implemented as quickly as possible? Check back later today at tampabay.com for some answers.
• Coach Jon Cooper shook up the lineup, but it didn't help as the Lightning (13-11-1) extended its losing streak to a season-high four games with a 5-4 loss at St. Louis, including getting swept on a three-game road trip.
• State Sen. Jack Latvala will chair a meeting of the Pinellas County Legislative Delegation, which is set to run from 9 a.m. to 12 p.m. at Tarpon Springs City Hall. Legislators are expected to talk about the bills they'll propose for the upcoming legislative session, hear about vacation rental issues and discuss the Pinellas County Construction Licensing Board. Follow reporters Tracey McManus at @TroMcManus and Mark Peunte at @MarkPuente.
• In a presentation this week to the Florida School Boards Association, four state senators in key positions overseeing purse strings and education said some things that will cheer supporters of public education. They said their priorities in the upcoming legislative session will include higher teacher pay, decreased testing and added accountability for choice programs such as charter schools.
The Hillsborough County Sheriff's Office and Tampa Police Department, working with the Tampa-Hillsborough Homeless Initiative, will hold their second quarterly outreach event for homeless and low income people. The Dec. 13 event, to be held in the parking lot of the Family Dollar at the corner of Tampa Street and Columbus Drive, brings together a variety of providers to serve a needy population. Along with the dental checkups and cleanings, there will be free health screenings, flu shots and vaccines.
• The Pinellas County Construction Licensing Board on Thursday voted to issue a letter of warning to its own executive director for his profanity-laced tirade directed at a Times reporter. Executive director Rodney Fischer apologized for last month's incident, but is still embroiled in a dispute with the Pinellas County Commission over filling seven board seats.
• Hillsborough County is considering a new program for homeowners and businesses to finance energy efficiency improvements to their property. The PACE program has already been expanded to Pinellas County and Hillsborough is following suit. The program will allow third party lenders to finance qualifying energy efficiency or weather-proofing upgrades that are paid through an assessment on property tax bills.
• Florida Sen. Greg Steube, R-Sarasota, has filed a bill intending to kill off a sensible, even admirable and notably bipartisan measure that Florida put in place two years ago to help undocumented students go to our public universities and colleges, Sue Carlton writes. Or at least treat them the same as other kids who also went to high school here. She says both sides of the aisle should still hold the line for what's fair.
• After a vacancy extending more than a decade, the former Nielsen Media Research campus in Dunedin is well on its way to being occupied again. Riverview-based Beazer Homes has tackled 5 acres on the eastern edge of the property for a 56-unit, gated townhome complex called Aqua Solis. Primerica Group One has plans for a mixed-use development called Dunedin Commons on the western side of the property, closer to Patricia Avenue. The Tampa-based company will build 280 upscale apartments accompanied by 7,200 square feet of retail space.
Allison Shelley for the Washington Post
In the dim light of a subterranean parking garage, the Marines gather before dawn to train beside the flag-draped casket and a black coffin lid on the wall bearing the inscription: "The Last to Let You Down." They are the Body Bearers, an elite unit that carries Marines to their final resting place. Of all 182,000 active-duty Marines, there are just 10 Body Bearers, making the unit one of the smallest of the Corps.
• Who are this week's pop culture winners and losers of the week? There is something oh so satisfying about running into an ex when you're at the top of your game. First-time Victoria's Secret model Hadid, 20, experienced that times 100 when she strutted past her former beau, the Weeknd, on the glitter runway while he performed. Lil Twist, meanwhile, has been sentenced to a year behind bars after pleading no contest to first-degree residential burglary; assault; assault with a deadly weapon; grand theft and first-degree robbery.
• It's time to plan your weekend, people! See our Weekend Planner page for the top picks of our critics and writers, from boat parades to the Next Big Thing to Beethoven and Broadway.