• Friday will be chilly as a cold front moves through the area, bringing temperatures into the 50s, according to 10Weather WTSP.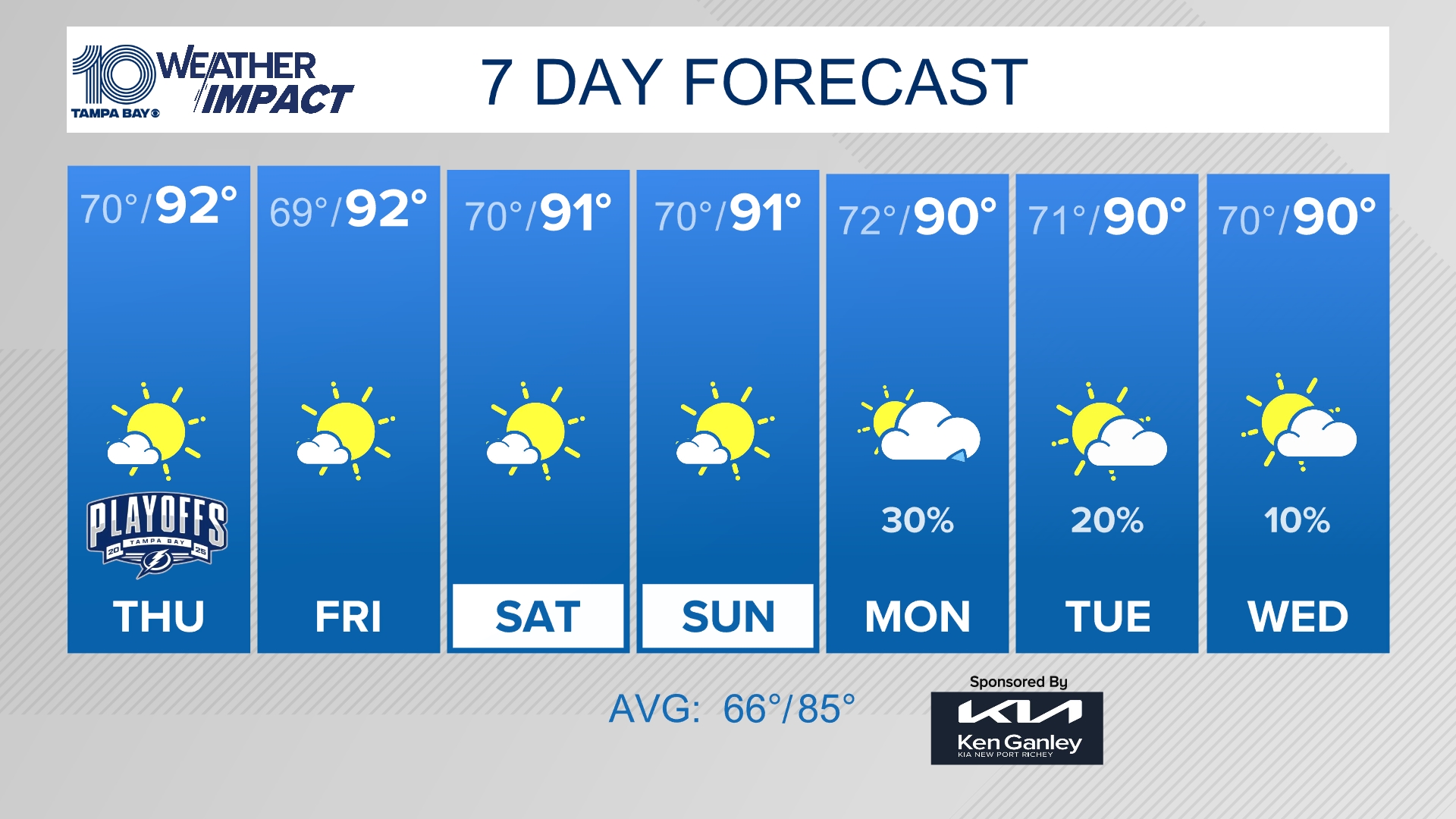 10News WTSP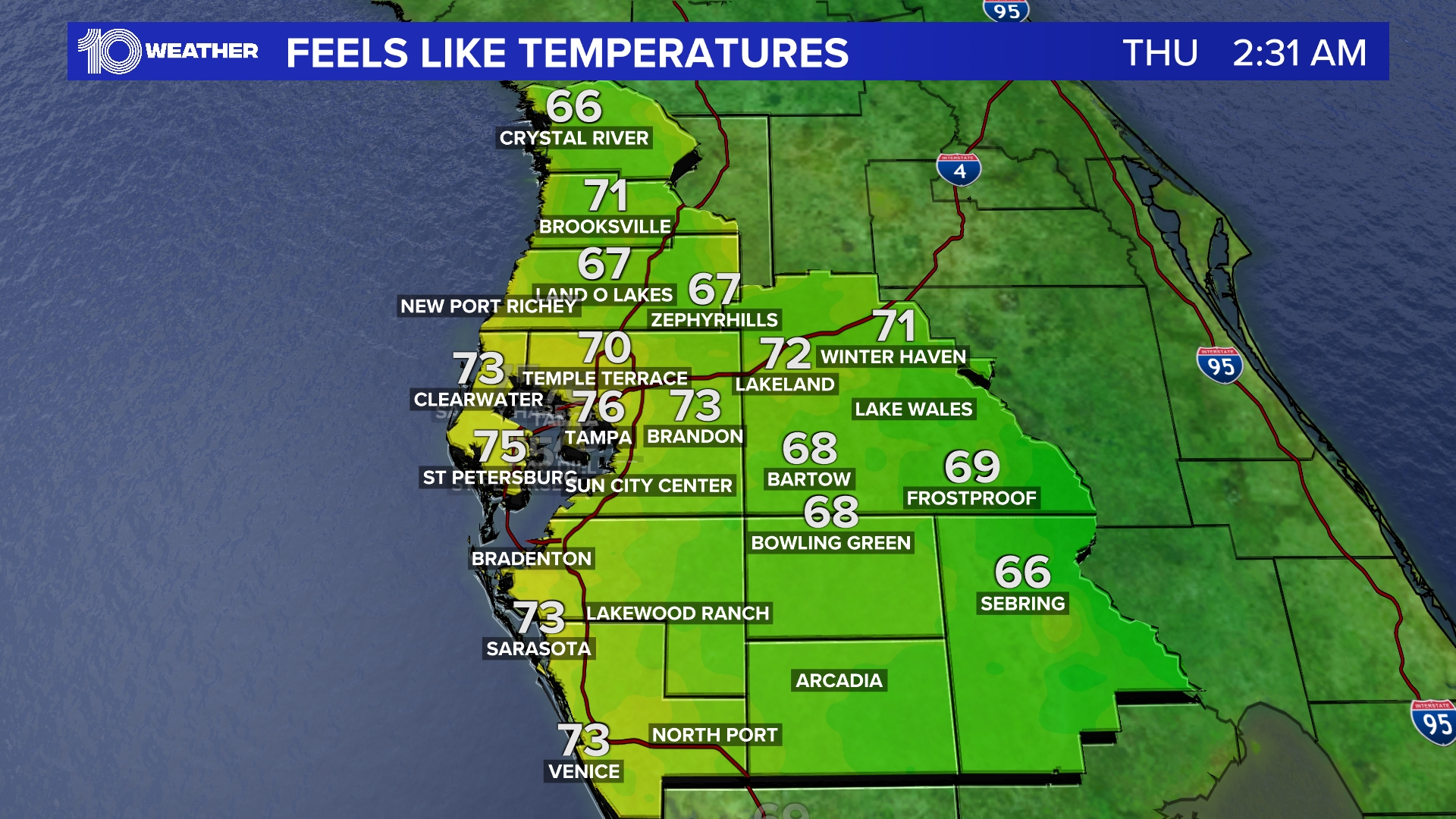 10News WTSP
• Southbound lanes were closed on the Sunshine Skyway early Friday morning after a fatal crash involving a wrong-way driver. As you head out for your morning commute, check out our live blog for the latest traffic updates and road conditions across Tampa Bay.
• The oldest home in the Tampa Bay area has a new owner and could have a new address within six months. Built in 1842 and located near Ybor City, the four-bedroom, two-bath, 2,000-square-foot bungalow was purchased for around $55,000 by Tampa-based Equialt, a hedge fund company that owns and manages more than 300 properties in Florida.
• The number of police killed in the line of duty rose sharply in 2016, driven by shootings of law enforcement officers around the country, most notably ambushes in Dallas and Baton Rouge, La. From Jan. 1 through Wednesday, 135 officers lost their lives. Some died in traffic accidents, but nearly half were shot to death. That's a 56 percent increase in shooting deaths over the previous year. Of the 64 who were fatally shot, 21 were killed in ambush attacks often fueled by anger over police use of force involving minorities.
• In a nation where less than a half-percent of the population wears the uniform, those who do, and their families — including at MacDill Air Force Base in Tampa — are feeling the strain after more than 15 years of war. That's the findings of a report released in December by Blue Star Families, a Washington-based non-profit supporting men and woman in uniform and their families.
• Debbie Reynolds' death just a day after that of her daughter, Star Wars star Carrie Fisher, had the internet abuzz: Can you really die of a broken heart? Debbie Reynolds' death just a day after that of her daughter, Star Wars star Carrie Fisher, had the internet abuzz: Can you really die of a broken heart?
• Today brings an Outback Bowl Beach Day before the Florida Gators and the Iowa Hawkeyes face off at Raymond James Stadium on Monday. It is free for spectators as the players, band and cheerleaders compete in fun contests on Clearwater Beach.
• Preparations continue for Saturday's college football semifinal games. Check out our Road to Tampa page for the latest from the Peach and Fiesta bowls, leading up to the national championship game at Raymond James Stadium.
• With goalie Andrei Vasilevskiy starting on back-to-back nights for just the second time in his pro career, both times coming in the past week, this was going to be a test for the 22-year-old. And Vasilevskiy passed big time. For the second straight night, the Lightning rallied from a two-goal deficit to earn at least a point. And in Thursday's 3-2 overtime loss to the Maple Leafs, Vasilevskiy was the main reason why with 32 saves.
• When did you know what you wanted to be when you grew up? Can you point to the moment that planted that seed? Brianna Enders, 24, can. She fell in love with skateboarding when she was 10. In middle school, she told friends she would have her own board company. In May, she started her custom board business, Breezy Boards in her southern St. Petersburg home.
• Florida is one of 31 states with the death penalty, but a series of federal and state rulings will bring upheaval to the state's capital punishment system long criticized for racial disparities and delays.
• Today is the last day on the Florida Supreme Court for Justice James E.C. Perry, who is forced to retire because, at 72, he's reached the state's mandatory retirement age. See what Perry, a trail-blazing child of Jim Crow segregation who had an eight-year career on the state's highest court, has to say about Obama and Trump.
• Every year we celebrate the grandeur of Tampa Bay with a mix of suggested experiences and witty observations, Ernest Hooper writes. The obvious — Cuban sandwiches, grouper delicacies, sunsets on the beach — are a given. Add these suggestions to the traditional staples of bay area living. He notes that you haven't lived in Tampa Bay until you have experienced these things.
• Are you ready to ring in the new year? From splurges to family friendly fun find a party that suits you in our lengthy list of Tampa Bay NYE parties. But if you just want to go out with a bang, here's 7 places to find fireworks shows on New Year's Eve.
• Who are the pop culture winners and losers of 2017? Beyonce and Lin Manuel Miranda get winner honors, while Ryan Lochte and Johnny Depp head up the losers. Check out the top 8 in each category.
• All week on Soundcheck, we've been revisiting our favorite Tampa Bay concerts of 2016. Today's picks come from designer Tara McCarty.
• Also, after all that holiday spending you deserve a break. Here are 5 things to do under $5 this week.
• Here are the top things to do today in Tampa Bay including an Outback Bowl Beach Day and Moscow ballet dancers performing Swan Lake.