• Rain is likely late Friday and we may even get some nasty storms early Saturday as a huge cold front moves through the area. The cold air could drop temperatures to the low 40s by Sunday morning, according to 10Weather WTSP, for our first real brush with winter. Sunday night could see temperatures in the upper 30s in some areas.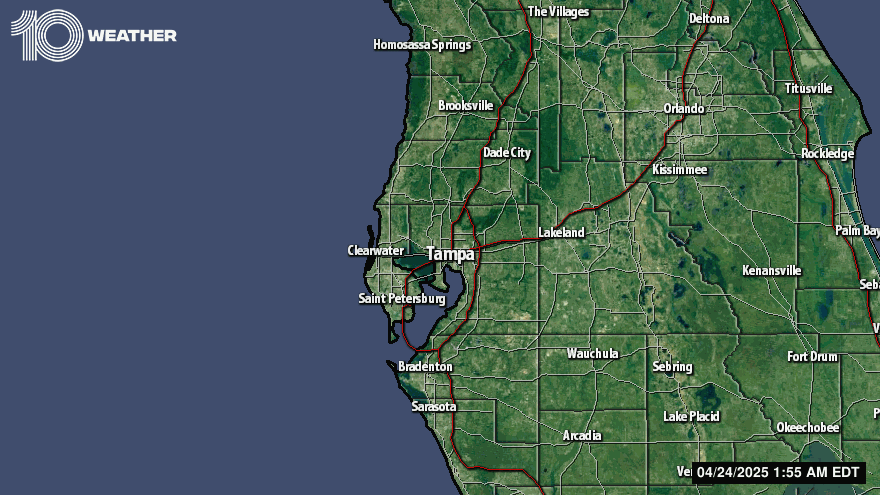 10News WTSP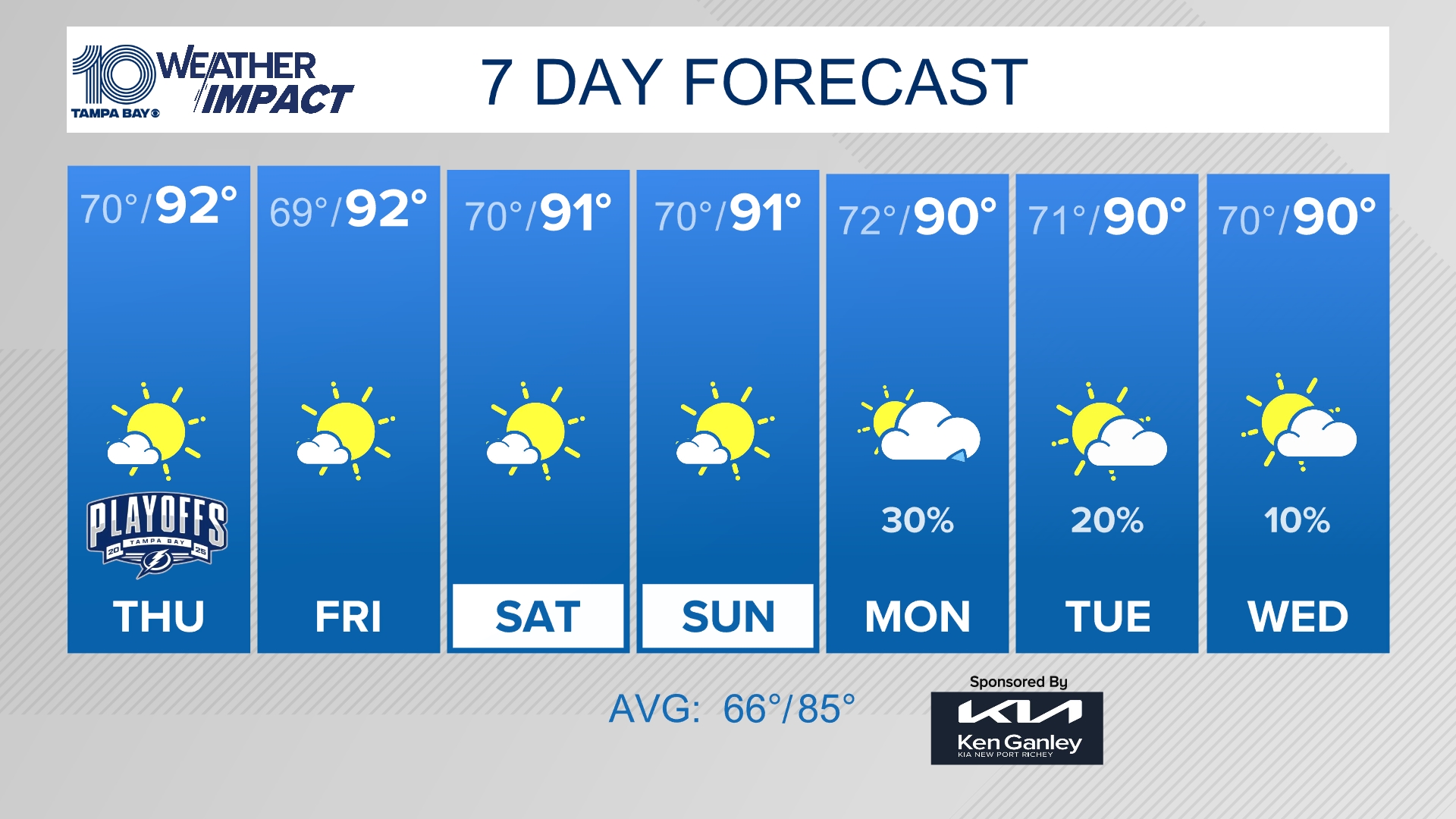 10News WTSP
• Meanwhile, the National Weather Service issued a winter storm warning for part of Friday and Saturday from eastern Alabama through north Georgia, including Atlanta, and into the Carolinas and part of Virginia. Will it impact folks heading to Tampa Bay for the College Football Playoff? Stay with tampabay.com for updates throughout the day.
• As you head out for your morning commute, check out our live blog for the latest traffic updates and road conditions across Tampa Bay.
• Today Tarpon Springs celebrates the largest Epiphany event in the Western Hemisphere, celebrating the baptism of Jesus Christ by John the Baptist in the Jordan River. The church service starts at 8 a.m., then at 12:30 p.m. the faithful will head to the waterfront where teenage boys dive into the chilly water in an attempt to be the first to find the Holy Cross that will be tossed into Spring Bayou by the archbishop. Follow our live blog for updates throughout the day.
• When Barack Obama took office as the 44th president of the United States, PolitiFact created an unprecedented database of his 533 campaign promises. We've spent the past eight years amassing the definitive account of his record. This project explores Obama's legacy with in-depth reports on his promises about Iraq and Afghanistan, the economy, health care, climate change, drug sentencing, taxes and bipartisanship. Read it at tampabay.com/obameter.
• Forecasters say the winter storm system that could lower our temperatures could blanket much of the South with a wintry mix of rain, sleet and snow from Texas all the way east to the Carolinas. Even parts of the deep South — including Louisiana, Mississippi and Alabama — were bracing for the possibility of snow by Friday. Check tampabay.com to see how flights at Tampa International Airport might be affected.
• Mount Airy, N.C., the hometown of actor Andy Griffith, looks this day like it was plucked right out of the television show that bears his name. And yet even as this city of about 10,000 nestled in the Blue Ridge Mountains fills its coffers by selling nostalgia, many of its residents would agree with the now-popular saying "We're not in Mayberry anymore." A yearning for an earlier time, especially prevalent in rural American towns and cities like Mount Airy, helped spur white evangelical Christians to vote overwhelmingly for Donald Trump. For these voters, the desire for change also could be viewed as a desire to change back to what they perceive as a more wholesome and prosperous time, when high-paying manufacturing jobs were plentiful, white Protestants were indisputably in charge and same-sex marriage and the Black Lives Matter movement were unthinkable.
• Rep. Richard Corcoran, R-Land O'Lakes, hasn't hesitated making enemies since taking over as Florida House Speaker in November. Read how he's taking aim at government-paid lobbying.
• If it is raining, know that umbrellas are one of the prohibited items if you are going to the free concerts in Curtis Hixon Park today through Sunday for the College Football Playoff weekend. Here's a list of banned items and some tips for navigating the crowds.
• True die-hard fans may diligently stake out the arrival gates at Tampa International for glimpses of their favorite teams. Alabama is set to arrive at noon and Clemson at 4 p.m. For the rest, here's what's on the slate today.
• Clemson and Alabama return to college football's summit Monday night in a rematch of last year's national championship game. And many of the fans who watched the teams battle in Arizona are making the trip to Tampa for round two. The Tampa Bay Times spoke with two of these "super fans'' this week. Here are their stories.
• For more on the big game, check out our College Football Playoff page for the latest from our sports writers as Clemson and Alabama players get ready. That page also has the latest news on parties and concerts, as well as tips on parking.
• Fed up with being blamed for the Chinese drywall found in 12 government subsidized homes in Belmont Heights, New Jersey firm Michaels Development Co. is going on the offensive. As developer of Belmont Heights Estates, Michaels has faced criticism for refusing to help families who were stuck living in the homes for up to nine years. It did not build the homes with tainted drywall but did hire the now-bankrupt subcontractor that did.
• Marlon Mack, USF's all-time leading rusher and one of the backbones of the program's recent resurrection, will forgo his final year of eligibility and enter the NFL draft. Mack, only the third player in state Division I-A history to amass three straight 1,000-yard rushing seasons, announced his decision in a Twitter post.
• Andrei Vasilevskiy gave up four goals on the first eight shots he faced in the Lightning's 6-1 loss to the Predators in front of 19,092 at Amalie Arena. A couple came on seemingly harmless shots he'd stop nine out of 10 times.
• The U.S. Labor Department releases employment data for December at 8:30 a.m. Watch our Business channel for updates.
• A Nashville star like Eric Paslay is a good pick to kick off the party for the College Football Playoff championship between Alabama and Clemson, pop music critic Jay Cridlin writes. Read here what the country star had to say before he takes the stage tonight for the first of three days of free concerts in the park leading up to Monday's national championship game in Tampa.
• Here's a dilemma: You're the lead singer of one of the biggest bands to come out of South Carolina. And you also happen to be named after Paul "Bear" Bryant. When Clemson plays Alabama in the College Football Playoff's national title game Monday in Tampa, who do you pull for? Needtobreathe's Bear Rinehart talks to Jay Cridlin about his band's Alabama-Clemson divide.
• Here are the top things to do today in Tampa Bay including the opening of Fan Central at the Tampa Convention Center for the College Football Championship and country singer Colt Ford at the Dallas Bull.
• Who are this week's pop culture winners and losers of the week? Pharrell speaks out against hate speech, while Soulja Boy and Chris Brown take part in the first big fight of 2017.