• Rain chances should stay limited Friday and through the weekend, as temperatures will be in the mid to upper-80s, according to 10Weather WTSP.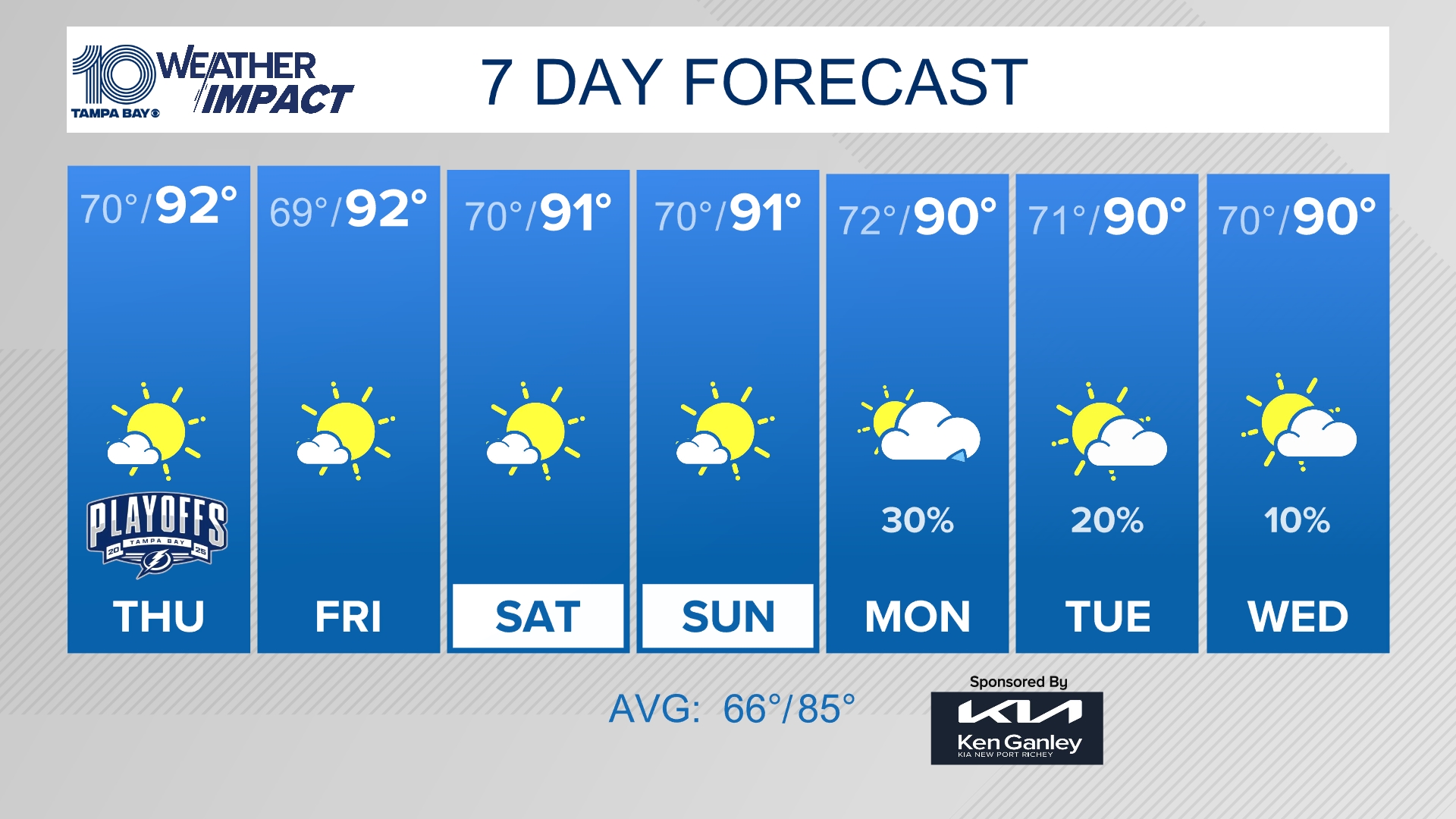 10News WTSP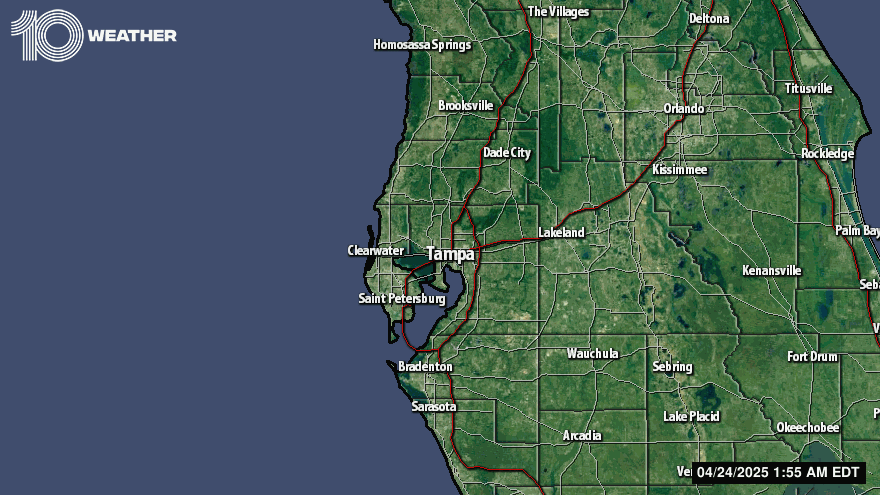 10News WTSP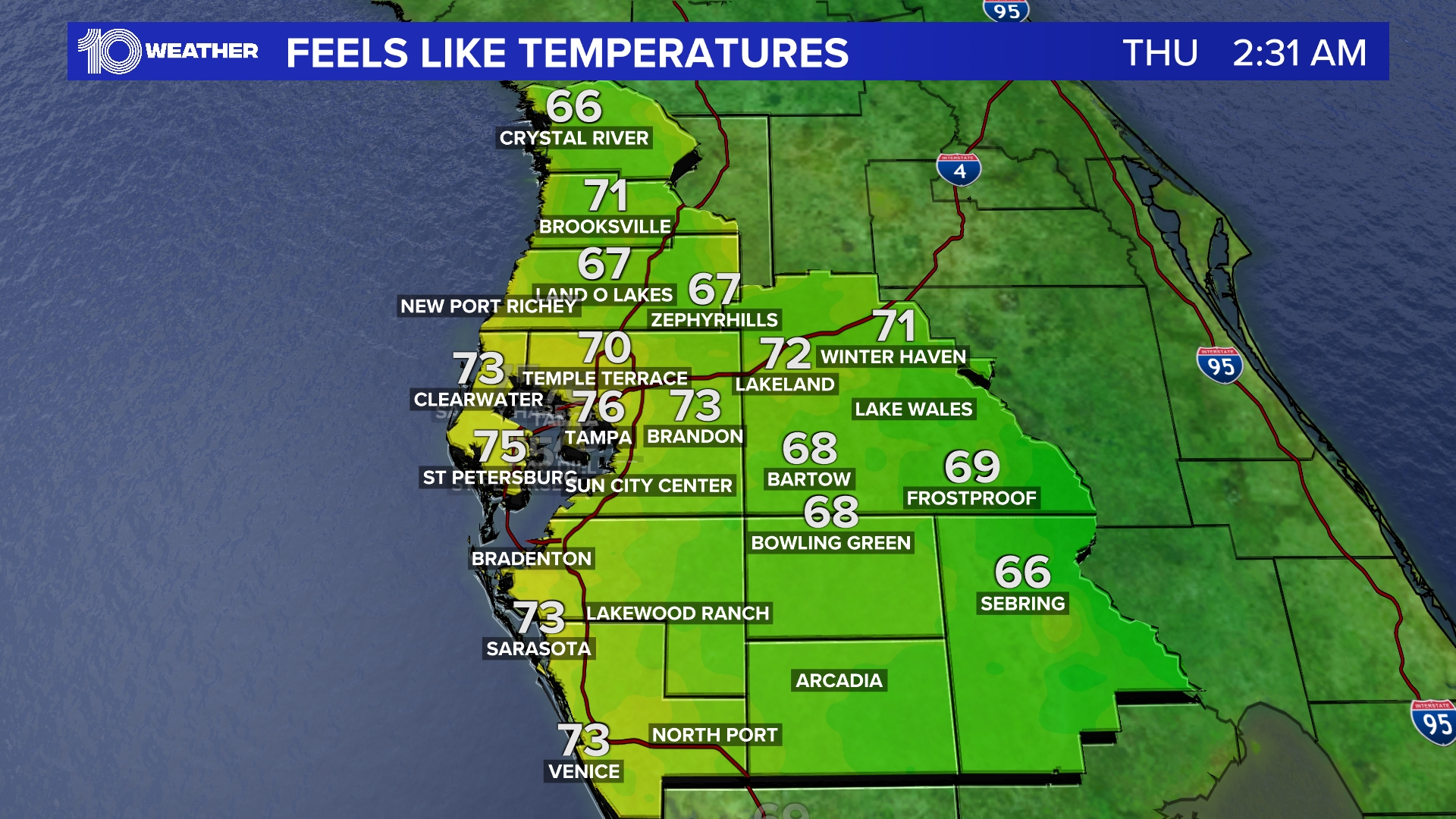 10News WTSP
• Southbound motorists on Interstate 275 heading into downtown Tampa will be slowed by a crash that has closed the westbound I-4 ramp to southbound I-275. As you head out for your morning commute, check out our live blog for the latest traffic updates and road conditions across Tampa Bay.
• The Lightning certainly looked like a Stanley Cup contender in their season-opening 6-4 win over the Red Wings. Columnist Tom Jones says the victory starts what looks like a special season.
• Did you see that Democratic Congressional Campaign Committee video tying U.S. Rep. David Jolly to Republican presidential candidate Donald Trump? Jolly said he's never met Trump, won't vote for him and blasted it as a "false" ad using fabricated images to make it appear as though they've met repeatedly. Well Jolly's opponent in the 13th Congressional District race, Democrat Charlie Crist, addressed the ad and his own relationship with Trump at an appearance at Eckerd College.
• Stone crab season opens Saturday, and Last year's haul will be tough to beat. Here's what you need to know.
• The Tampa Bay Times editorial board continues rolling out candidate recommendations. For the Florida Senate, we recommend Bob Buesing in District 18 and Darryl Rouson in District 19. For Hillsborough Property Appraiser, we recommend Bob Henriquez. Here's the full list of published recommendations.
• At the height of Florida's housing boom, a neighborhood in southern Hillsborough County called Kings Lake attracted a parade of people and families seeking homes that were nice, big and relatively cheap. Many took on more than they could afford. When the housing bubble burst, no community in Hillsborough — the state's hardest hit county — suffered more. Read a full report on Kings Lake's rise, fall and recovery — and now the questions it faces about its future — in a full report from Times business reporters Susan Taylor Martin and Jeff Harrington this morning. The story will be available at tampabay.com/business about 8:30 a.m.
• After an unexpected weekend off, No. 18 Florida returns to action Saturday against Mizzou. Matt Baker will be covering the game in Gainesville, so he offers three stories he'll be following. And ICYMI, the Gators will be making up that missed game against LSU on Nov. 19 in Baton Rouge.
• While venture capital funding hit leaner times in the last quarter, four Tampa firms were able to mop up some investor money. To find out who they are, go read the full story at tampabay.com/business.
• The last residents of St. Petersburg's Mosley Motel — a longtime home for poor families and the elderly, but also a magnet for crime — were finally evicted by deputies on Oct. 3. But some families didn't get very far: They simply moved into the other cheap motels along the 34th Street corridor, where city officials are concerned that they're still living week-to-week.
• Would your kids like to see their own picture on a baseball card? How about a photo at the batting cage? Colleen Cherry had been working for the Tampa Bay Rays since graduating from the Pinellas County Center for the Arts at Gibbs High. Now, she's moving into a decidedly spookier and bigger role. Cherry, 27, is playing the title role in Lizzie, Jobsite Theater's rock musical about accused ax murderer Lizzie Borden, which opens tonight. Check out Andrew Meacham's review.
• Not once has Alexa Volland gone to Sephora and asked a consultant at the counter to make her look like a 17-year-old boy. Well, those days are behind her now because James Charles is the most glam being on earth. Charles is The Feed's winner of the week, while former New York Lt. Gov. Betsy McCaughey is this week's loser.
• Here are the top things to do today in Tampa Bay, including music and barbecue at the Tampa Pig Jig and kids digging science exhibits at Marine Quest.
• Plan your weekend! We've got one of the hottest comedians on the planet here on Sunday, Amy Schumer, the first woman to make Forbes list of highest paid comedians. We chronicle that and other firsts here in our preview of Sunday's show We also have date night ideas and things to do with kids on our Weekend Planner page.