• Highs may crack the mid 80s before a cold front moves in starting tonight, according to 10Weather WTSP. There is only a 10 percent chance of rain, though winds will pick up throughout the day. Then it will be highs in the 70s for the weekend, and lows in the 50s.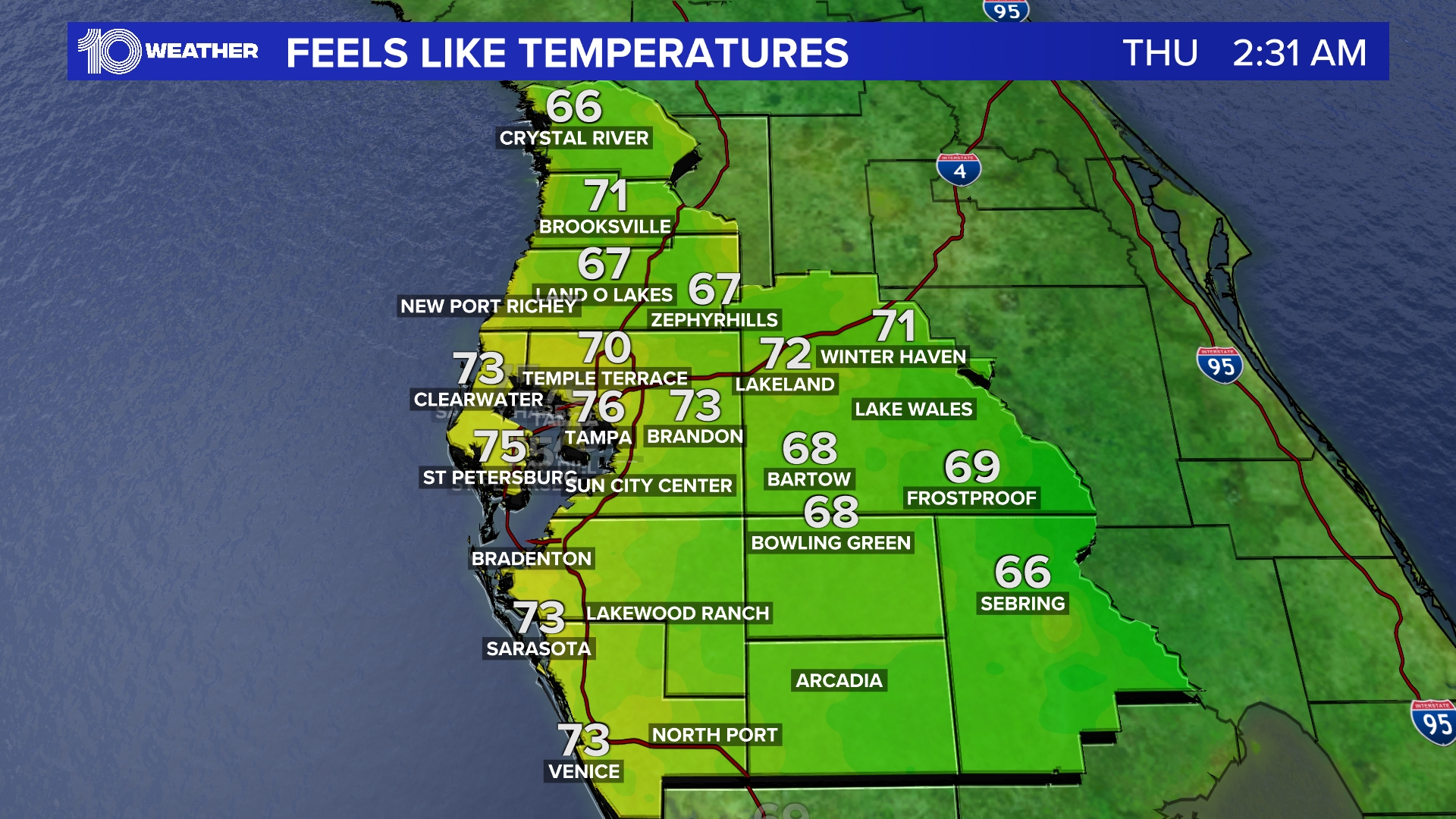 10News WTSP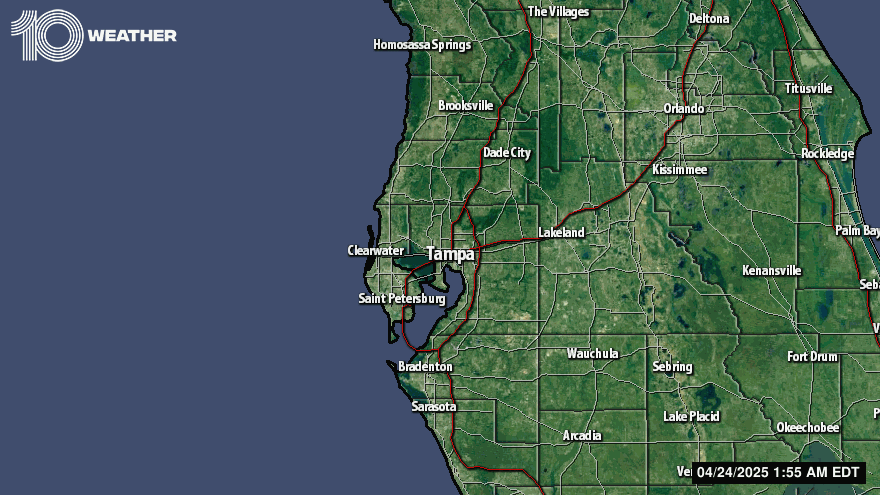 10News WTSP
• As you head out for your morning commute, check out our live blog for the latest traffic updates and road conditions across Tampa Bay.
• Tampa Bay Times Political Editor Adam C. Smith has taken a look at Hillary Clinton's connections to Florida and found that her ties to the Sunshine State are about loyalty and longevity — and Bill. Smith will discuss the article and take questions at 12:15 p.m. today on our Facebook page.
• You may have noticed fewer campaign yard signs during this election season. Part of that may be because the two major presidential candidates are disliked by so many people. Also, there is a fear of causing even more tension with neighbors in this volatile time. You might be surprised to learn that many campaign managers think the signs don't even work to increase votes for their candidates.
• With less than three weeks before Election Day, find out how well Florida's economic recovery is holding up. The state's job creation stats and unemployment figures for September are scheduled to be released around 10 a.m. Check tampabay.com/business for the latest.
• Hurricane Hermine's storm surge swallowed much of Cedar Key. The water broke docks and buildings, but it didn't break residents' spirits. Immediately after the storm, the fishing village started putting itself back together — with a little help from its friends. Read the story by Josh Solomon at tampabay.com.
• The Sunshine City is more like the Leaky City. That's because the St. Petersburg City Council on Thursday learned that aging, leaky pipes are being overwhelmed by groundwater. That could be contributing to the city's sewage crisis. Read the story by Charlie Frago.
•A year ago, a study about U.S. hospitals marking up prices by 1,000 percent generated headlines and outrage around the country. Twenty of those priciest hospitals are in Florida — including six in the Tampa Bay area — and researchers at the University of Miami wanted to find out whether the negative publicity put pressure on the community hospitals to lower their charges. What the researchers found, however, was that naming and shaming did not work.
• Mickey Jacob is an immigrant, as he likes to say, Canada-born and naturalized 16 years ago. He also is not a seasoned politician, instead a tassel-loafered, pocket-kerchiefed … wait for it … architect. Columnist Sue Carlton says he also is the latest name to emerge as a possible successor for Tampa Mayor Bob Buckhorn.
• Tampa business leaders were elated when Johnson & Johnson were going to open a service center here with more than 500 jobs averaging $75,000 a year by 2020. The company had its ribbon cutting Wednesday, and one of their top executives talked with business reporter Jerome R. Stockfisch about why the company chose Tampa
• The weekend's nearly here, meaning (at least for some) it's time to start planning your college football television watching schedule Here are the top games to look for.
• It can be very difficult for the spouses of military personnel to find jobs — and keep them — because of all the moving around their husbands and wives must do. But one local company is making a pledge to hire these spouses as much as they can. Read about in a story that will publish online about 8 a.m. at tampabay.com/business.
Who are the winners and losers in pop culture this week? Nicki Minaj is the ultimate fangirl, while Amy Schumer fans don't know who Amy Schumer is.
• Performing arts critic Andrew Meacham previews what's on stage, including tonight's Florida Orchestra concert with acclaimed pianist Jeremy Denk playing Mozart. Also tonight and this weekend, noted Los Angeles choreographer Victoria Marks is premiering a new dance film and conducting workshops this weekend at Hillsborough Community College's Ybor campus.
• Check out our weekend planner for things to do this weekend, from REM alum Mike Mills' classical collaboration to Halloween parties and pumpkin carving ideas.