• It'll be warm but comfortable this today and through the weekend, with temperature highs in the low to mid 80s, according to 10Weather WTSP.
INLINE 7-Day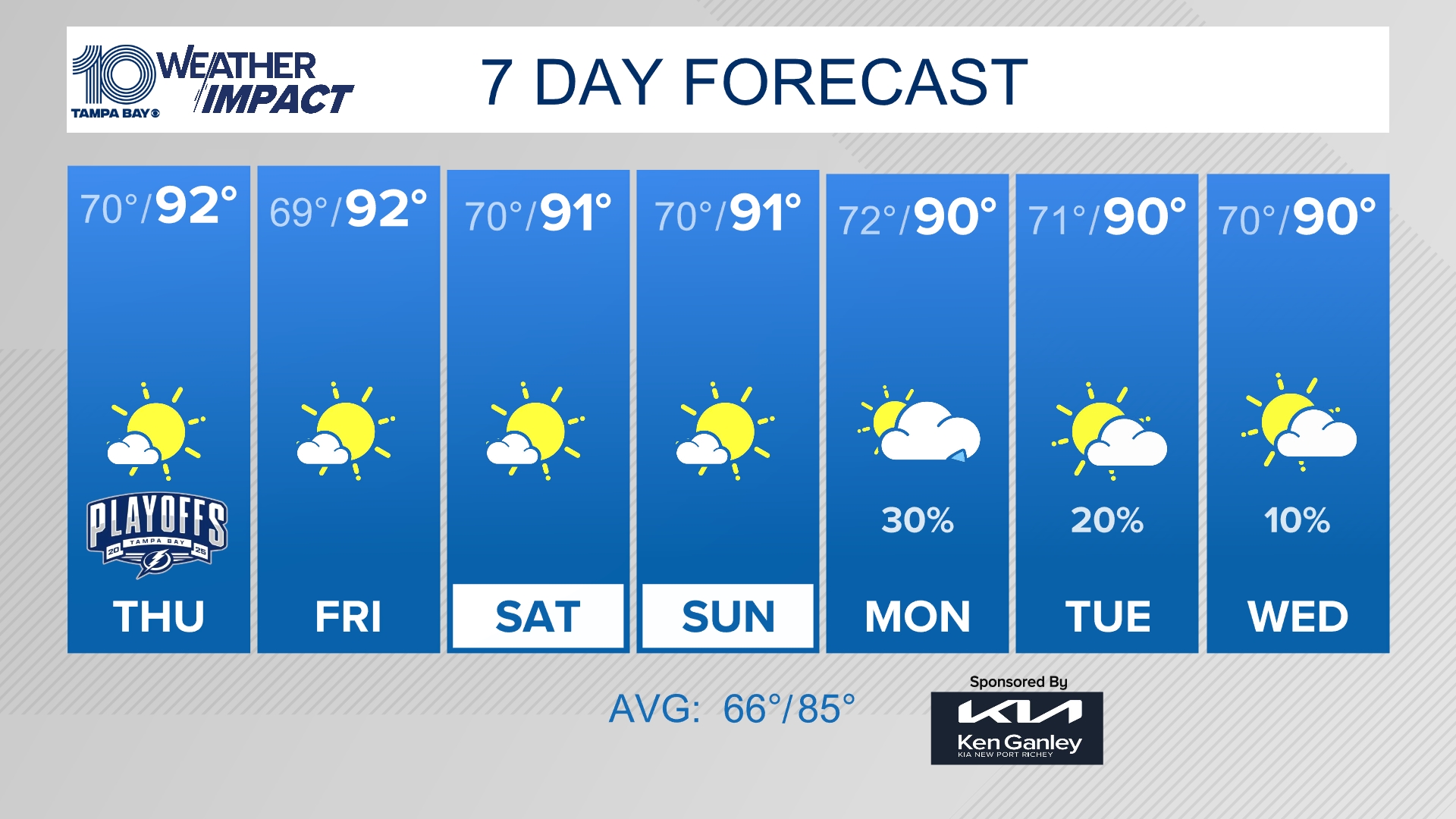 10News WTSP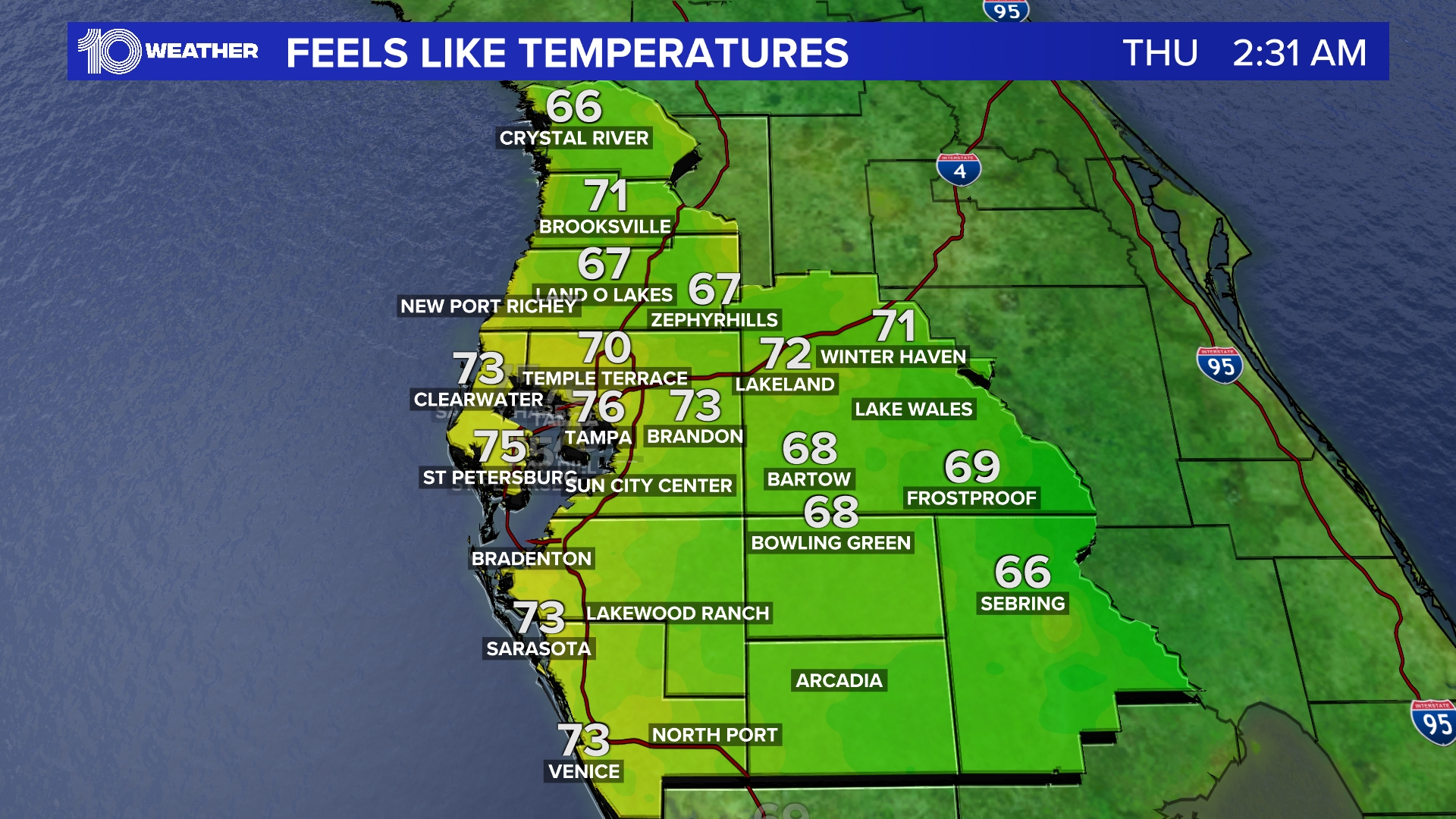 10News WTSP
• As you head out for your morning commute, check out our live blog for the latest traffic updates and road conditions across Tampa Bay.
• PolitiFact has been tracking the statements of Hillary Clinton and Donald Trump since they announced their candidacies for president, and before. Looking back at their statements over the course of the entire 2016 campaign, we have selected 10 statements from each candidate that we deem the most misleading. Read the PolitiFact report this morning on tampabay.com.
• Florida Man has been busy, making headlines for some of his controversial choices. Christopher Spata tracked down 11 to ask them to make another choice: Clinton or Trump?
• In a ceremony complete with Rocky the Bull and green-and-gold pom poms, USF System President Judy Genshaft revealed full-color renderings of the $134 million project USF hopes will alleviate that pressure — and transform the campus.
• In 2008, Valentine Hendrix's family was one of 12 poor black families encouraged by the Tampa Housing Authority to become first-time home buyers in east Tampa. With down payment help from federal and city grants, they took out mortgages for new homes that cost up to $175,000. But the homes were built with tainted Chinese drywall, the same material that marred an estimated 100,000 U.S. homes built during last decade's boom and bust.
• St. Petersburg City Council spent two hours Thursday asking pointed questions about how the city will try to fix its sewage mess, then told Mayor Rick Kriseman's administration to stop flip-flopping on solutions and come up with a plan. Council members also learned that the federal Environmental Protection Agency is the latest to investigate the city's sewage woes. Read the story by Mark Puente.
• Today a new exhibit will open at the St. Petersburg Museum of Historythat tells the stories of African-Americans who had to fight for the right to fight for their country in World War II. Entitled "Fighting for the Right to Fight: African American Experiences in World War II," the exhibit tells the stories of veterans such as Roots author Alex Haley, entertainer Sammy Davis Jr. and Alberta Holt, a nurse who served with the first black medical unit to be deployed overseas.
• With college football conference and playoff implications on the line, we break down the must-see games this weekend.
• Tampa's first MegaCon will start today and run through the weekend at the Tampa Convention Center and we gave a guide here for the multi-genre geek gathering that will bring Star Trek: The Next Generation stars LeVar Burton and Brent Spiner, Happy Days' Henry Winkler and Doctor Who's David Tennant.
• It's the height of the season right now for "scare actors," the creeps, ghouls and zombies working by the hundreds at theme parks and haunted houses this Halloween. We talked to these monsters from Howl-O-Scream to the Lowry Park Zoo and got scare actors to share their secrets.
• Are you ready for the weekend? Check out our Weekend Planner page for the top picks from our critics and writers including Halloween parties and the Olympic "Final Five" in town.
• Who are this week's pop culture winners and losers of the week? Lady Gaga kills at Karaoke, while Justin Bieber walks out on fans.
• Here are the top things to do today in Tampa Bay including MegaCon, a Stranger Things soundrack party and the Johns Pass Seafood Festival gets under way