Catching you up on overnight happenings, and what you need to know today.
• As you head out for your morning commute, check out our live blog for the latest traffic updates and road conditions across Tampa Bay.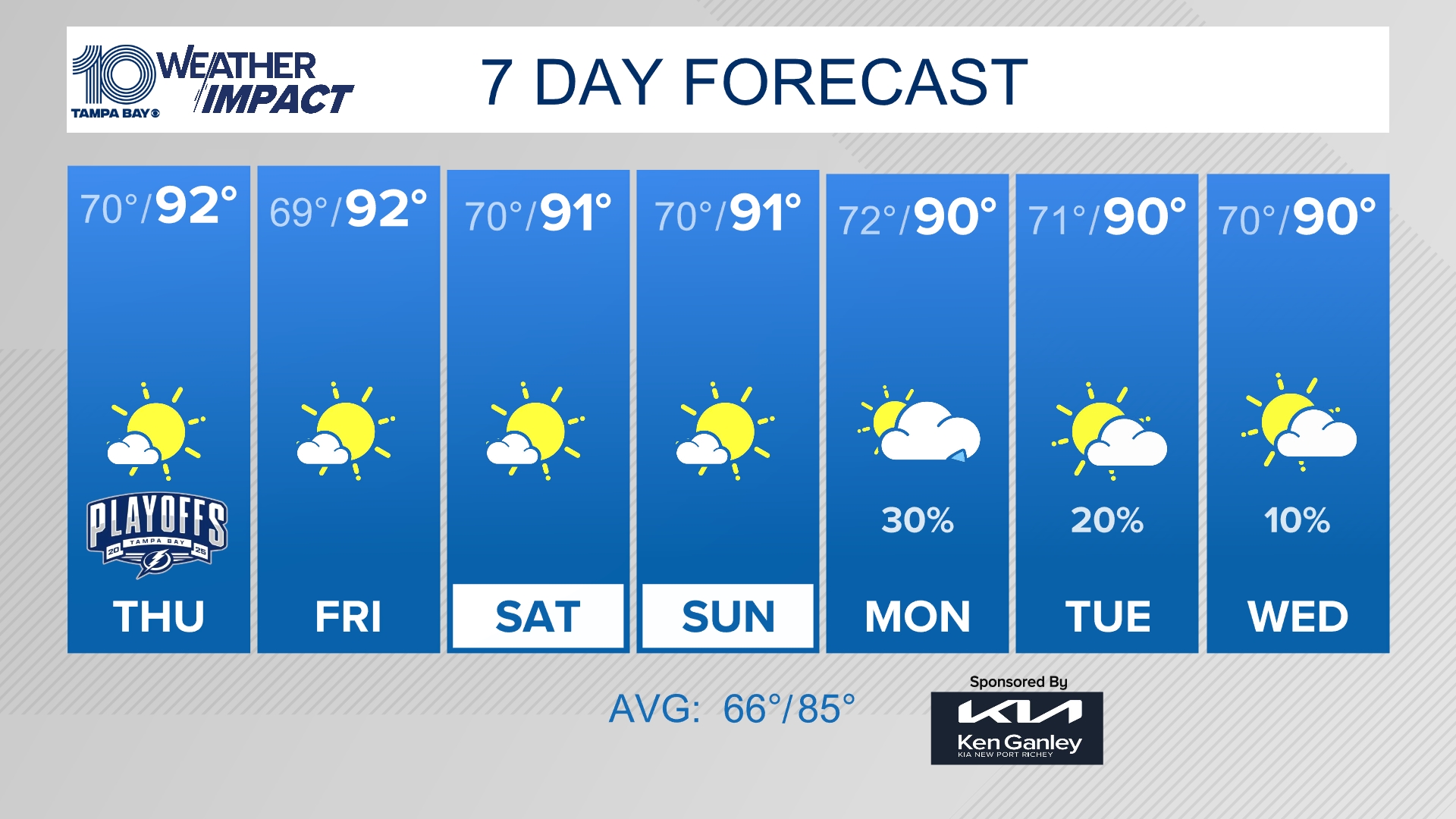 10News WTSP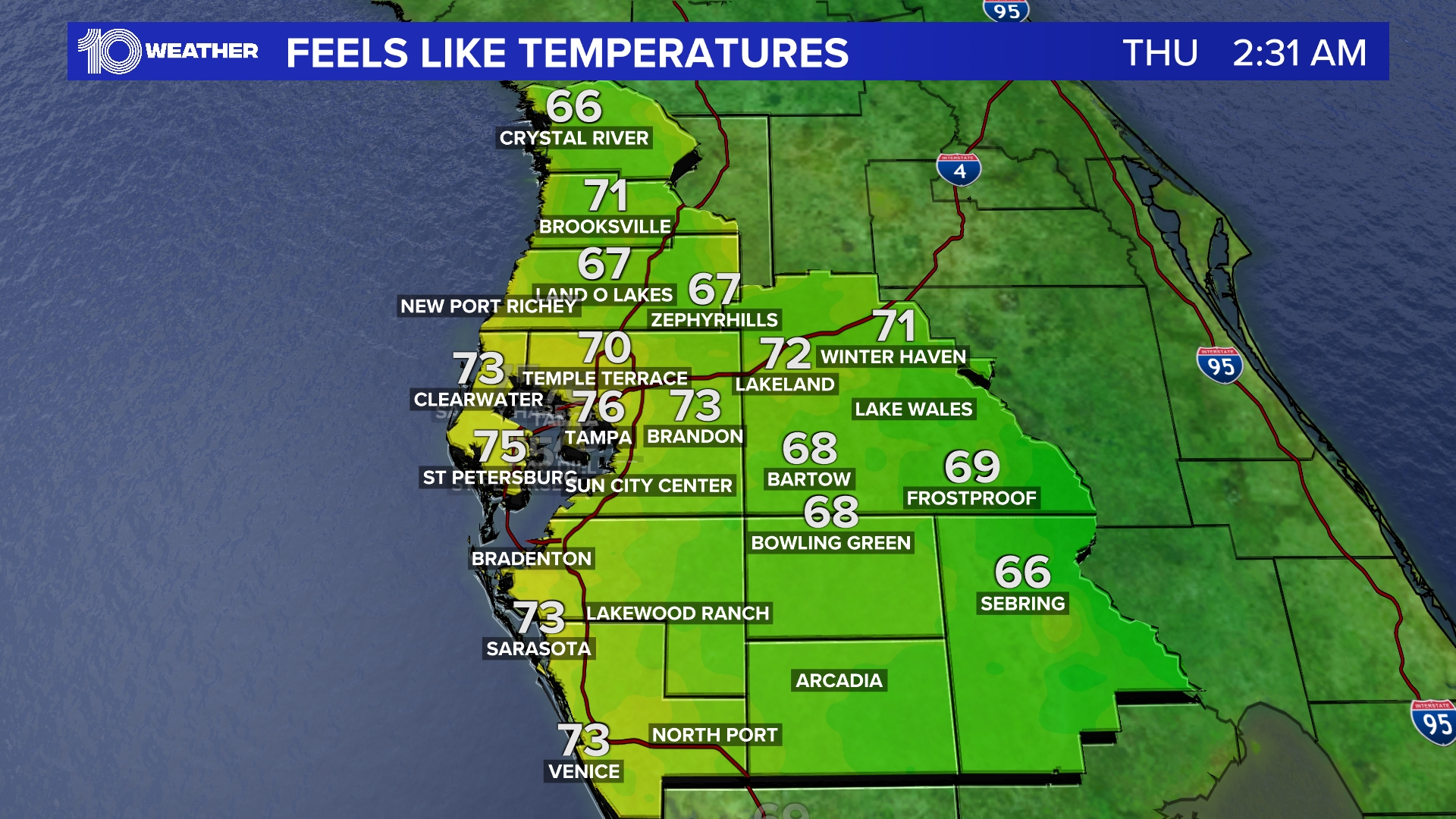 10News WTSP
• It might be a good idea to carry an umbrella today — just in case. A weak cool front will be moving through the area today, bringing with it some increased clouds and possibly a few sprinkle or brief showers, according to 10Weather WTSP. The high will be 77, with a 10 percent chance of light precipitation.
• The look on Adele's face said everything. When her blockbuster album 25 was awarded Album of the Year at Sunday's Grammy Awards, her expression melted into a sob of disbelief. Her eyes caught the camera, and you saw it all: Shock. Joy. Embarrassment. Even a little bit of horror. For in that moment, Jay Cridlin writes, she knew she had beaten Beyonce. And no one, not even Adele, was prepared to handle that.
• President Donald Trump will host Canadian Prime Minister Justin Trudeau at the White House today. Trump has said he wants to discuss his wish to overhaul the North American Free Trade Agreement. Trudeau has begun to position himself as a Trump foe on the world stage, delivering indirect but unmistakable criticisms of the new U.S. president's policies. After Trump signed an executive order temporarily banning all refugees as well as travelers from seven majority-Muslim nations, Trudeau said, "To the more than one million Canadians who profess the Muslim faith, I want to say directly, 'We are with you.' " Read how Canada is trying to capitalize on Trump's immigration executive order.
• On any given day you can see a quadcopter drone buzzing over a Tampa Bay park or a neighbor's backyard. Quadcopters are so good at capturing images, and so cheap to own and maintain, that now U.S. Special Operations Command wants to buy its own fleet. This month, Howard Altman writes, the command headquartered at MacDill Air Force Base put out a solicitation seeking small businesses that can provide 100 quadcopters, with the option to buy an additional 300. The goal is to put them in the hands of U.S. commandos and allies to provide quick battlefield surveillance.
• Craig Fugate, 57, was appointed by President Barack Obama in 2009 after guiding Florida's Division of Emergency Management through a series of hurricanes and other calamities. By all accounts, the plainspoken former Alachua County firefighter helped bring FEMA back into good standing following the crisis of Hurricane Katrina. Back in Florida after quietly stepping down last week, he is happy to leave the next disaster to a new FEMA chief, Alex Leary writes.
• The U.S. Senate is expected to vote today on the confirmation of President Donald Trump's nominees for treasury secretary, Steven Mnuchin, and Veterans Affairs secretary, David Shulkin. Mnuchin, a former Goldman Sachs banker who was the Trump campaign's finance chairman, was boycotted by Democrats during a vote by the Senate Finance Committee. Read about a bank founded by Mnuchin that engaged in ethically questionable foreclosure practices in Washington state-including so-called "robo-signing" of documents.
• The U.S. Coast Guard said it is searching for an aircraft that left Brooksville en route to Cedar Key on Sunday. Three people were aboard the aircraft, the Coast Guard said. Stay with tampabay.com for updates.
• It's a familiar Aesop's Fables, but it appears Florida House Speaker Richard Corcoran has never read The Goose That Laid the Golden Eggs. Corcoran, perhaps to boost his name recognition for a gubernatorial run, continues to make headlines in his quest to withdraw state funding from Visit Florida, Ernest Hooper writes. Even more amazing, Rep. Shawn Harrison, R-Tampa, went against his area's own tourism interest in a House subcommittee vote last week. This zero-funding approach has failed spectacularly in other states, and advocates say if a similar move results in even a 5 percent drop in Florida visitors, the outcome would be a loss of $5.5 billion in revenue, $563 million in taxes and 70,000 jobs.
• Here are the top things to do this week in Tampa Bay, including the opening of the Bay Area Renaissance Fest, and festivals ranging from the Clearwater Sea-Blues Festival to the Beer, Bourbon and BBQ Festival in Curtis Hixon Waterfront Park.
• We talked to colorful Food Network star Guy Fieri about the menu he personally created for Planet Hollywood at Disney Springs and also about what's known as "the Triple D effect" on the mom-and-pop restaurants he visits.
• There's no doubt Katherine Heigl really, really wants us to like her, Brittany Volk writes. After her Emmy-winning role in Grey's Anatomy came her zealous appetite to become the next great movie rom-com heroine (27 Dresses, The Ugly Truth). Viewers didn't embrace her two years ago on NBC's heavily promoted political thriller State of Affairs, which was canceled after its first season. That could change with Doubt, Volk writes.
• To get ready for Valentine's Day on Tuesday, food critic Laura Reiley has some suggestions for bringing the romantic food to you.
• Reiley also catches up with Lutz resident Jo Anne "Joni" Hartzler, a Tampa Bay realtor by day who leaps into action once a year and delivers some incredible eats at the Florida State Fair.
• If you're into cooking, food editor Michelle Stark offers some recipes for a romantic dinner for two.
• The Westminster Kennel Club dog show starts today, and by Tuesday night a new Best in Show' will be crowned. About 2,800 dogs from 190 breeds will be competing, and every year, new breeds are added to the mix. This year, there are three: the Pumi, a Hungarian herding dog; the American hairless terrier; and the Sloughi, also known as the Arabian greyhound.