• It will be warm today with a slight chance of rain this evening that will increase on Tuesday. Expect a high of 83 with a low of 67, according to 10Weather WTSP.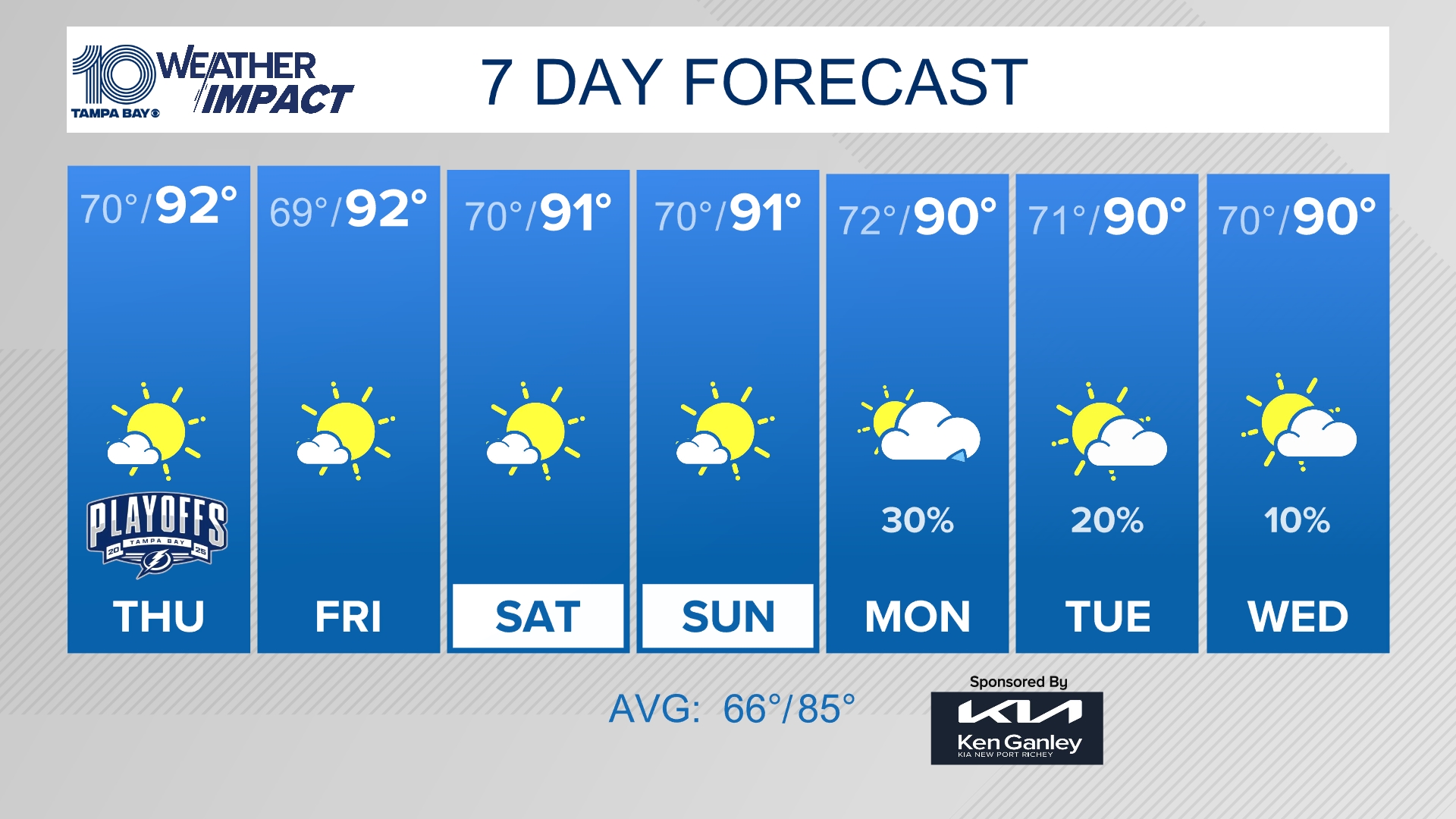 10News WTSP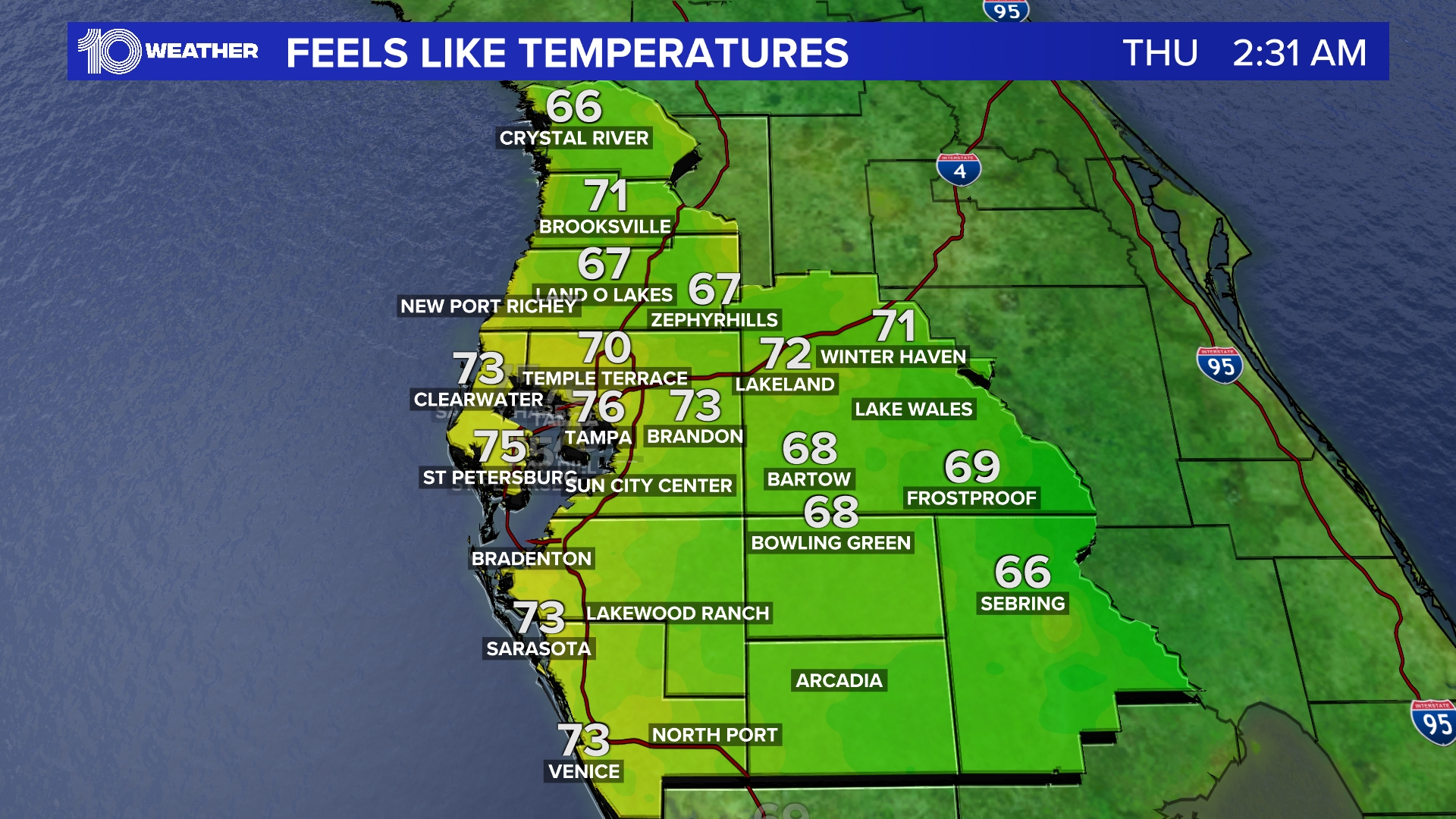 10News WTSP
• The weather should be perfect for the Outback Bowl, which pits the Florida Gators against the Iowa Hawkeyes this afternoon. There will be a giant tailgate party outside the stadium starting at 10 a.m. that includes live music, a pep rally and food. The game kicks off at 1 p.m. at Raymond James Stadium, with the TV broadcast on ABC.
• Speaking of the Outback Bowl, if you're looking for the best route to the stadium, check out our live blog for the latest traffic updates and road conditions across the region.
• Pedestrian deaths in Hillsborough County fell by almost 25 percent last year, following the deadliest year on record in 2015 for people walking the streets. But while pedestrian deaths dropped from 51 in 2015 to 39 in 2016, local officials say too many people are dying while walking or biking on Tampa Bay's streets. Read Caitlin Johnston's story at assessing the numbers, and why safety improvements have been slow in coming.
• As a new year begins, cooking thoughts always turn to that unicorn of the kitchen: the wholesome, tasty meal that requires little time and hassle to put together. Food editor Michelle Stark presents some 30-minute meals to kick start a healthy new year.
• The Islamic State group claimed responsibility for the New Year's attack at a popular Istanbul nightclub that killed 39 people and wounded scores of others.
• Retired U.S. Marines Gunnery Sgt. Tom Williams studies history for a nonprofit educational group he helped create to support the corps, and in the next few months he'll be delivering a tangible lesson to MacDill Air Force Base: replicas of Marine uniforms dating to the service's founding at Philadelphia's Tun Tavern on Nov. 10, 1775.
• From the confines of a Florida prison, Vincent Craig Williams types screeds attacking the Pinellas County legal system. In one document, Williams wrote that Pinellas Clerk of the Circuit Court Ken Burke should immediately release him — a "flesh and blood mortal being" — from prison. Williams, 57, is serving 20 years for attempted murder. Burke's case has played out across the country and Florida, experts say, as those affiliated with the sovereign citizen movement retaliate against public officials using a court system they don't believe in.
• Roman Catholics shouldn't be surprised if they run into their new spiritual leader snagging buy-one-get-one deals at the grocery store. Bishop Gregory L. Parkes will probably be wearing a T-shirt and shorts. Learn more about Parkes, who is set to be installed Wednesday as the fifth bishop of the Diocese of St. Petersburg, an area of about 500,000 Catholics spread across Citrus, Hernando, Hillsborough, Pasco and Pinellas counties.
• The first WWE Raw event of 2017 is broadcasting live from Tampa's Amalie Arena tonight Wrestling fans were giddy at the news that Bill Goldberg will be one of the featured superstars. He returned to WWE in October for the first time in more than 12 years.
• Here are more of the top things to do this week in Tampa Bay including Cirque Dreams, a toy piano festival of serious musicians and the Tarpon Springs Epiphany celebration. And mark your calendar for events leading up to next Monday's College Football Playoff National Championship in Tampa, including concerts, fireworks and a interactive fan area.
• The Tournament of Roses Parade rolls at 11 a.m. today on ABC, and one of the floats will honor the victims and survivors of the Pulse nightclub shooting in Orlando. The AIDS Healthcare Foundation in Los Angeles commissioned the float. Foundation spokesman Ged Kenslea said the float honors the 49 people killed in the June 12 massacre. He said it also signals the ongoing fight against "homophobia that could have contributed to this massacre."
• From the confines of a Florida prison, Vincent Craig Williams types screeds attacking the Pinellas County legal system. Members of the anti-government sovereign citizens movement have been filing false and damaging documents against members of the county's legal system, including Pinellas Clerk of the Circuit Court Ken Burke. Times staff writer Laura Morel explains the problem at and why it's so hard to keep these documents out of the court system.