• Today starts out on the nippy side, with lows in the low 50s. But expect more sun and less wind by the afternoon, temperatures get into the low 60s. The air cools down again tonight, with overnight lows in the upper 40s, according to 10News WTSP.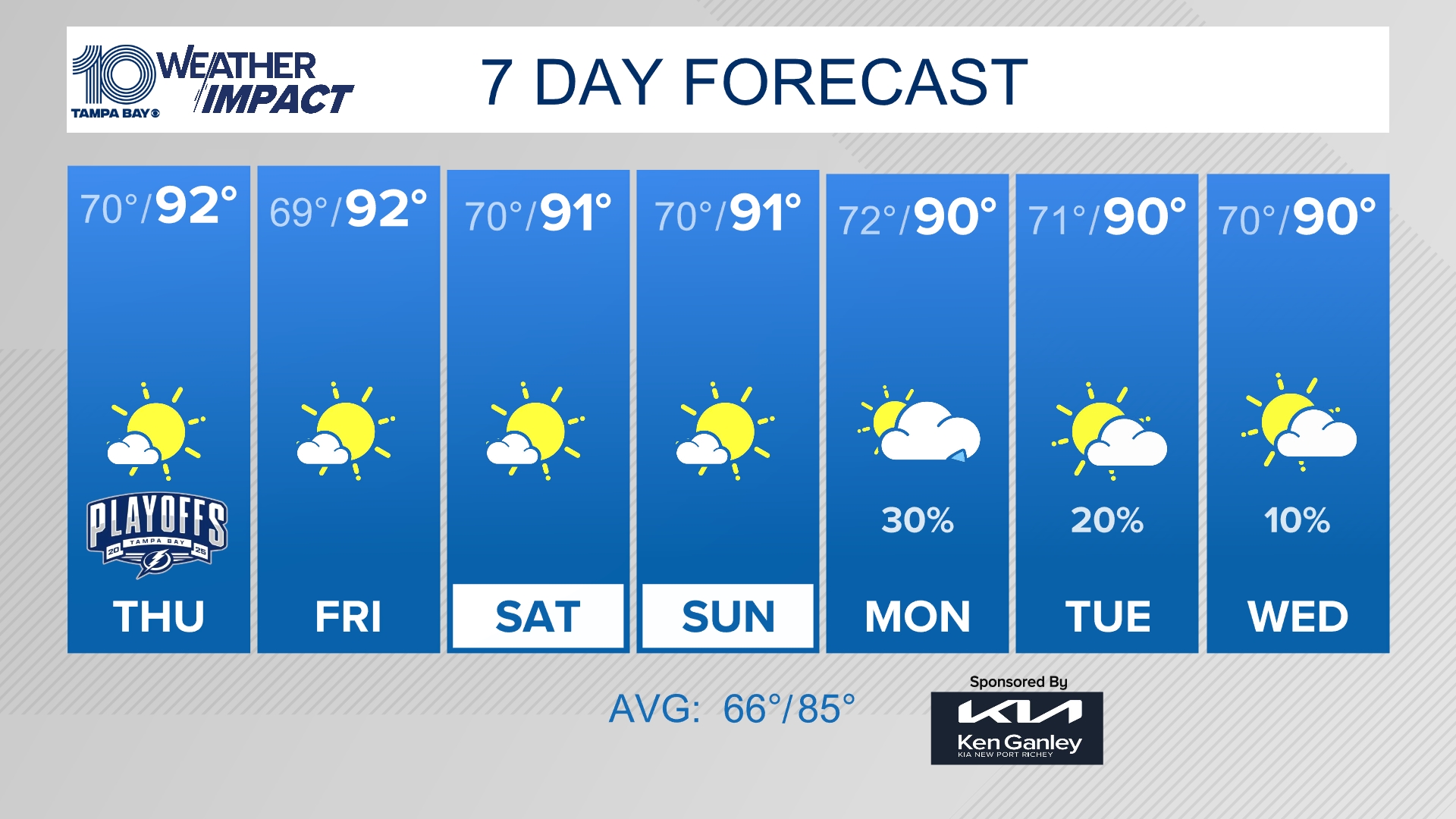 10News WTSP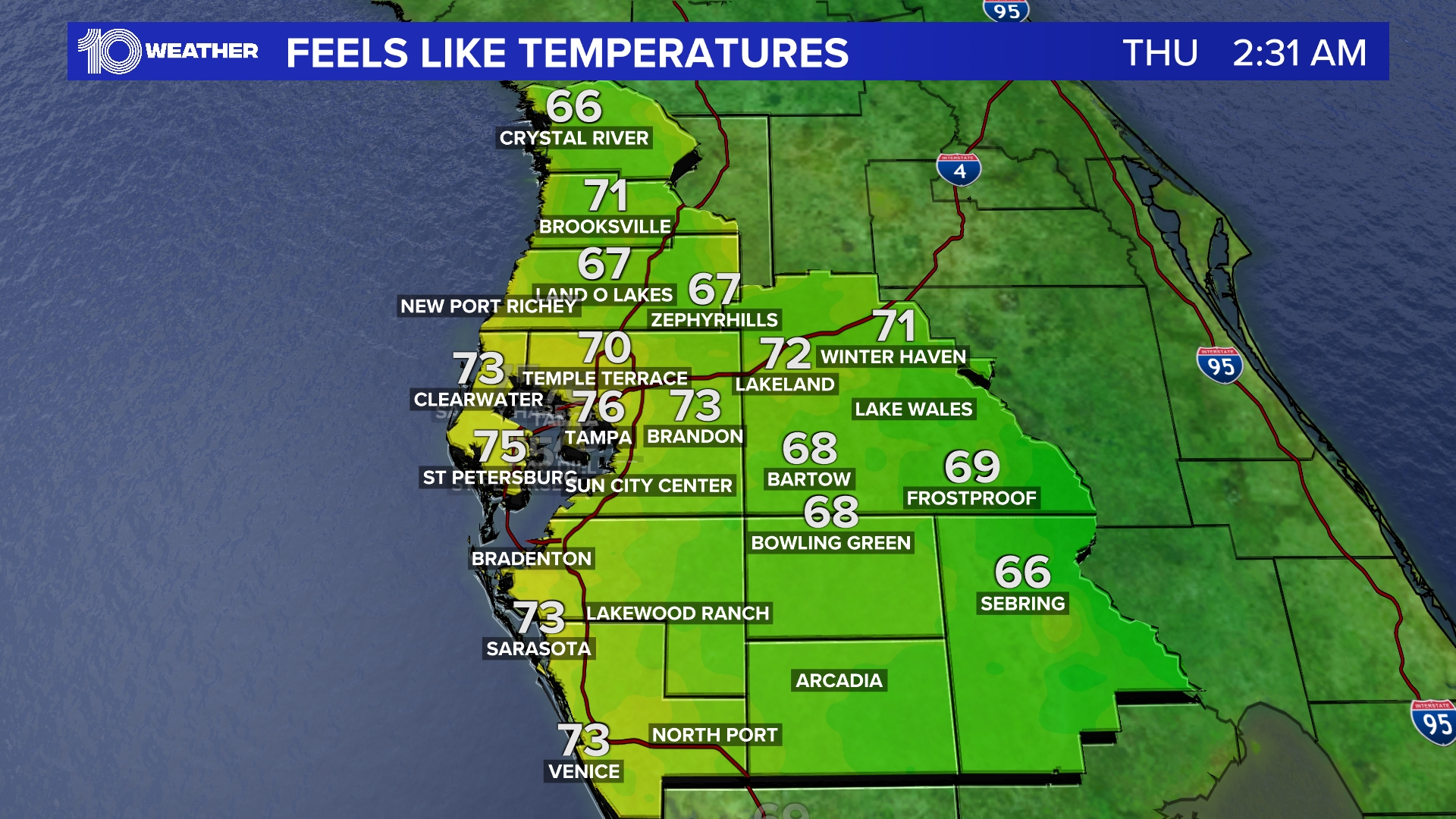 10News WTSP
• As you head out for your morning commute, check out our live blog for thelatest traffic updates and road conditions across Tampa Bay.
• The towers transforming downtown's skyline showcase the city's building boom, but those striving to preserve the city's history fear that progress could overshadow its past. Former City Council member Jeff Danner. is a member of St. Petersburg Preservation, which has spent almost four decades fighting to preserve the city's historic landmarks. The organization is as busy as ever, trying to save some of downtown's oldest buildings in an era of rapid redevelopment.
• Bill Edwards has honed an image in St. Petersburg as a civic do-gooder. But as Edwards pushes ahead with plans to make St. Petersburg home to a Major League Soccer team, he continues to be dogged by a lawsuit that paints a less flattering picture of the 72-year-old entrepreneur. In a case filed in federal court in Atlanta, two whistleblowers who accuse Edwards of "looting" millions from his defunct mortgage company are asking the judge to freeze his assets or order him to post a sizable bond.
• A Tampa Bay Times review of the Tampa Sports Authority's 2016 food and drink invoices found the taxpayer-funded agency spent $37,600 in its suite during Bucs games and other events at Raymond James Stadium. Who is in the suite for those games? Mostly authority board members and their guests. And guess who's picking up the tab?
• A judge has ordered former Hillsborough County Public Transportation Commission chief Kyle Cockream to appear today at a hearing today looking into why public records may be missing from his agency cellphone. Judge Richard A. Nielsen issued the order in a suit filed against the PTC by a Sarasota law firm. The hearing is scheduled for 2 p.m. For updates, check in later today at tampabay.com.
• After six years of refusing to give Florida corrections officers a pay raise, Gov. Rick Scott is including $38 million in his proposed budget to boost pay for officers in Florida's prison system, which is one of the nation's most violent. The pay bump, to be unveiled Tuesday when Scott releases his proposed budget, would be for officers up to and including the rank of captain, said Scott's spokesman, McKinley Lewis.
• Tammy and Paul Holmberg put the give in giveaway, columnist Ernest Hooper writes. The Holmbergs, longtime ambassadors of generosity in the Brandon area, opened a Chick-fil-A in Valrico on Jan. 26, and as with any new Chick-fil-A, residents camped out 24 hours before the opening because the first 100 customers receive free meals for a year. This time, they gave as much as they received. Led by Tammy Holmberg, the customers boxed up lunch for Brandon's Meals on Wheels program, packaged non-perishable food for Feeding Children Everywhere and helped deliver dinner to A Kid's Place.
• The 49ers shocked the NFL on Sunday by hiring former Bucs and Broncos safety John Lynch as the team's general manager. Lynch, 45, has no front-office experience, but his connection to former 49ers head coach Bill Walsh, whom he played for at Stanford, turned out to be a plus, as well as his ability to surround himself with a "great staff," 49ers CEO Jed York told the San Jose Mercury News.
• Super Bowl week has arrived, as the Atlanta Falcons and New England Patriots preparing to play in Sunday's big game in Houston. Among those making the trip is a name familiar to Tampa Bay fans. Raheem Morris, once the Buccaneers head coach, has been a defensive coach throughout his career. This year, however, he's coaching the Falcons wide receivers, including Julio Jones, one of the NFL's top pass-catchers.
• For Bucs fans frustrated to see receiver Mike Evans on the sidelines throughout Sunday's Pro Bowl, don't be angry at NFC coach Jason Garrett, Greg Auman writes. Evans, who barely played and was not targeted in the NFC's 20-13 loss to the AFC, said after the game that he was "a little banged up" but still enjoyed being a part of his first Pro Bowl experience.
•Buffalo wings are practically the official food of the Super Bowl, food critic Laura Reiley writes. Don't want to make them yourself this weekend? Leave it to the experts. Where to go? Here are some hot places to consider.
• The backlash is expected continue today against President Donald Trump's executive order banning citizens of seven Muslim-majority nations from entering the United States. Hundreds gathered in Ybor City on Sunday night, and among the planned protests today: Sen. Chuck Schumer, D.-N.Y., and House Minority Leader Nancy Pelosi, D-Calif., are inviting all Democratic lawmakers to join them at 6 p.m. at the U.S. Supreme Court to show solidarity with legal attempts to block the travel ban. Check back with tampabay.com for the latest on the issue throughout the day.
• In case you missed it, check out Claire McNeill's report on the mental health crisis affect Florida's college campuses. As enrollment has boomed, counseling centers hasn't kept pace. Effects of budget cuts linger. Meanwhile, more and more students with serious mental health issues are entering college. "If we do nothing," said USF psychology professor Jonathan Rottenberg, "we're going to have something of a lost generation."
• This has the potential to be a busy week for the Rays, as they are set to formally add OF Colby Rasmus to their roster. Marc Topkin says they are working on several other additions, and details some names that may be on the Rays' radar as they look to improve their roster.