• As you head out for your morning commute, check out our live blog for the latest traffic updates and road conditions across Tampa Bay.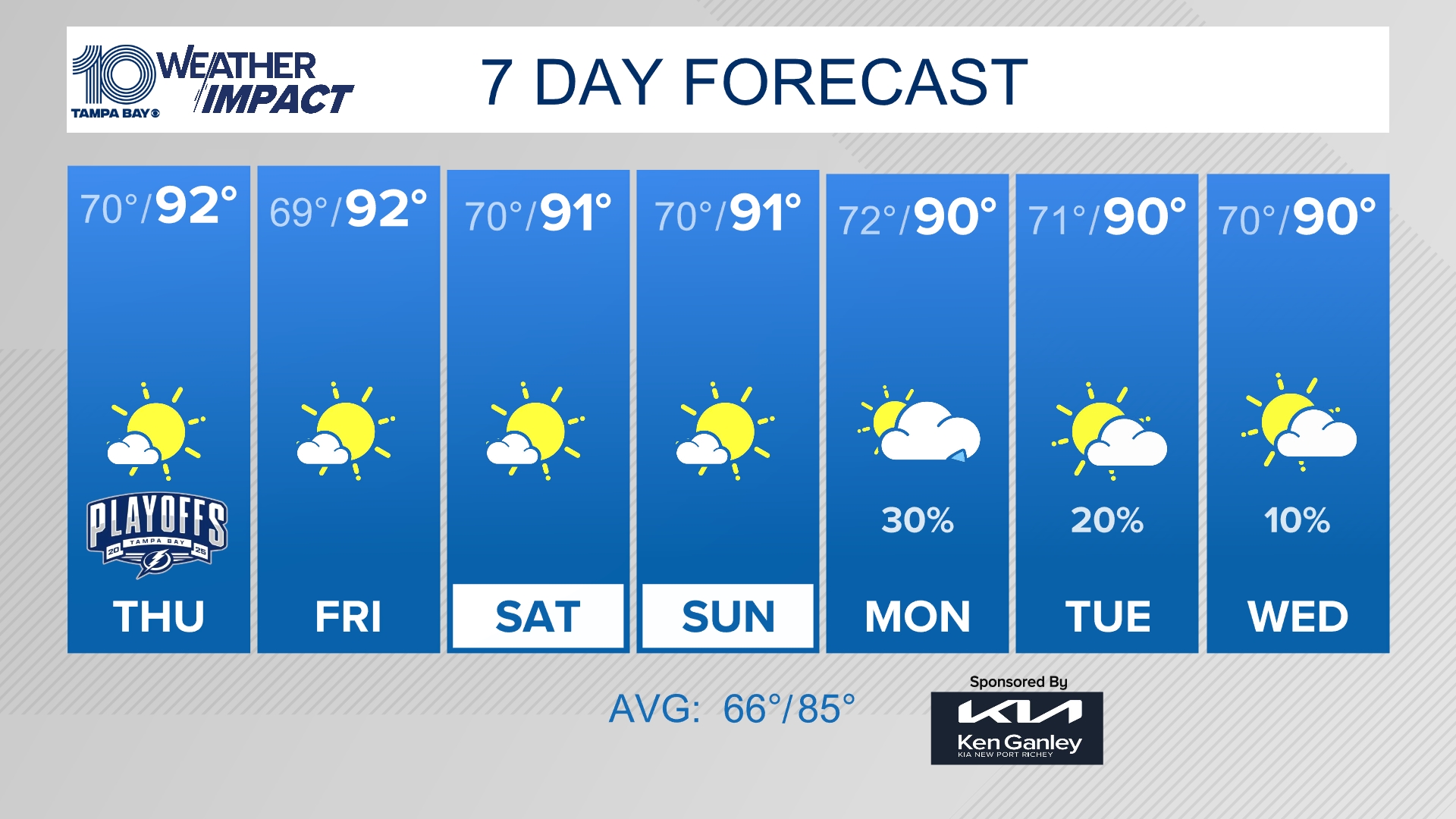 10News WTSP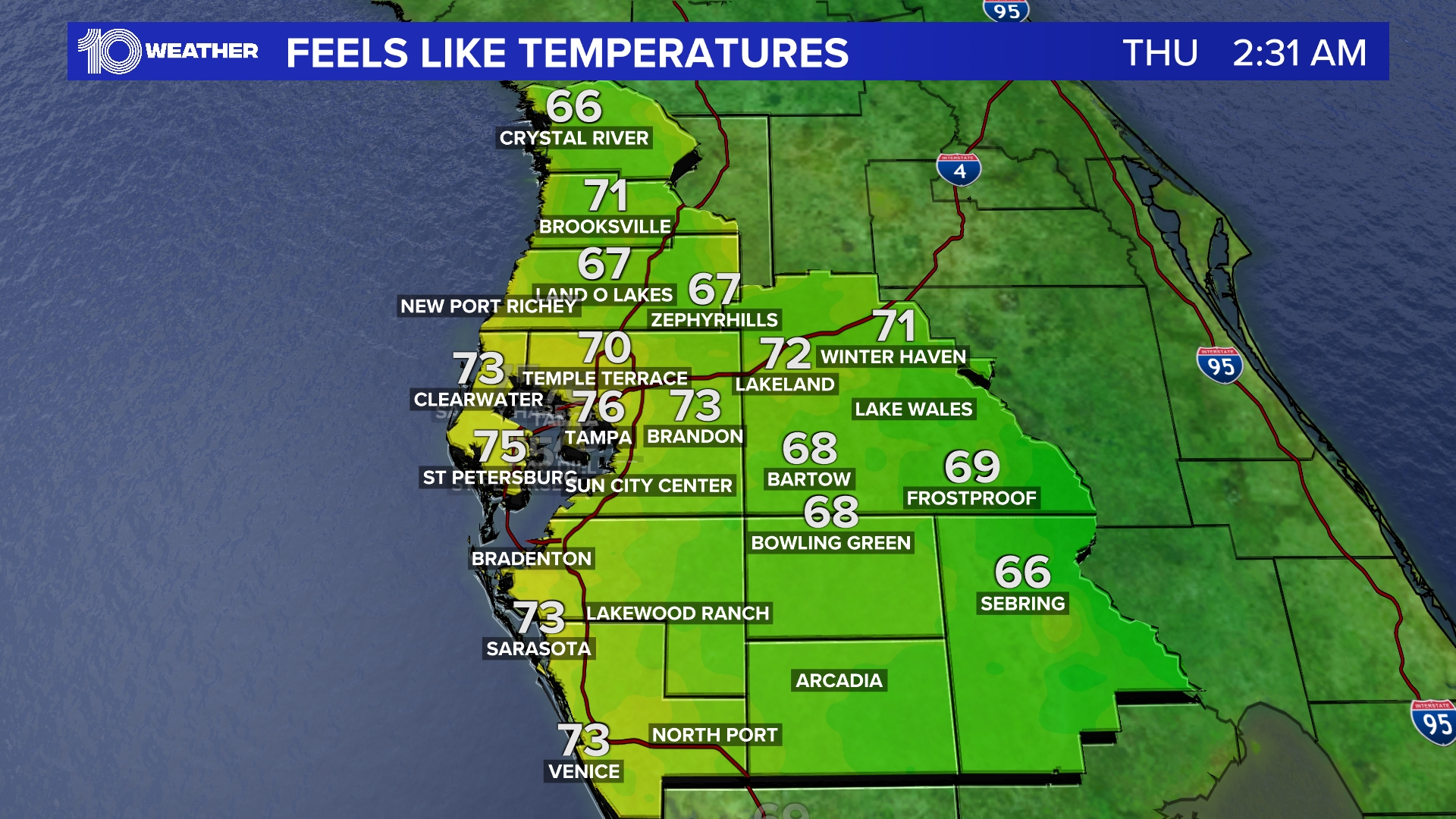 10News WTSP
• Bundle up for a cold morning, which will start under a wind chill advisory until 9 a.m. By this afternoon, things will warm up to a high around 67 degrees. The warming trend will continue through the week, according to 10Weather WTSP.
• The Alabama Crimson Tide and Clemson Tigers will play for the College Football Playoff National Championship tonight at Raymond James Stadium. Kickoff is at 8 p.m.; the TV broadcast is on ESPN. It's a rematch of last year's championship, which Alabama won. Check out our College Football Playoff page for the latest.
• Thousands of fans packed Curtis Hixon Park. Hundreds more jammed the sidewalks outside. And everyone was dancing just as hard as the man in the red satin jacket whose face was splashed across Tampa's Beer Can Building. Oh, you thought the Alabama-Clemson game was the hot ticket in town this weekend? Then you weren't there for Usher Sunday night. Check out Jay Cridlin's review of Sunday's concert here.
• Those watching the game on TV — or at Raymond James Stadium — will see a familiar sight. Some 1,000 feet up and well beyond the spiral of the most wayward punt or Hail Mary pass is airship assistant pilot Adam Basaran's usual vantage point for major sporting events. Basaran will be one of four Goodyear pilots at the controls today as Wingfoot One, the tire company's state-of-the-art airship, makes its Tampa debut for the College Football Playoff National Championship.
• Politics hovered around the edges of much of the 74th annual Golden Globes Awards on Sunday night, but Meryl Streep brought the topic front and center when she accepted the Cecil B. DeMille award for lifetime achievement. Streep's friend and Doubt co-star Viola Davis made an emotional introduction of Streep. Then Streep took the stage to talk about the role actors and journalists have to play with Donald Trump as president. She also gave a nod to the Committee to Protect Journalists. Twitter exploded with comments about Streep's speech — in favor of what she said and blasting her for criticizing the president-elect. Read the transcript of her comments here.
• Aside from Streep, the Globes were dominated by La La Land, which steamrolled through the Jimmy Fallon-hosted show. It dominated with seven awards, including best motion picture, comedy or musical, while the night's final award went to Barry Jenkins' tender coming of age drama Moonlight. Its sole award was for best motion picture, drama.
• Esteban Santiago, 26, the Iraq war veteran accused of killing five travelers and wounding six others in a baggage claim shooting at Fort Lauderdale-Hollywood International Airport, will have his first court appearance today. Santiago was charged with an act of violence at an international airport resulting in death — which carries a maximum punishment of execution.
• Uber hit the road with self-driving cars in San Francisco in December, but California regulators quickly hit the brakes. In Florida, state Sen. Jeff Brandes, R-St. Petersburg, saw an opening for the Sunshine State. "Hey @Uber, unlike California we in Florida welcome driverless cars — no permit required. #OpenForBusiness #FlaPol," Brandes tweeted Dec. 22. Brandes, who has been advocating for laws to allow driverless cars, is correct that Florida does not require a permit to operate or test a driverless car. But that doesn't mean people should expect to hitch an automated ride any time soon. Read PolitiFact Florida's report on tampabay.com.
• As Florida lawmakers prepare to grapple again — for the third year in a row — with whether to allow concealed guns on public college and university campuses, another state has recent experience with this polarizing debate. Conservative lawmakers in Texas also took several years before ultimately approving guns on their state's campuses two years ago. They, too, faced resistance from many university presidents and attracted both praise and outrage from residents, as Florida lawmakers are starting to experience again this year. Times/Herald reporter Kristen M. Clark has the story.
• Ben Affleck wears too many hats in Live by Night, wrestling to adapt Dennis Lehane's novel and directing in spasms of style. Most ill-fitting are the fedoras and Panamas worn by Affleck the actor, playing a Prohibition-era Florida bootlegger as dashing as dishwater. Read Steve Persall's review of the film, which is set in Ybor City yet filmed in Georgia with production incentives Florida doesn't offer.
• Here are the top things to do this week in Tampa Bay including the return of the Sunshine Music Festival with its diverse mix of rock, blues and soul (headliners Tedeschi Trucks Band, Mavis Staples, Bruce Hornsby) to Vinoy Park and the Monster Jam at Raymond James Stadium.