• Bundle up for a cold but sunny day today, which will warm up to a high of 70, according to 10Weather WTSP. Lows tonight will fall to 46 degrees in the Tampa Bay area.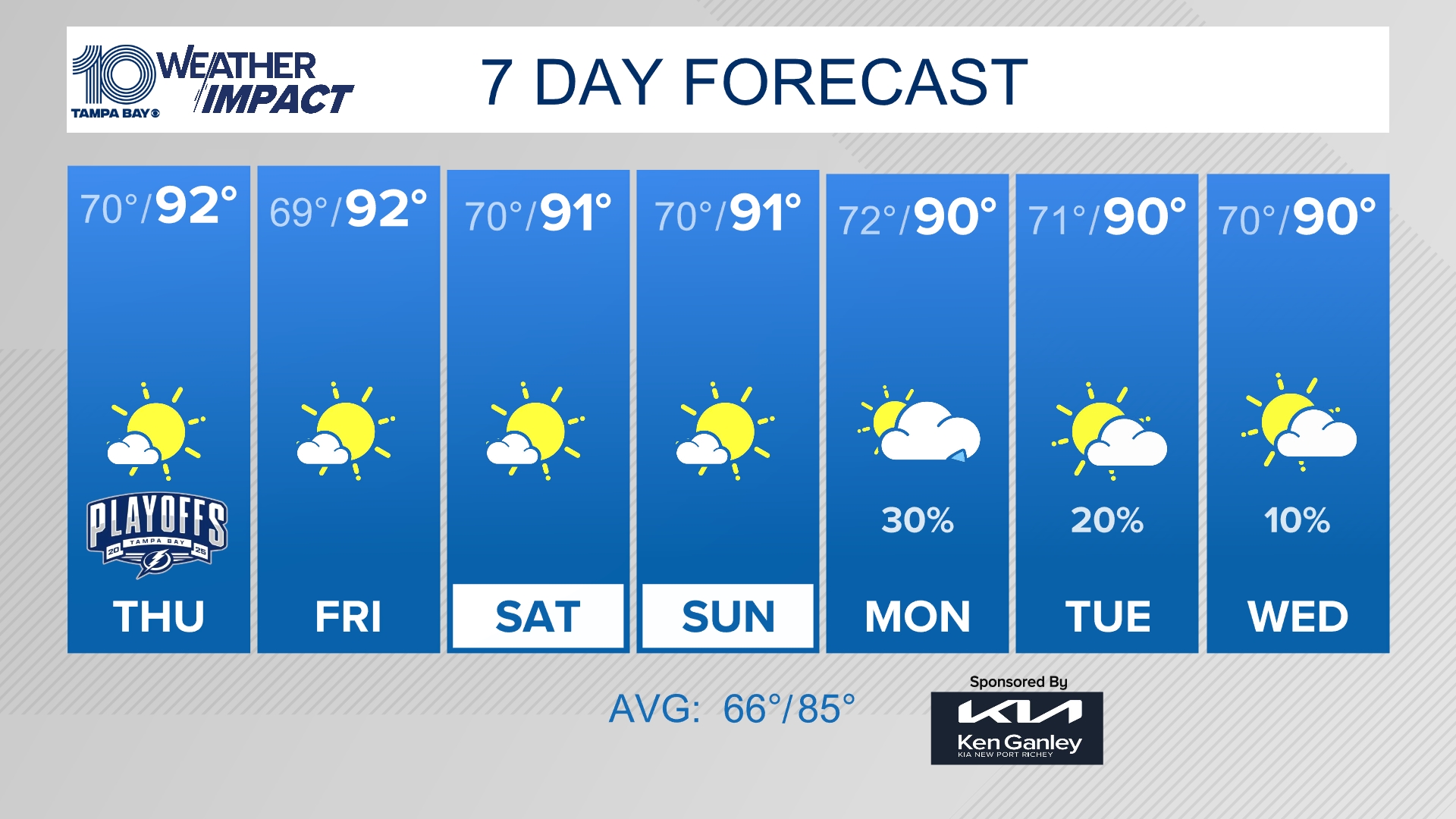 10News WTSP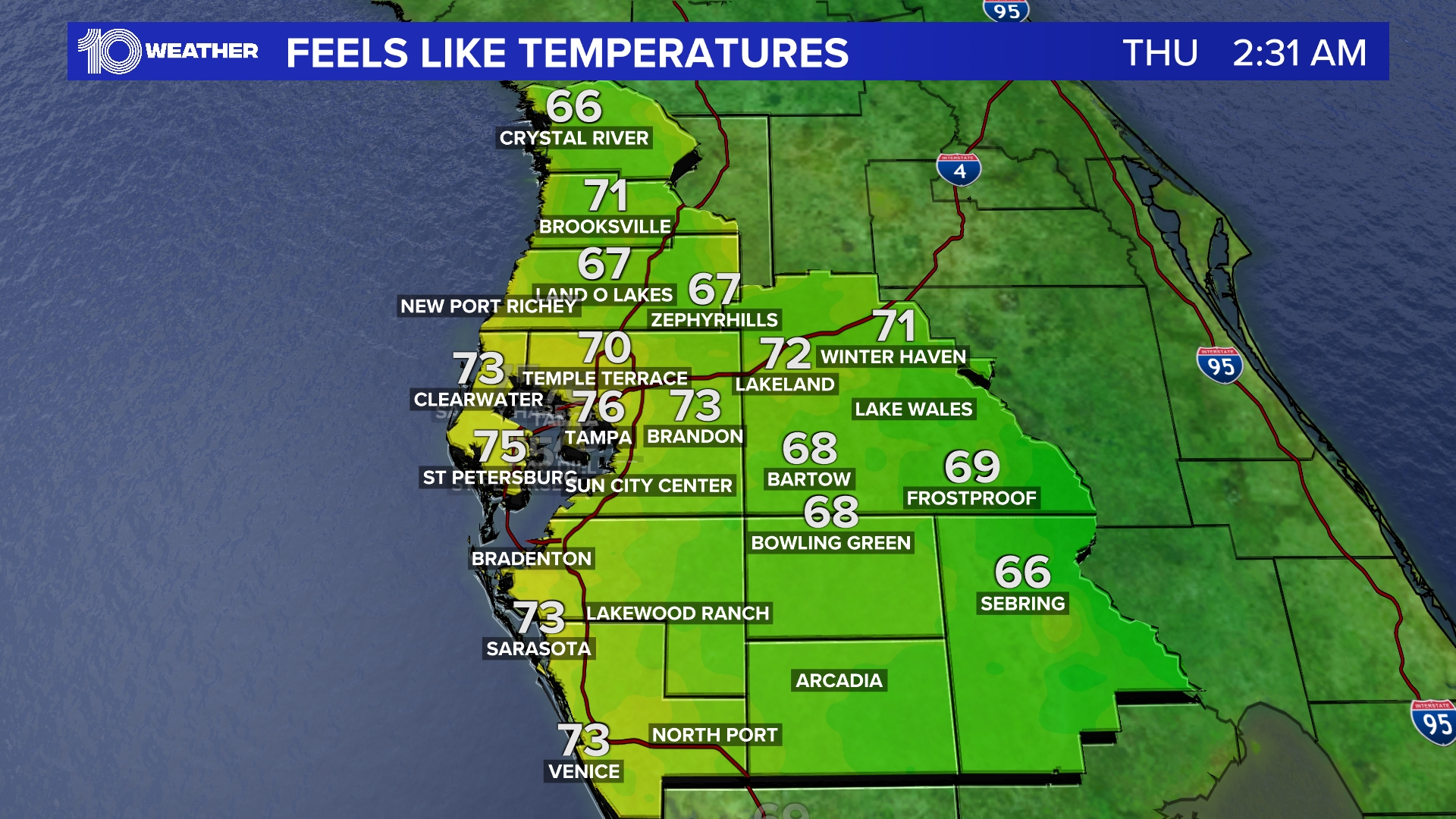 10News WTSP
• As you head out for your morning commute, check out our live blog for the latest traffic updates and road conditions across Tampa Bay.
• Jameis Winston was letter perfect in Sunday's 19-17 win over the Chiefs, passing for 331 yards and a touchdown to pull off one of the NFL's biggest upsets this season. Columnist Tom Jones warns fans not to laugh: The playoffs are now a very real possibility. Are you thinking postseason?
• Starting today, the state's 160 legislators head back to Tallahassee for a couple days of organizational meetings to get ready for the March legislative session. Among today's events is the 3 p.m. unveiling of the $6 million facelift for the Florida Senate chamber.
• You can test the waters and get free ferry rides today through Wednesday on the new Cross-Bay Ferry. The 50-minute trip across Tampa Bay between downtown St. Petersburg and the Tampa Convention Center will cost $10 when regular service starts later this week.
• As vice president of biological resources at the Florida Aquarium, Margo McKnight is point person for the Tampa facility's joint research with the National Aquarium of Cuba focused on coral reef restoration. President Barack Obama's initiatives to normalize relations with Cuba have made this work easier. But Donald Trump has promised to reverse Obama's Cuba policies, putting the aquarium partnership in jeopardy. Paul Guzzo explains what this means for Tampa Bay's relationship with Cuba.
• Yes, the end of hurricane season is approaching, but no, it isn't quite over. The National Hurricane Center is monitoring a low-pressure system in the extreme southwest Caribbean. If it becomes into a named storm, it would be called Otto.
• A team of former Green Berets who served around the globe are on a new mission. Instead of trudging across the dusty landscape of Afghanistan and battling the Taliban, the men have traveled the Tampa Bay area, battling bureaucracy, the real estate market and the challenges of finding a home for a 19-foot-tall commercial still. They're working to establish American Freedom Distillery, which will make whiskey and vodka, run and gin.
• The Tampa City Council wants to look to cities like Atlanta and Denver for ideas on improving Tampa's program to steer city contracts toward companies owned by women and minorities. This month's council vote to explore those ideas follows a series of discussions between the council and the Tampa Organization of Black Affairs, a nonprofit and nonpartisan group that focuses on economic development, political engagement and youth education.
• President-elect Donald Trump confirmed Sunday that future first lady Melania Trump and their 10-year-old son, Barron,

• Forget about stuffing, cranberry sauce and corn casserole. Nothing lends more flavor to this time of the year than the love served at Metropolitan Ministries' holiday tent, Ernest Hooper writes. And now it's time to show thanks.

• We've got a big week ahead, and here are the top things to do this week in Tampa Bay, including Thanksgiving Day Turkey Trot races, Dolly Parton at the Amalie Arena and Christmas Town returning to Busch Gardens.

• Attention couch potatoes, we have you covered. Check out our recommendations for what to watch this week, including the series premiere of the dark TBS comedy Search Party. Also, a winner will be named on Dancing with the Stars, and we have a roundup of Thanksgiving specials and what's now available to stream.