• Wake-up temperatures will be in the 70s as slightly drier air moves into the region with mostly sunny skies. Highs will again be above average, which is generally around 85 degrees this time of year, according to 10Weather WTSP.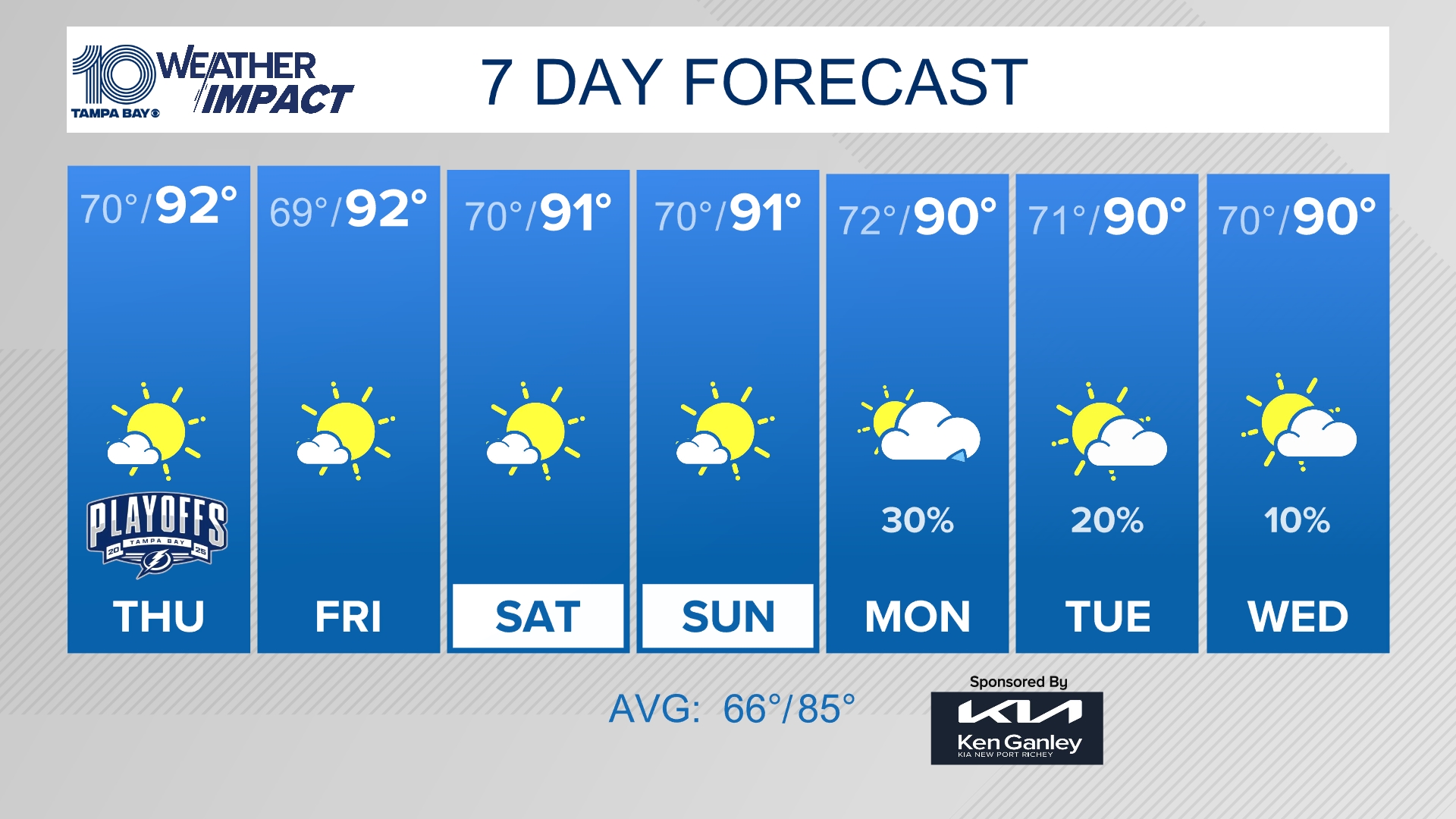 10News WTSP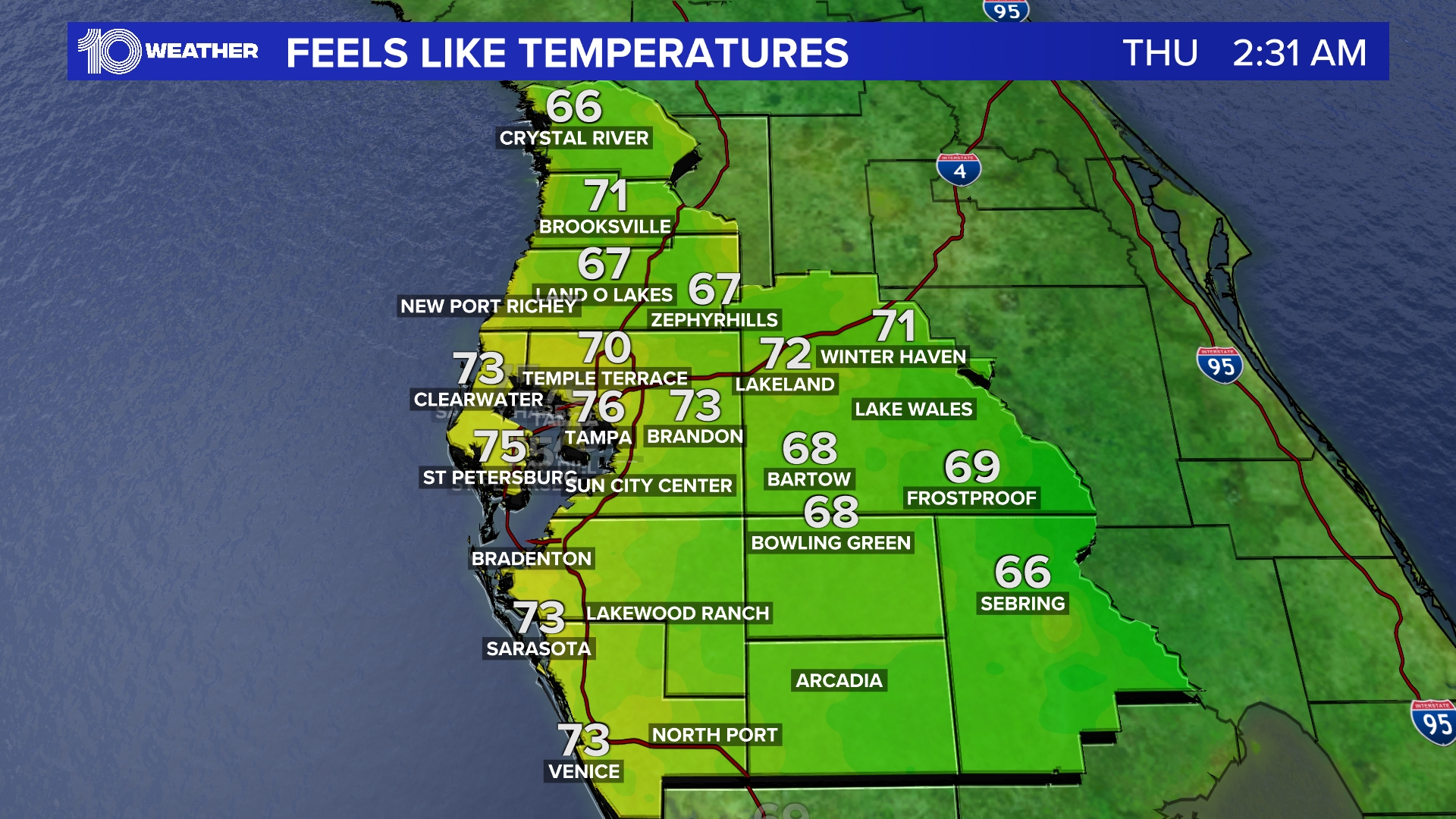 10News WTSP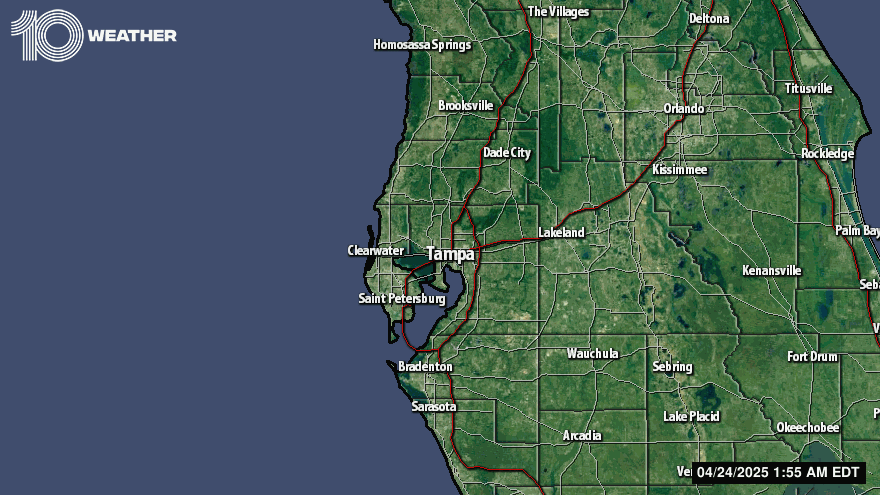 10News WTSP
• As you head out for your morning commute, check out our live blog for the latest traffic updates and road conditions across Tampa Bay.
• The Pinellas County wastewater/stormwater task force will meet at 9 a.m. in the Digitorium at the Seminole campus of St. Petersburg College to discuss the many sewage overflows that resulted from Hurricane Hermine last month. Follow Charlie Frago @CharlieFrago for updates.
• To many of us she is just Ina. We know she dotes on her husband, Jeffrey, as if she's a newlywed. (She's not.) We know she loves Paris, Thanksgiving, farmers markets and entertaining. We've seen her kitchen in the Hamptons (gorgeous) and what her garden looks like in summer (scary gorgeous). She is Ina Rosenberg Garten, a.k.a. the Barefoot Contessa, on Nov. 2, Garten, 68, comes to the Straz Center for the Performing Arts to discuss her life, her cooking and her newest book, Cooking for Jeffrey: A Barefoot Contessa Cookbook, which releases Tuesday. We caught up with her by phone to talk about her past, her present and exactly why her recipes are so darn good.
• Did you catch the Amy Schumer show at Amalie Arena on Sunday night? The comic got just a little bit raunchy while tackling several elephants in the room, including sex. comments she made in her book about Tampa ... and Donald Trump, causing a few to walk out in protest. Here is Jay Cridlin's review.
• Republican U.S. Sen. Marco Rubio will debate his Democratic challenger, U.S. Rep. Patrick Murphy, in tonight's one-on-one debate in Orlando. The live one-hour debate will be televised at 7 p.m. on all ABC stations in Florida and streamed online through Politico and ABC News. Murphy looks to gain an edge using Trump video, but will it be enough?
• Pasco County deputies fatally shot a suspect who charged a deputy a knife while barricaded in a bathroom at a house in Holiday early Monday morning. According to Pasco County Sheriff Chris Nocco, the suspect wanted to die by "suicide by cop."
• Lisa Lugo is one of thousands of teachers in Florida hired after 2011, when Gov. Rick Scott signed a law eliminating teacher tenure. Since then, teachers not grandfathered into the old system must work under contracts that have to be renewed every year, and districts don't need a reason to let them go. But 38 school districts statewide, including two in Tampa Bay, have found a way to give a sense of job security for teachers in good standing, and Pinellas County hopes to join their ranks this week.
• If you're looking for a job, the Seminole Hard Rock in Tampa is holding a job fair next Monday.
• Now that Ybor City's Spaghetti Warehouse has closed, it's auctioning off all its contents -- including a very strange statue.
• Josh Ritter's folksy, soulful, literate brand of alternative Americana doesn't sound like music that always has a home on country radio. But that doesn't mean it'll never happen. Ritter mostly plays theaters these days, including a gig with Grammy-winning songsmith Jason Isbell on Wednesday at Ruth Eckerd Hall. Check out Jay Cridlin's conversation with Ritter.
• Plan your week! We have a look-ahead at the top things to do this week in Tampa Bay.