• Morning temperatures in the Tampa region will be in the upper 50s to low 60s, according to 10Weather WTSP. There is no rain in the forecast for Monday. Highs are expected in the low 80s for most of the bay area as we finally have slid into fall seasonal conditions.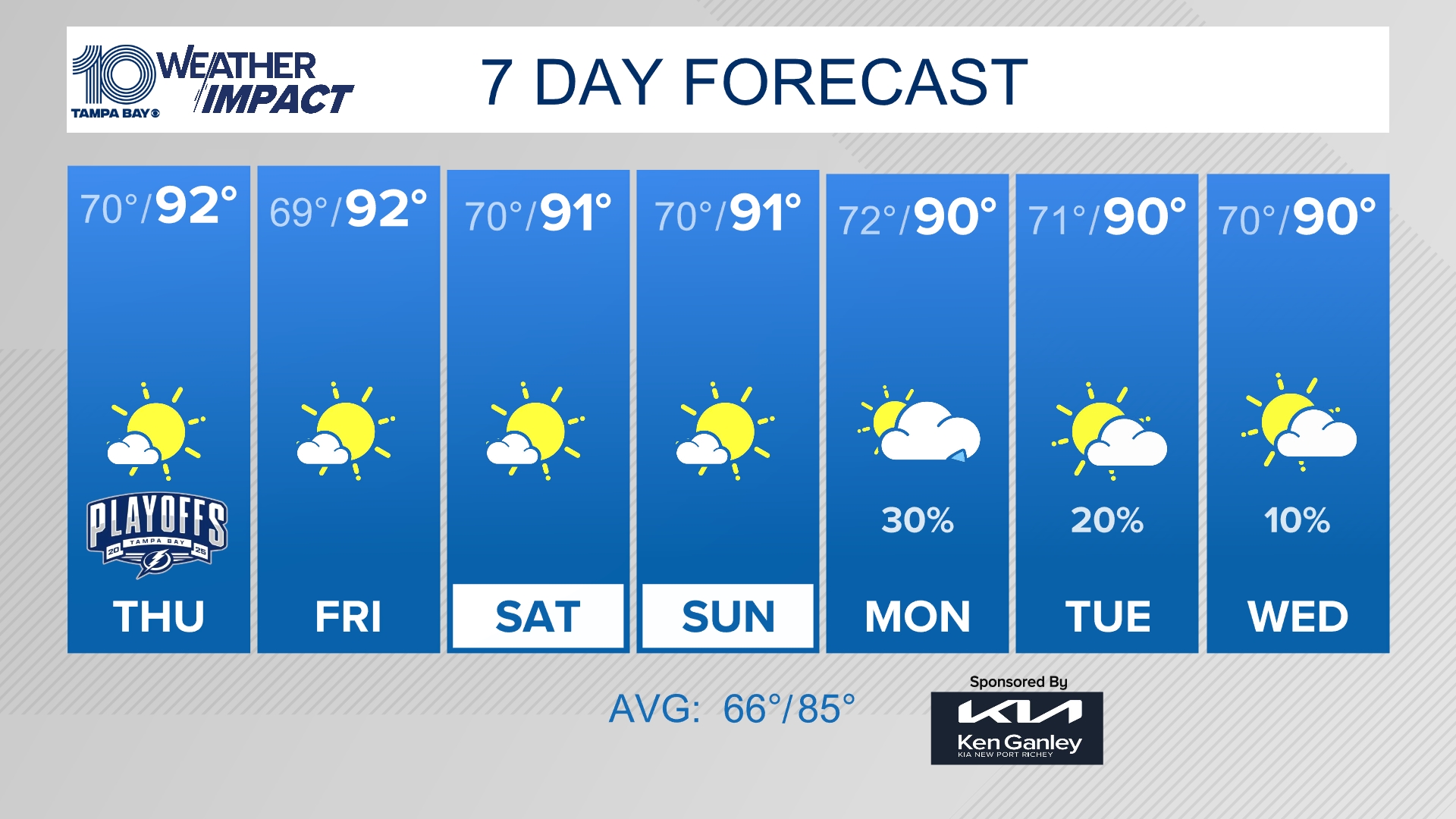 10News WTSP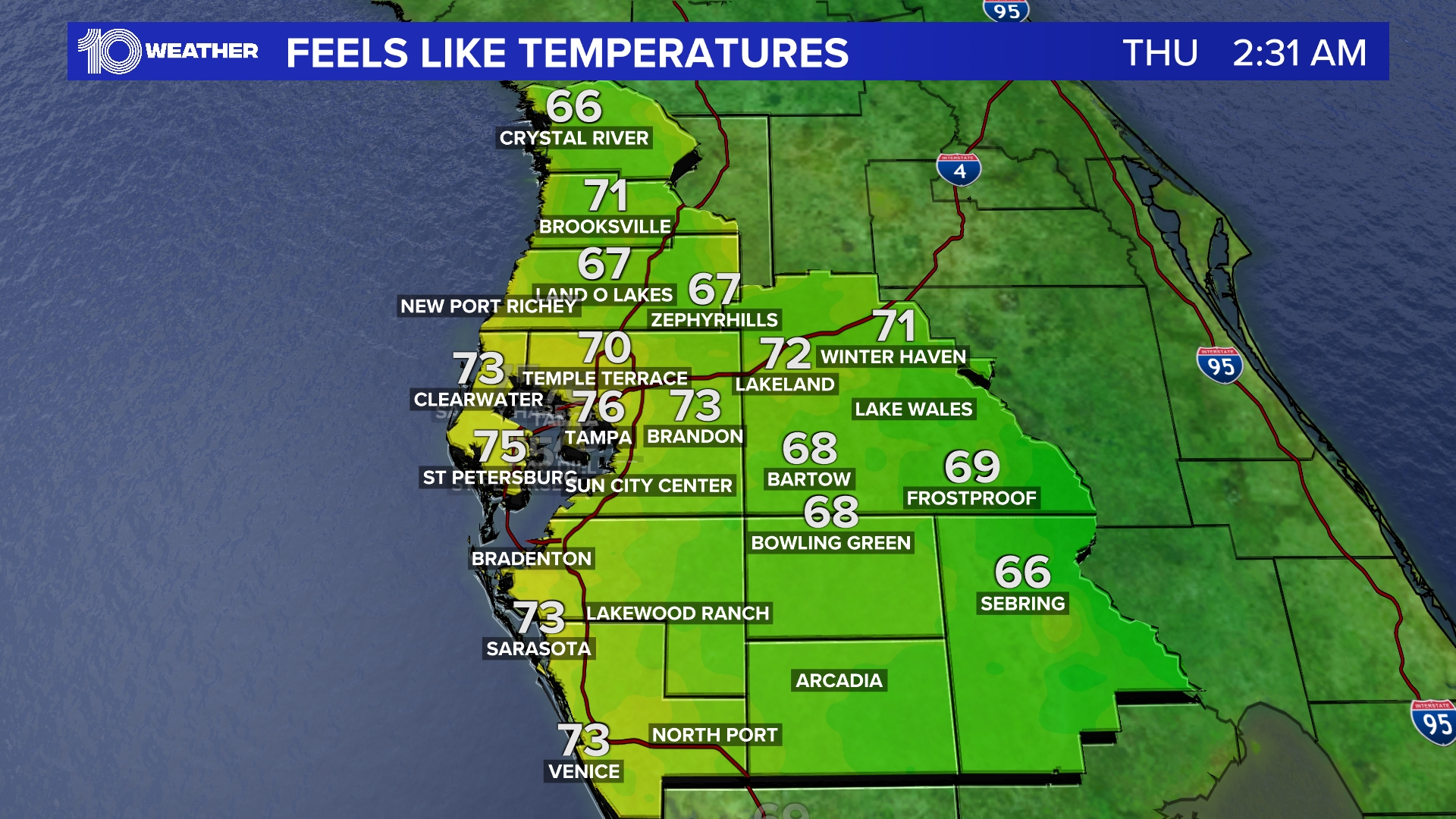 10News WTSP
• As you head out for your morning commute, check out our live blog for the latest traffic updates and road conditions across Tampa Bay.
• Today is the first day of early voting for most of Tampa Bay (not so fast, Pasco County, you have to wait another Saturday). For a complete guide of candidates, read Know Your Candidates 2016 before casting your ballot.
• After voting, swing by and watch Donald Trump hold a 7 p.m. rally at the MidFlorida Credit Union Amphitheatre in Tampa. Get tickets here.
• Mike Evans and Jameis Winston took over the game in the Bucs' 34-17 win over the 49ers. And considering their ages — Evans is 23, Winston 22 — it won't be long before these millennials take over the NFC South and perhaps the league, according to Rick Stroud. And don't look now, columnist Tom Jones writes, but the Bucs are starting to look like a good team.
• St. Petersburg City Council is set to meet at 8:30 a.m. and hopes to finally talk about a 2014 report that predicted this year's sewage crisis. The report contained warnings that shutting down the Albert Whitted sewage plant — which the city did in 2015 — could lead to the kind of massive sewage overflows the city has experienced this year. City leaders said they didn't know about the report, but why? Follow Times reporter Charlie Frago at @CharlieFrago for updates.
• Are businesses holding off on key decisions until after this crazy and nasty presidential election is over? According to a report out this morning: Yes, they are. But there's more to the story. Read Times business columnist Robert Trigaux's take.
• Once again, USF ranks among the top public universities in the nation when it comes to generating inventions. Read a full story from Times business reporter Jerome R. Stockfisch.
• What's a genteel, chamber of commerce, establishment Republican like Susie Wiles doing on a campaign like Donald Trump's? Longtime admirers of Wiles, the daughter of legendary NFL broadcaster Pat Summerall, lately have been asking themselves — and Wiles — that question a lot as she steers Trump's tumultuous and divisive campaign in must-win Florida, Adam C. Smith writes.
• The Cubs won their way into the World Series and a meeting with the Indians relatively easily Saturday night, riding a dazzling performance from starter Kyle Hendricks to beat the Dodgers and ace Clayton Kershaw 5-0. But to hear Cubs manager Joe Maddon tell it, the NL Championship Series may have been won three nights earlier, in the fourth inning of Game 4. That's when Ben Zobrist, like Maddon a longtime former Ray, helped them break out of a hitting slump that had led to two straight shutout losses and a 2-1 series deficit by dropping down a bunt. Cubs vs. Indians: Who do you have?
• The annual Faith and Action for Strength Together (FAST) gathering is set to take place tonight. There will be 7 p.m. meetings at St. Petersburg's Holy Family Catholic Church and Corpus Christie Catholic Church in Temple Terrace. This year's focus is aimed at convincing state legislative candidates to support a bill that would reduce the number of children arrested in Florida by making them eligible for civil citations. Follow reporter LaVendrick Smith @LaVendrickS for updates from St. Petersburg and Anastasia Dawson at @adawsonwrites with updates from Tampa.
• Take a moment to plan your free time. Here are the top things to do this week in Tampa Bay, including a new Ybor Halloween parade and loads of parties, and the U.S. Olympic gymnastics team Final Five on tour at Amalie Arena.