• Halloween looks to be dry and warm with high temps in the mid 80s, according to 10Weather WTSP. Trick-or-treat time will be in the low 80s to upper 70s.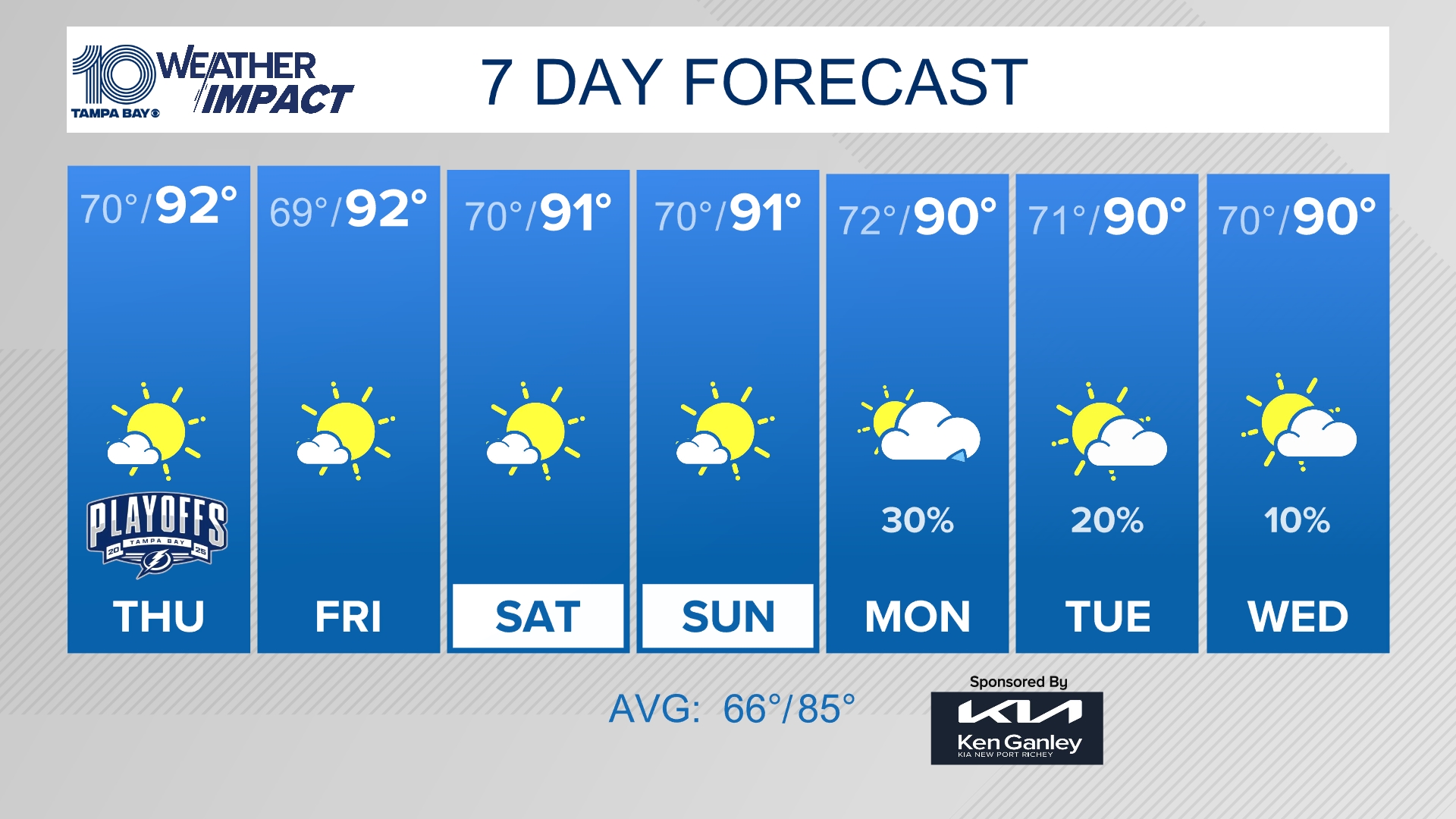 10News WTSP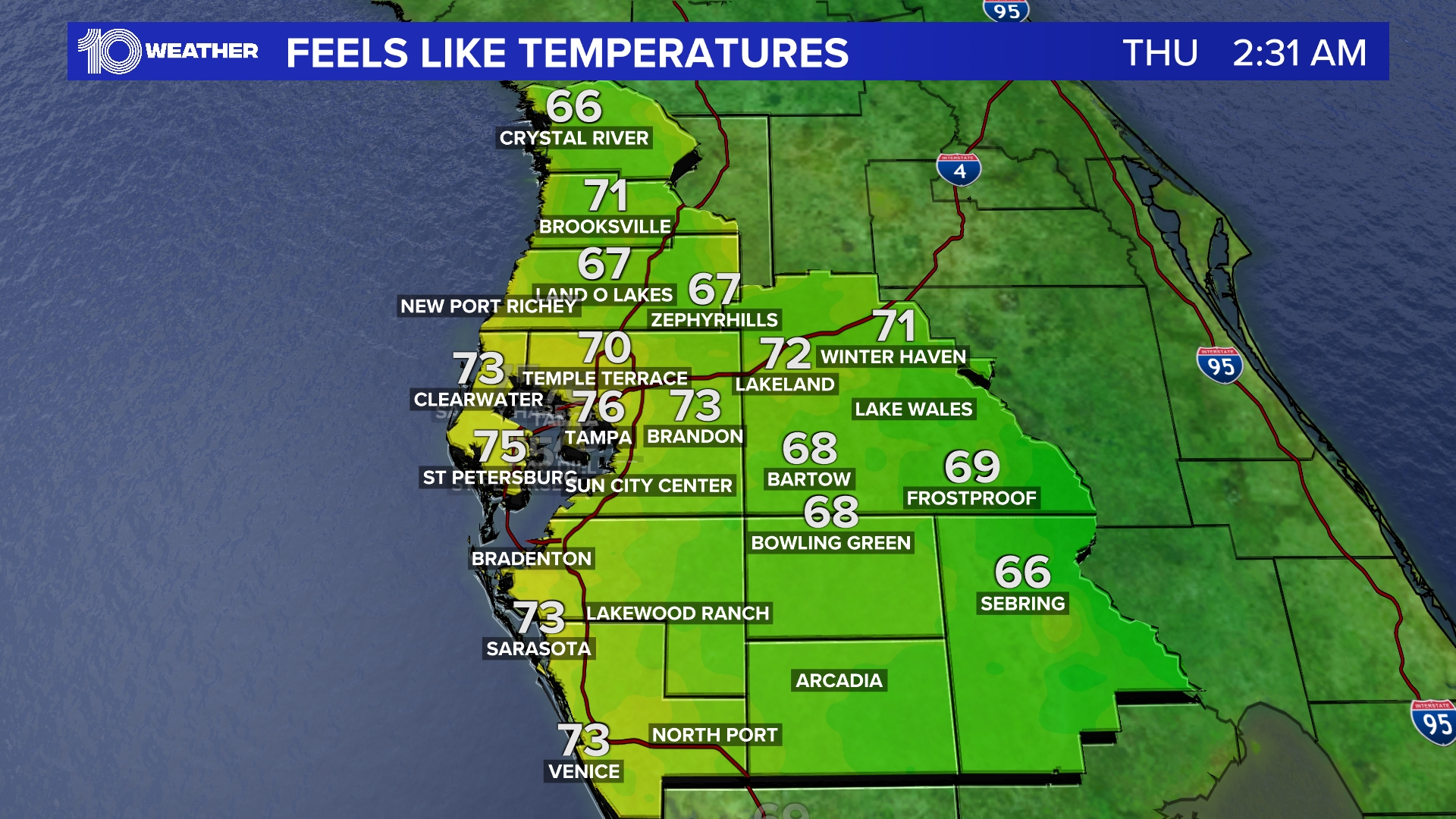 10News WTSP
• As you head out for your morning commute, check out our live blog for the latest traffic updates and road conditions across Tampa Bay.
• The Bucs were the recipients of 200 yards on an NFL-record 23 penalties by the Raiders, but still lost 30-24 in overtime at Raymond James Stadium. Columnist Tom Jones says the loss is proof that the Bucs are pedestrian at best, while Martin Fennelly writes that it was just a dreadful, insuffferable performance.
• The Cubs weren't ready to wait 'til next year. Not yet, anyway, as they beat the Indians 3-2 Sunday night to extend the World Series at least to a sixth game, Tuesday in Cleveland.
• Just days before Election Day, and with voters in many states already going to the polls, the FBI director made a stunning announcement last week: Agents had discovered new emails that might be relevant to the completed investigation into Hillary Clinton's private server, a case that she had seemingly put behind her in July. This Q&A explains what we know so far .
• Meanwhile, with Florida's 29 electoral votes becoming even more important, Hillary Clinton will campaign Tuesday in Tampa, Orlando and Fort Lauderdale. Donald Trump will raise money at a breakfast at Trump National Doral on Wednesday, according to an invite. The event comes as Trump plans a campaign swing through Florida, which is looking increasingly favorable to him. His schedule has not been set, but planners said the visit could begin Tuesday in Pensacola, with stops Wednesday in Miami, Orlando and Jacksonville.
• Conversations aimed at getting the Tampa Bay Rays to move to Tampa are heating up — at least judging by Hillsborough County's legal bills. Lawyers for Foley & Lardner — the law firm that Hillsborough hired in its quest to lure the Rays across the bay — have amplified their site search for a new ballpark, increasingly speak with county officials and even talk directly to the Rays, according to invoices obtained by the Tampa Bay Times.
• Times columnist Ernest Hooper says despite the feeling of despair some may be burdened with because of the hostile political landscape, people should nevertheless pluck up the patriotic spirit and vote.
• It's Halloween! Check our Halloween page here for costume ideas, recipes and where to find parties and trick-or-treat opportunities in the local malls and parks.
• Ever heard of the ghost of Ma Barker? In the early 1900s, she became the only woman to top the most wanted list after spending two decades robbing banks with her four sons. Then, in 1935, she and one of her sons died in a shootout with the FBI in a little house in Ocklawaha. Some swear her ghost is still there. Read the ghost story by Lane DeGregory and watch the video by John Pendygraft. Unless you're too scared to click on it. Are you?
• If Lane's story is too scary for you, then you definitely don't want to read the story by Maggie Duffy about the urban legend surrounding St. Petersburg's Mini Lights, the strange creatures rumored to chase after kids in Childs Park. Just use the link. Don't be scared. What's the worst that could happen?
• What's Universal Orlando's Halloween Horror Nights like without the actors and when the lights are on? Chelsea Thatham has you covered. Read her story about the popular Halloween attraction behind the scenes.
• Republican Vice Presidential candidate and Indiana Gov. Mike Pence is scheduled to appear at a campaign event at Clearwater Aviation Inc. at 6 p.m. Check updates from Pence's event later at tampabay.com/politics.
• Significant change is coming to Florida's representation in Congress. Retirements, redistricting and competitive races will sweep away roughly a third of the 27-member delegation. The turnover — eight members are definitely gone in January — is considered the most in the country. Times Washington Bureau Chief Alex Leary has the story this morning.
• Talks to get the Tampa Bay Rays to move to Tampa are heating up. How can you tell? Just check Hillsborough County's legal bills. Invoices obtained by the Times show a lot of activity lately from the law firm hired by the county to help lure the Rays across the bay, including conversations this summer directly with the Rays. The total tab to taxpayers from the law firm since it was hired in 2014 is nearly $150,000 — and that's before a site has been picked out. Get all the details at tampabay.com.
• Don't forget to plan your downtime. Here are the top things to do this week in Tampa Bay including both Stevie Nicks and Bonnie Raitt in town this week and Jon Bon Jovi will perform a rare solo show here on Saturday in a get-out-the-vote concert for Hillary Clinton.