• A front increases rain chances Thursday. It should be cloudy with highs in the upper 70s, according to 10Weather WTSP.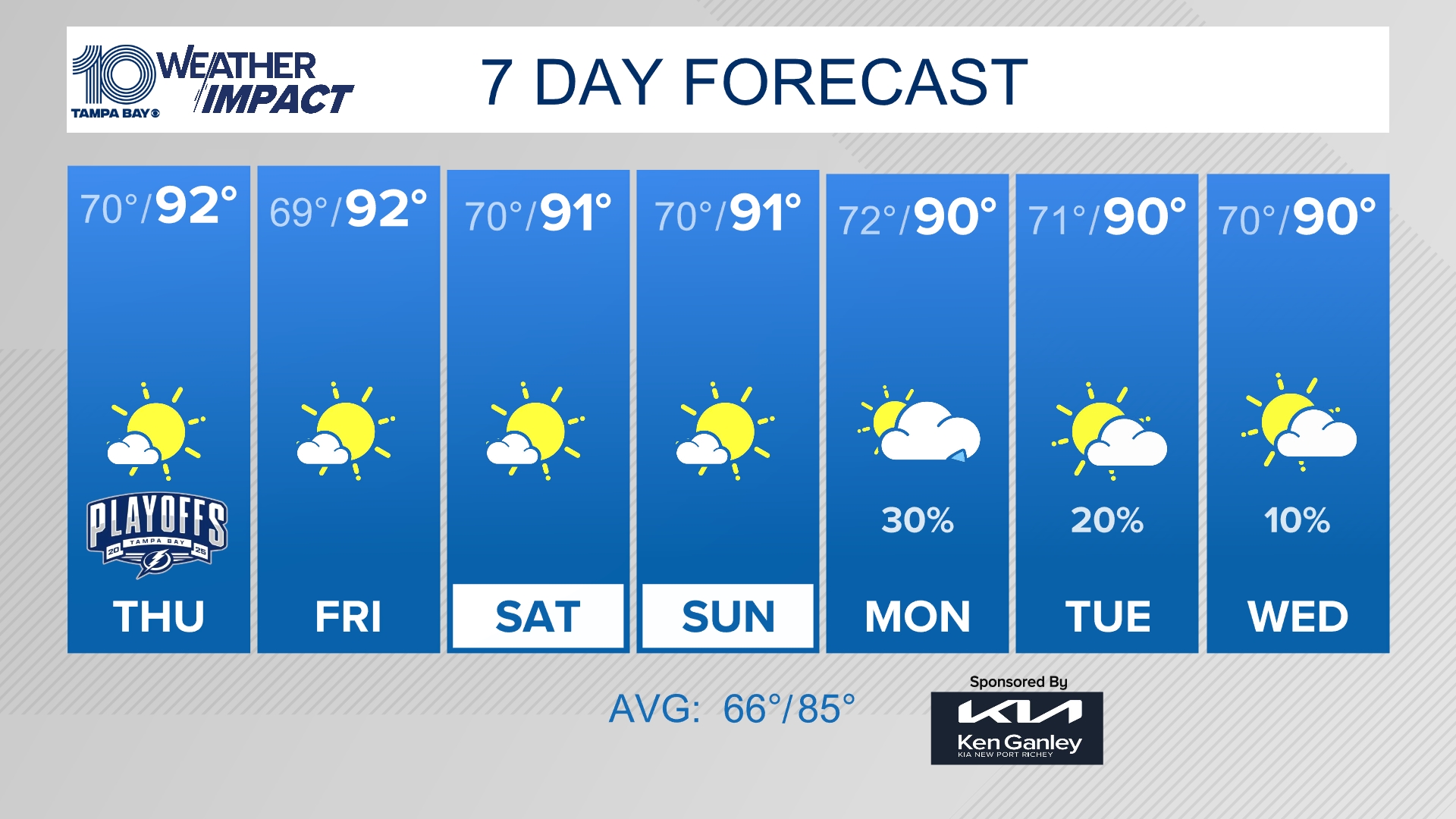 10News WTSP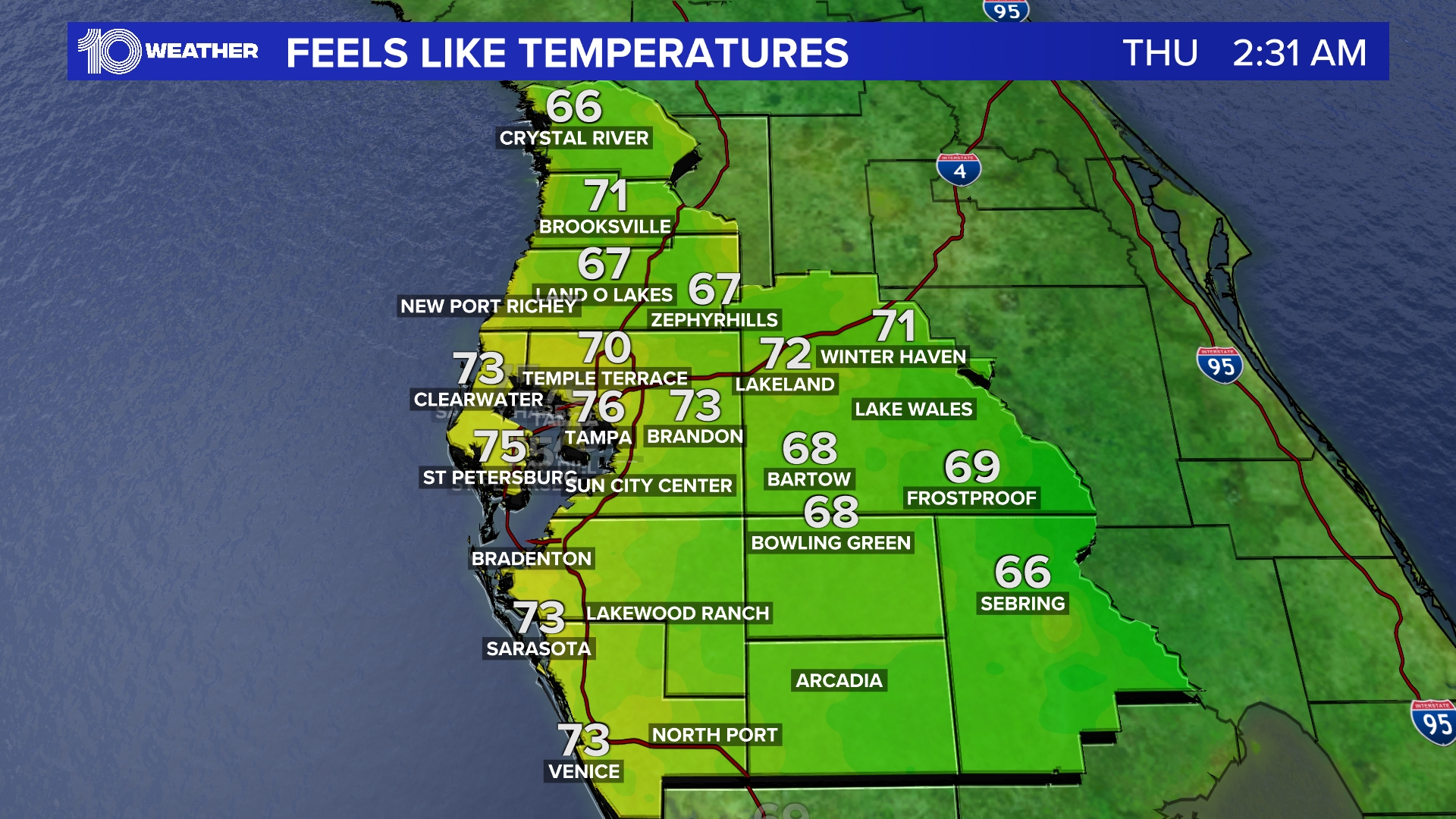 10News WTSP
• As you head out for your morning commute, check out our live blog for the latest traffic updates and road conditions across Tampa Bay.
• Friday Dec. 1 is World AIDS Day. According to Eckerd College, 1.2 million people have been infected with HIV in the United States, and of all 50 states Florida has the highest rate of infection. You can participate in the college's Faces of AIDs event at Wireman Chapel at 6:30 p.m. It is free and open to the public. Check out our photo gallery on Thursday evening at tampabay.com.
• It was Barbra Streisand's first concert in Tampa last night and our pop music critic Jay Cridlin was there. Read his review this morning on the Soundcheck music blog.
• Read this narrative by Pulitzer Prize-winning feature writer Lane DeGregory, who followed a terminally ill man through his final months as he decided whether to take his own life. Ronald "Ted" Andrews swore he would never be a burden on his wife. But how would you know when your life is no longer worth living? Even if you do, could you let go?
• So what's the next Tampa Bay neighborhood poised to take off? How about West Tampa, where developers are trying to add more businesses and housing while also maintaining the charm of the area, which once housed cigar factories and the shotgun homes lived in by workers. Read real estate reporter Susan Taylor Martin's full report.
• President-elect Donald Trump and Vice President-elect Mike Pence, the outgoing Indiana governor, are scheduled to be in Indiana today in connection with an announcement that the air conditioning giant Carrier Corp. plans to keep nearly 1,000 jobs in the state instead of moving them to Mexico. Many questions remain unanswered about the deal. Trump spent much of his campaign pledging to keep companies like Carrier from moving jobs out of the U.S., but he also dismissed tax incentives and favorable financing deals often used by state officials to keep major employers home.
• Jameis Winston, man of letters, wrote one a few weeks ago. He wrote a letter to his Bucs teammates. It was heartfelt, and it was about being grateful. He wrote it by hand, too. Columnist Martin Fennelly asks: Who does that anymore?
• Baseball's owners and players saved themselves from the unnecessary evils of a first work stoppage in more than 20 years by agreeing Wednesday night to a new five-year labor agreement. The deal was reached shortly before 9 p.m., three hours before the previous agreement was to expire.
• Alyssa Bedard — or "Miss B" as the students she mentors call her — was one of the young professional women who mentored girls during the inaugural session of the new "Let's Talk About It" program last month. The goal of the program is for young professional women to mentor and provide role models for young girls.
• While Fidel Castro's death last week is considered a historic moment, there were some who met the future dictator during his trip to Tampa who didn't think he would amount to anything. "My father thought Castro was crazy," said Peter Arnade, the son of Charles Arnade, a Latin-American scholar and longtime professor.
• Google Earth Timelapse has been around since 2013, but the tool that allows anyone to see how any place on Earth has changed over the decades got a massive update this week. Check out how areas across Tampa Bay have changed in the last 30 years. Watch three decades of Tampa Bay progress in 10 seconds via Google Earth Engine
• Former Gov. Jeb Bush returns to the spotlight today as he delivers the keynote address at the National Summit on Education Reform in Washington, D.C. Tampa Bay Times Washington Bureau Chief Alex Leary will have the coverage today. Follow him on Twitter.
• A Florida Fish and Wildlife team will rally with a plane and several boats at John Chesnut Sr. Park this morning to rescue manatees trapped in Lake Tarpon. Officials know at least one manatee has been inside the lake since the summer, and as winter approaches, cooling lake waters have made it inhabitable for the warmblooded animals. Stay with tampabay.com for updates.
• The St. Petersburg City Council will meet at 8:30 and there's a lot on the day-long agenda: The council is set to get updates on the controversial South St. Petersburg Community Redevelopment Area, aimed at improving the Midtown area, and the city's recent sewage mess. Follow Charlie Frago at @CharlieFrago for updates throughout the day.
• This afternoon, key Florida lawmakers will join with school board members from all over the state to discuss what the upcoming legislative session holds for education. It happens at an annual summit of the Florida School Boards Association and other education groups at the Grand Hyatt Tampa Bay. Times education writer @JeffSolochek will be there to report on what happens.
• Here are the top things to do today in Tampa Bay including rocker Melissa Etheridge on stage doing a holiday show (and her hits) and a block party in St. Petersburg's hip Edge district.