• Cooler temperatures and rain are possible as a cold front approaches Thursday, according to 10Weather WTSP. Lows could be in the low 50s Thursday night.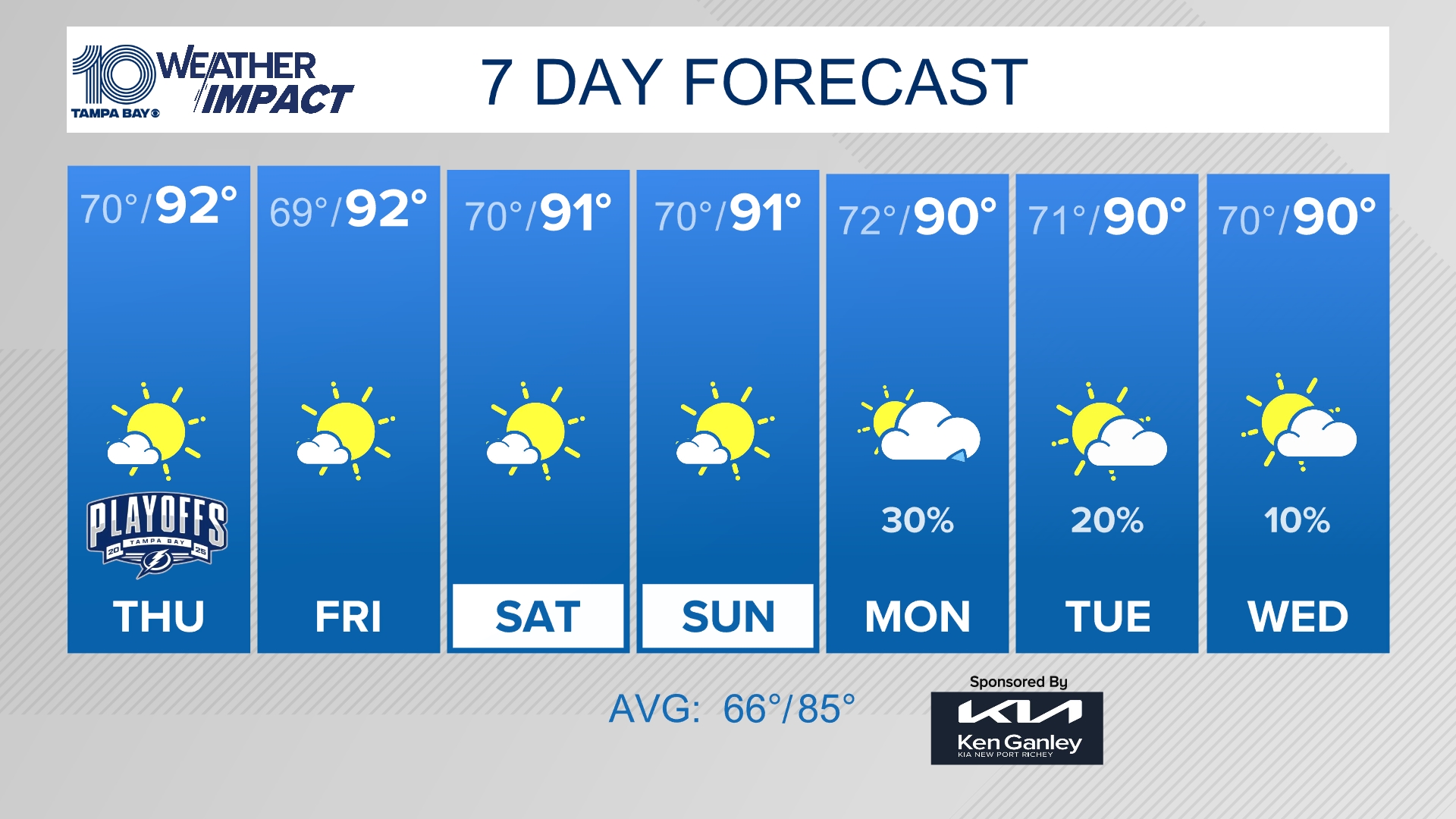 10News WTSP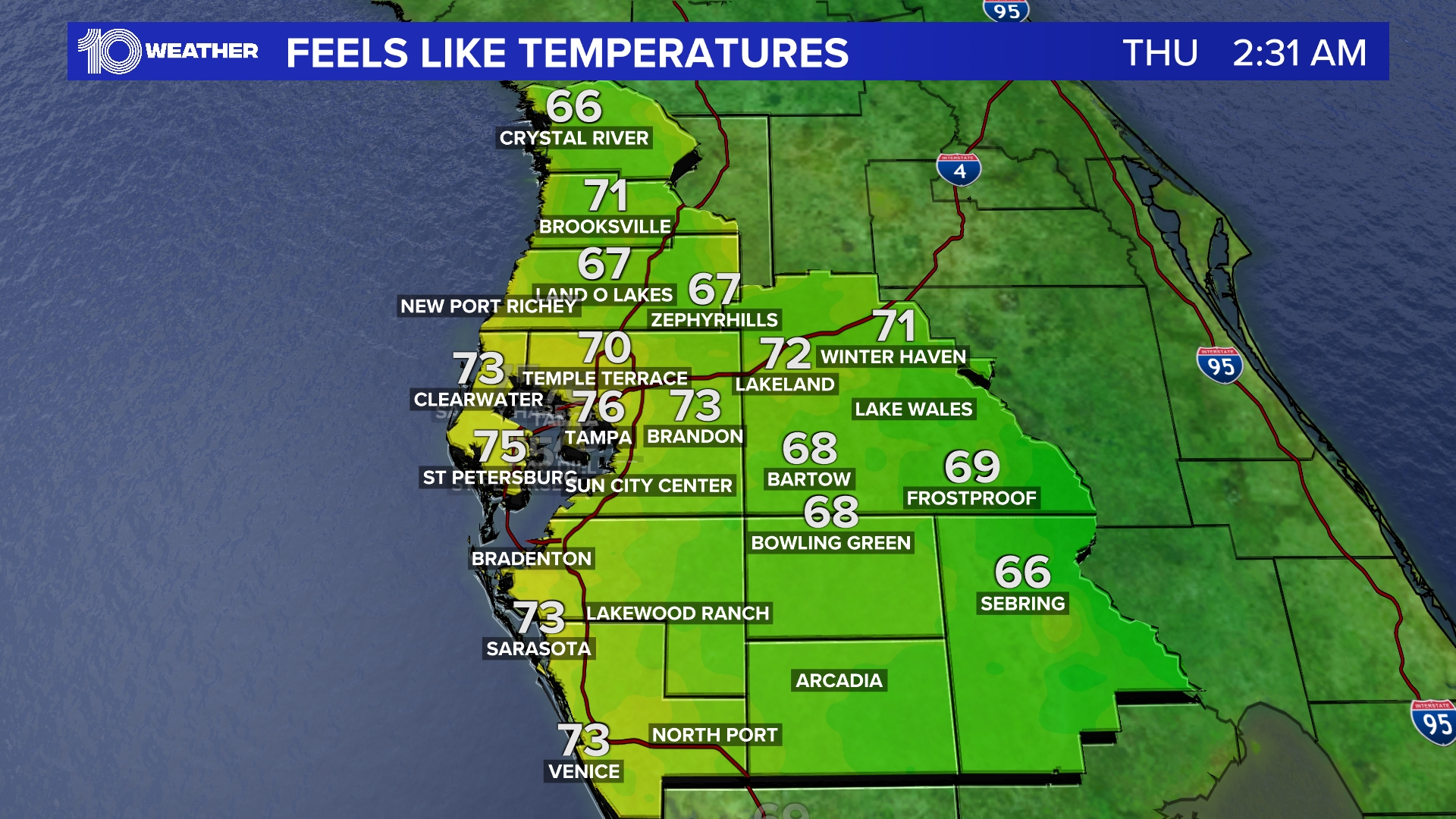 10News WTSP
• As you head out for your morning commute, check out our live blog for the latest traffic updates and road conditions across Tampa Bay.
• From Prince to Princess Leia, Generation X said goodbye to many beloved icons in 2016. Sara DiNatale talked to Gen-Xers in the Tampa Bay area who saw so many stars of their youth die this year.
• Among the most indelible images of 2016 are a turbulent election, investigations into the food we eat and the planes we fly in, the deadliest mass shooting in modern U.S. history, worry about a strange new virus, and continued terror attacks. The editors of the Tampa Bay Times have chosen the 10 biggest news stories of the year from the pages of the Times and its website, tampabay.com.
•Before he takes the stage in Clearwater tonight, rocker Bret Michaels talked to us about that time he won Season 3 of The Celebrity Apprentice. He is finally ready to discuss his old TV boss who is now the president-elect. Strap on your bandanna.
• Paula White founded, with her husband, Randy, what would become one of the fastest growing churches in the southeast — Without Walls International Church, near Raymond James Stadium. The couple split, membership dwindled and Paula White set off for a church near Orlando. On Wednesday, president-elect Donald Trump's inaugural committee announced she will be one of a half-dozen faith leaders participating in his swearing in.
• With a little help from the University of South Florida, Treasure Island is hoping to breathe new life into its 40-year-old, nine-hole golf course. Some ideas by architecture students might help the city repurpose the waterfront course into a splash park or dog park or a place that offers more boat docks. Like other public and private golf courses across the country, the city's Treasure Bay golf course has seen declining revenue in recent years. A private company leased and operated the course until the 1990s when the city took it over.
• The Lightning trailed by two goals in the third period against the best goalie in the world, the Canadiens' Carey Price. But led by its best players, the Lightning found a way to get a 4-3 overtime win,/a> to open a crucial five-game homestand in front of 19,092 at Amalie Arena.
• Instead of the thwack of shoulder pads, what the Bucs heard Wednesday was the sickly thud of Doug Martin hitting bottom, Rick Stroud writes. Martin, who turns 28 next month, confessed in a statement Wednesday, later confirmed by the NFL, that he had been suspended for four games for violating the league's policy on performance-enhancing drugs. Martin also said he will enter a treatment facility. Seeking help is good, Stroud writes, but it should have come sooner.
• In a rural town 175 miles west of the Indian Ocean, a group of young researchers are pitting their wits against a new twist in an ancient disease. Mosquitoes that carry the malaria parasite are adapting to the primary method of thwarting them. Scientists are racing to keep up. The struggle goes beyond the fight against malaria, a disease that infects about 200 million people each year. It has implications for fighting viruses such as Zika and others we haven't heard about yet.
• Before you curse at someone in traffic, consider a story from Times photographer John Pendygraft about Pamela Block, a single mom who adopted two girls from China with medical needs. "A lot of people are struggling with things you just don't see," she says.
• Largo is considering programs to bolster paramedic recruitment in a job market that has become short-staffed and competitive in recent years. City commissioners gave the nod at a work session this month toward two options proposed by Largo Fire Chief Shelby Willis. Through one, the city would pay for a paramedic to attend fire academy so the employee could work as both a firefighter and a paramedic. With the other, Largo would sponsor an in-house firefighter/emergency medical technician to attend paramedic school.
• We talked with pastry chef Michael Ostrander about his career in baking and also working for Donald Trump for a year (He has very nice things to say).
• Three years ago, the Tampa Bay Sports Commission hand-delivered its bid to host the 2016 College Football Playoff National Championship game. The goal was to help judges envision Tampa as a backdrop for college football. It worked. The Peach and Fiesta Bowls will determine which teams land in Tampa on Jan. 9 for the College Football Playoff championship game. Follow @MBakerTBTimes, @TomWJones and @monica_herndon for media day fun from Atlanta this morning, and @TBTimes_Bulls and @mjfennelly for updates from the desert.
• Our shopping habits continued to evolve in 2016 and that meant stores that couldn't keep up had to close up shop. Most notably, Sports Authority is no longer with us. Read retail reporter Justine Griffith's full recap of the year in retail in a column that will publish online about 11 a.m. at tampabay.com/business.
• David Finkel is excited that his 2013 book Thank You for Your Service has been made into a movie starring Miles Teller, Haley Bennett and Amy Schumer, coming to theaters in 2017. But Finkel has hopes for the movie that extend beyond the Hollywood glow. Finkel will be one of the speakers this week in Tampa at the Lectores Series, presented by the University of Tampa's low-residency MFA writing program. He discussed this, and other topics, with book editor Colette Bankroft.
• All week on Soundcheck, we'll be revisiting our favorite Tampa Bay concerts of 2016. Today's picks come from Soundcheck contributor Stephanie Bolling.
• Here are the top things to do today in Tampa Bay including comic magician Michael Carbonaro, former Poison front man Bret Michaels and comedian Christian Finnegan.