• The warming trend continues Thursday as highs reach the low 80s, according to 10Weather WTSP.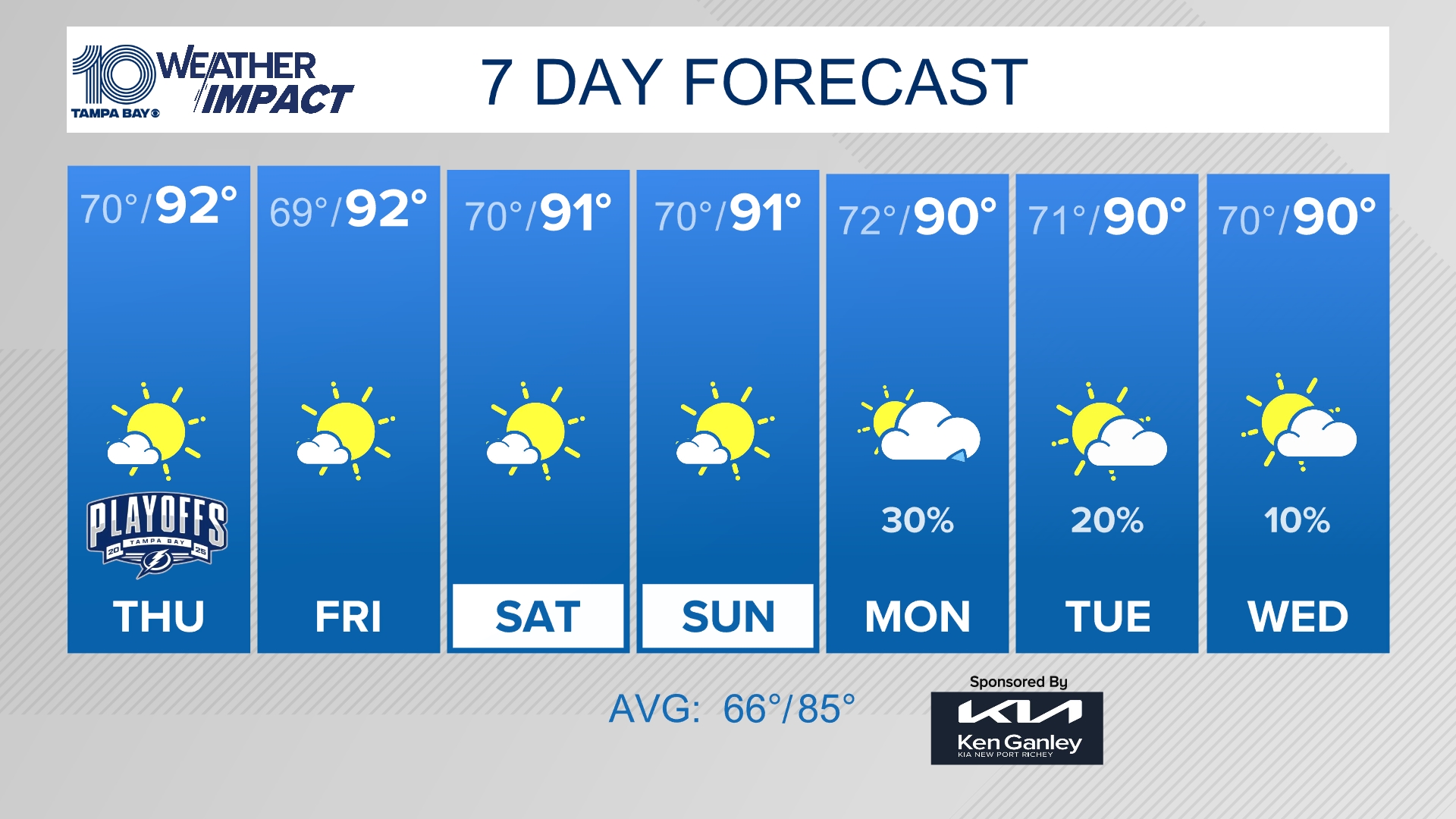 10News WTSP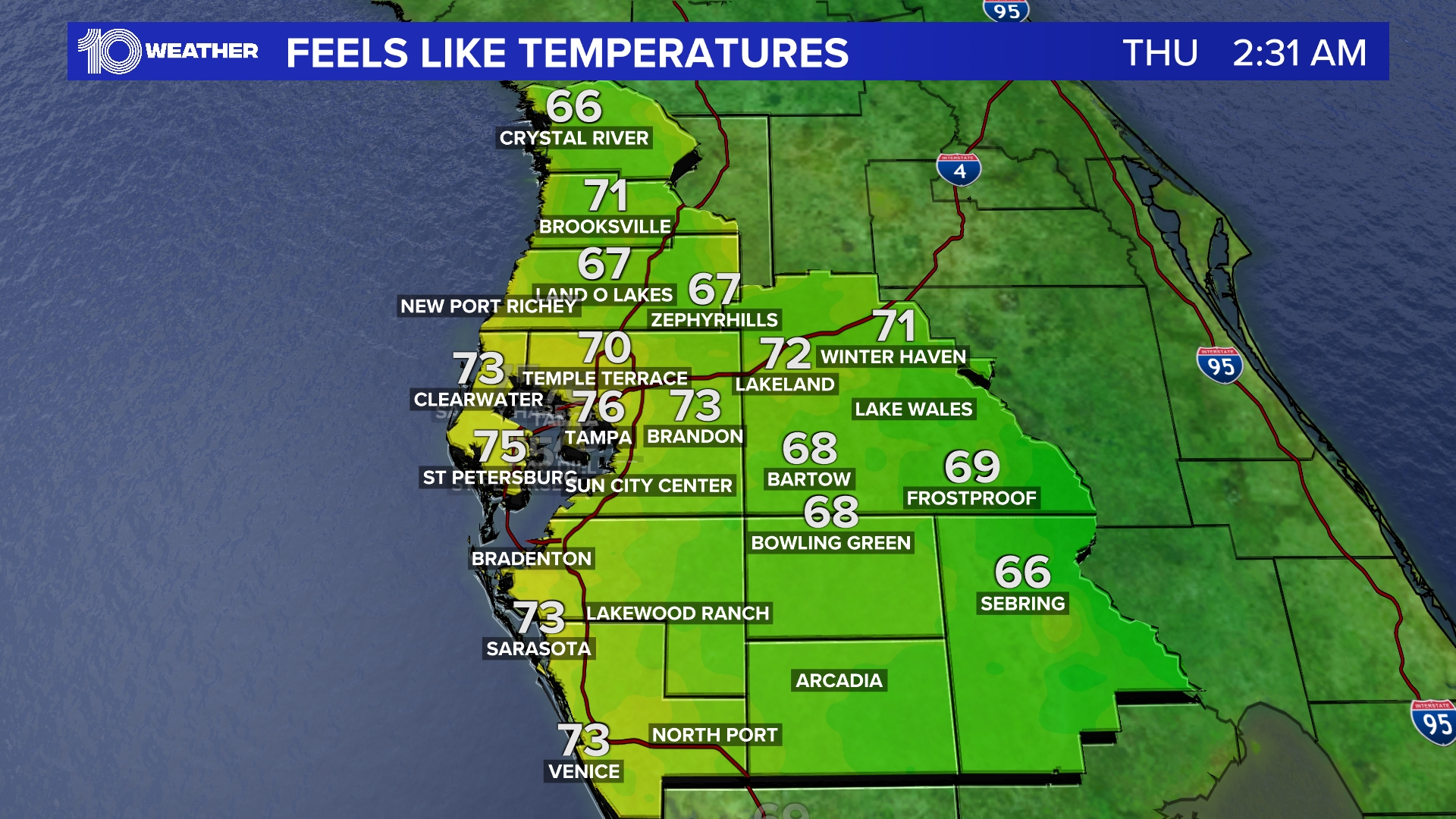 10News WTSP
• As you head out for your morning commute, check out our live blog for the latest traffic updates and road conditions across Tampa Bay.
• Outside the massive Davis Islands home of retired New York Yankees star Derek Jeter, the uninvited visitors get out of their cars to take photos, shoot video, lie down on the sidewalk, damage landscaping, antagonize neighborhood dogs and even fly drones. It's intrusive not only for Jeter but for his neighbors, a representative says, and creates a security risk. This week, Tampa City Hall agreed, giving Jeter permission to install a taller gate and make it opaque so passers-by can't see into his property.
• The scalper agreed to meet an Alabama fan seeking a ticket to Monday's College Football Playoff national championship hours before the game on Monday. At a patio table in Ybor City, three brothers pinned the seller down, took his shoes and socks and six tickets to the big game. Read the story by Anastasia Dawson.
• Marine Gen. James Mattis, 66, who retired as the chief of U.S. Central Command at MacDill Air Force Base in Tampa in spring 2013 after serving more than four decades in the Marine Corps, now stands on the brink of becoming Pentagon chief for a president-elect who has pledged to toughen U.S. policy toward Iran. And that could have broad implications as the incoming administration weighs trying to modify the 2015 Iran nuclear deal and American posture in the Middle East after a litany of complaints from U.S. allies that President Barack Obama yielded too much ground to Tehran. His confirmation hearing begins at 9:30 a.m.; stay with tampabay.com for updates.
• The arrest of seven volunteers feeding people in a Tampa park this week is the latest flare-up in a battle that has simmered for at least a dozen years. Now the conflict appears to be coming to a head between activist groups such Tampa Food Not Bombs, who see defying local ordinances as a form of civil disobedience, and city officials such as Mayor Bob Buckhorn, who says the park is the wrong place to feed the needy. Read the story by Tony Marrero.
• The 8-year-old Port Richey boy who was injured Saturday after he rode his bike into the path of a sport utility vehicle was pronounced dead at Tampa General Hospital on Monday night, according to the Florida Highway Patrol. The family of Gage Traver talked to reporter Josh Solomon about their son. Read about Gage's life at tampabay.com.
• Ships get christened by smashing a champagne bottle on the hull, but today at 11:30 a.m. the Seminole Hard Rock Hotel and Casino in Tampa will smash a guitar to kick off the opening of its new nonsmoking poker room, with comedian Brad Garrett of Everybody Loves Raymond sitting in for the first hand.
• It's not sexy; it's not glamorous. But the business of building self-storage units is one of the hottest sectors in real estate right now — particularly in some fast-growing Tampa Bay locations.
• It's that time of the year again, when Hillsborough County students ask questions — and vent their frustrations — about the school district to members of the Hillsborough County School Board. Find out what the students and board members talked about at Tuesday's get-together. Read the story by Marlene Sokol.
• Emanuel Hatzie keeps nine birds in his back yard. But only one of them has been blessed by God. His name is Theodoros, a Greek word meaning "the gift of God." He's a 3-year-old white rock dove, a type of domestic pigeon, who plays a big role in the city's annual Epiphany celebration. Unlike the dove bearer and cross retriever, who are limited to once-in-a-lifetime roles, Theodoros comes back annually to fly across Spring Bayou. Read more about his story here.
Something happened in Tallahassee on Wednesday that was sensible, constructive and a little bit courageous. In other words, something completely out of the ordinary, columnist John Romano writes. A panel of school superintendents spoke their minds, in some cases forcefully, about Florida's glut of standardized tests. Even more remarkably, senators seemed to listen.
• Glennon Doyle Melton's renown has extended beyond her best-selling memoirs Love Warrior and Carry On Warrior, columnist Ernest Hooper writes. Her Momastery website has millions of followers and her nonprofit, Together Rising, has raised more than $4 million. But her captivating messages all stem from her unvarnished admissions and engaging humility. Hooper caught up with Doyle Melton during a recent Clearwater appearance.
• A proposal to bring an additional $1.4 million into Hernando County's general fund annually by treating the county's utility service like the county would treat private utility services stalled during a County Commission workshop this week as the commissioners voiced their concerns. Read Barbara Behrendt's story at tampabay.com.
• College football moved one step closer to having an early signing period with a proposed rule change by American Football Coaches Association at its annual meeting in Nashville. AFCA coaches unanimously agreed to recommend senior high school recruits be allowed to sign letters of intent on the third Wednesday in December, the same day junior college prospects are allowed to sign.
• Only Martin Scorsese could shepherd a theological mystery like Silence to life. Only a devoted yet questioning Christian would try, movie critic Steve Persall writes. Silence is a provocative measure of the quality of faith, as relevant now as its setting four centuries ago, according to Persall. Check out his review here.
• Ever wonder what happened after the title character of The Adventures of Huckleberry Finn lit out for the Territory at the end of Mark Twain's great American novel? Robert Coover did, and the result is Huck Out West, which extends its big-hearted hero's story into the decade after the Civil War, as the American frontier sweeps across the continent and he goes with it. Read Colette Bancroft's book review here.
• Here are the top things to do today in Tampa Bay including a dog show in Brooksville and monster truck displays before Monster Jam.