•Patches of fog will be around Thursday morning, and the day should be cloudy with highs in the low- to mid-70s, according to 10Weather WTSP.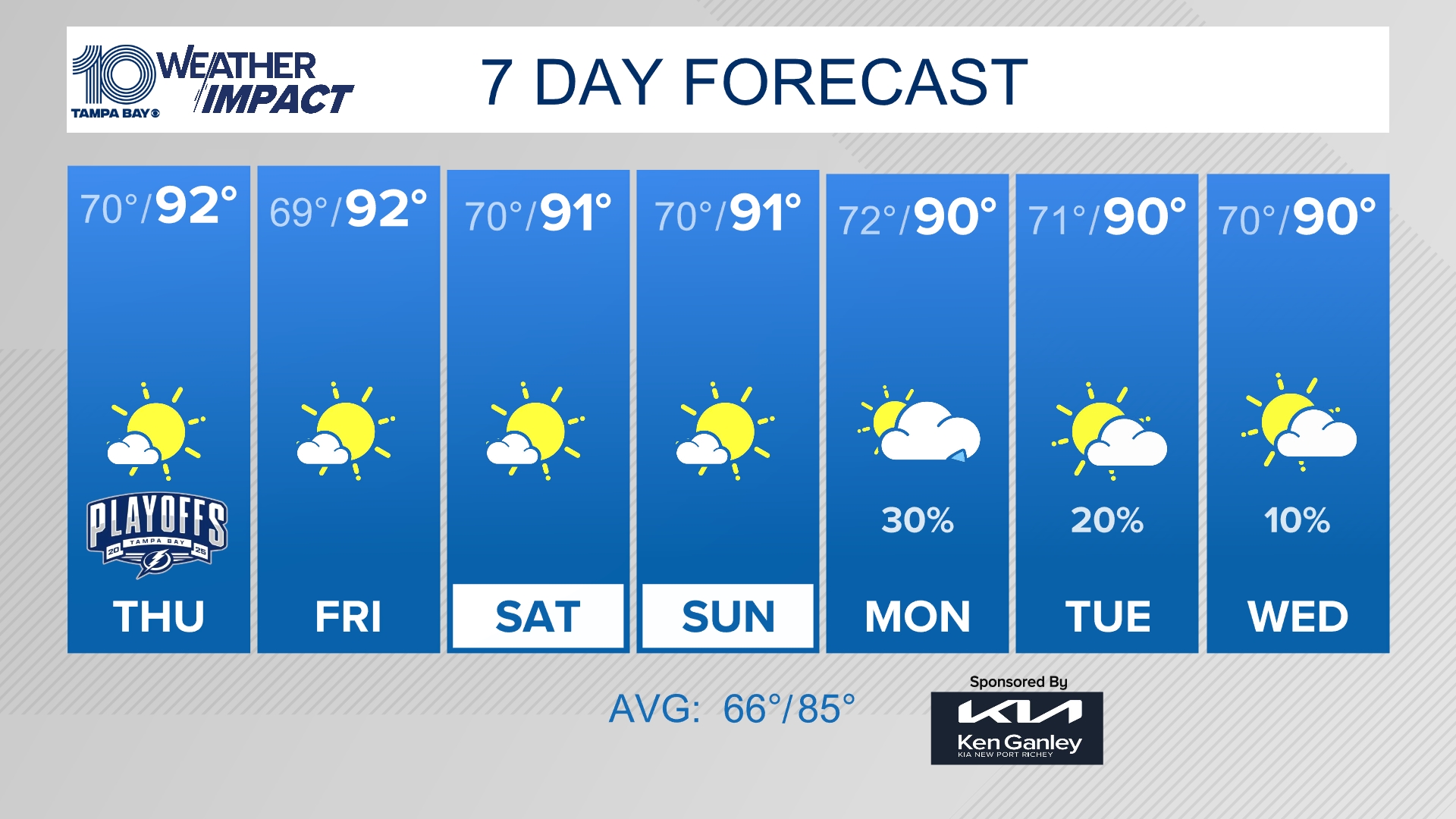 10News WTSP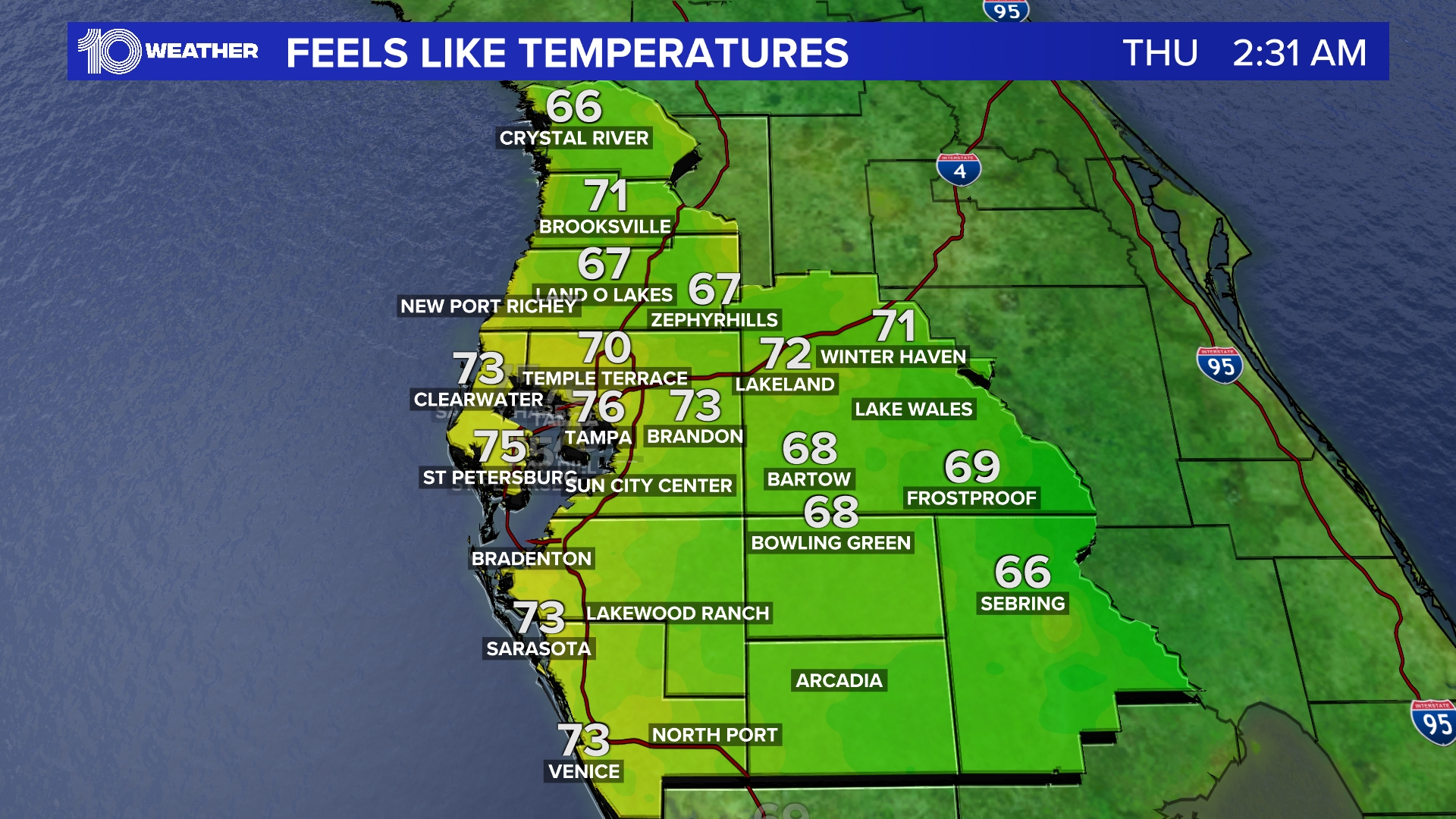 10News WTSP
• As you head out for your morning commute, check out our live blog for the latest traffic updates and road conditions across Tampa Bay.
• Want tickets to Monday night's College Football Playoff championship between Alabama and Clemson? Get ready to pay at least $1,000 — and possibly a lot more — on the resale market. By comparison, that's several hundred dollars above what you'd likely pay for a cheap seat to see Hamilton on Broadway this weekend. But it's way below the $4,800 entry-level price to next month's Super Bowl in Houston.
• Good Morning America is putting out the call for Clemson and Alabama fans to get up early Monday and join Jesse Palmer, the former Gator quarterback turned football analyst, at Raymond James Stadium for a live morning segment on the day of the College Football Playoff national championship game in Tampa. Read here to see how you can sign up.
• Speaking of Jesse Palmer, the ex-Bachelor star and other celebrities such as comedian Cedric the Entertainer and NFL stars are heading to Clearwater Beach this weekend for a celebrity flag football game.
• For more on the big game, check out our College Football Playoff page for the latest from our sports writers as Clemson and Alabama players get ready. That page also has the latest news on parties and concerts, as well as tips on parking and getting around downtown Tampa this weekend.
• The Loews Don CeSar Hotel has sold. The 277-room Pink Palace was purchased by Host Hotels & Resorts and will be managed by Davidson Hotels & Resorts. Prudential Insurance was the majority owner of the historic hotel on St. Pete Beach for more than 12 years.
• The St. Petersburg Housing Authority is close to buying back Jordan Park — a public housing complex it once owned — without having to pay a penny, except for closing costs. The agency had hoped to close on the 24-acre property last fall, but now says it could sign a purchase agreement any day now. The closing is pending approval from both the federal Department of Housing and Urban Development and the Florida Housing Finance Corp.
• City leaders are poised to legalize outdoor doggie dining in New Port Richey, something the mayor says he already sees at restaurant patios he visits. During a meeting Tuesday night, the New Port Richey City Council passed on first reading, in a 3-2 vote, a "dog-friendly dining" ordinance that would take advantage of a state law that allows local governments to enact rules allowing dogs at restaurants. A second and final reading could be held as early as Jan. 18.
• Hillsborough County will discuss providing residents a new way to inform first responders of important information during an emergency. County Commissioner Les Miller wants Hillsborough County to join the "Yellow Dot" program, which allows drivers to alert first responders of emergency info in their glove compartment by placing a yellow sticker on their rear windshield. County commissioners meet at 9 a.m. in Tampa. Follow Hillsborough County reporter Steve Contorno on Twitter at @scontorno for the latest.
• More than six decades after the Office of Strategic Services conducted spy missions and commando raids during World War II, Congress has finally acknowledged the organization's work, Howard Altman writes.
The Tampa Bay Times has been ranking all 18 previous college football national title games (dating to the start of the BCS era), from worst to first. Today, the most controversial of 'em all.
• Ybor City looks gorgeous in Ben Affleck's gangland melodrama Live by Night: a seductive 1920s rum and cigar town, the way it looks in museum photos. Except it isn't Ybor City, or anywhere in Florida, as locals looking past Live by Night's attractive cast may notice in the background. The $65 million production opens Jan. 13 in theaters. Affleck spoke with movie critic Steve Persall.
• Here are the top things to do today in Tampa Bay including actor Kevin Pollak returning to his stand-up comedy roots at the Improv and the start of the Florida International Toy Piano Festival.