• Expect cool conditions in the morning the next few days, but temperatures will rise in the afternoon to highs in the upper 70s and 80s, according to 10Weather WTSP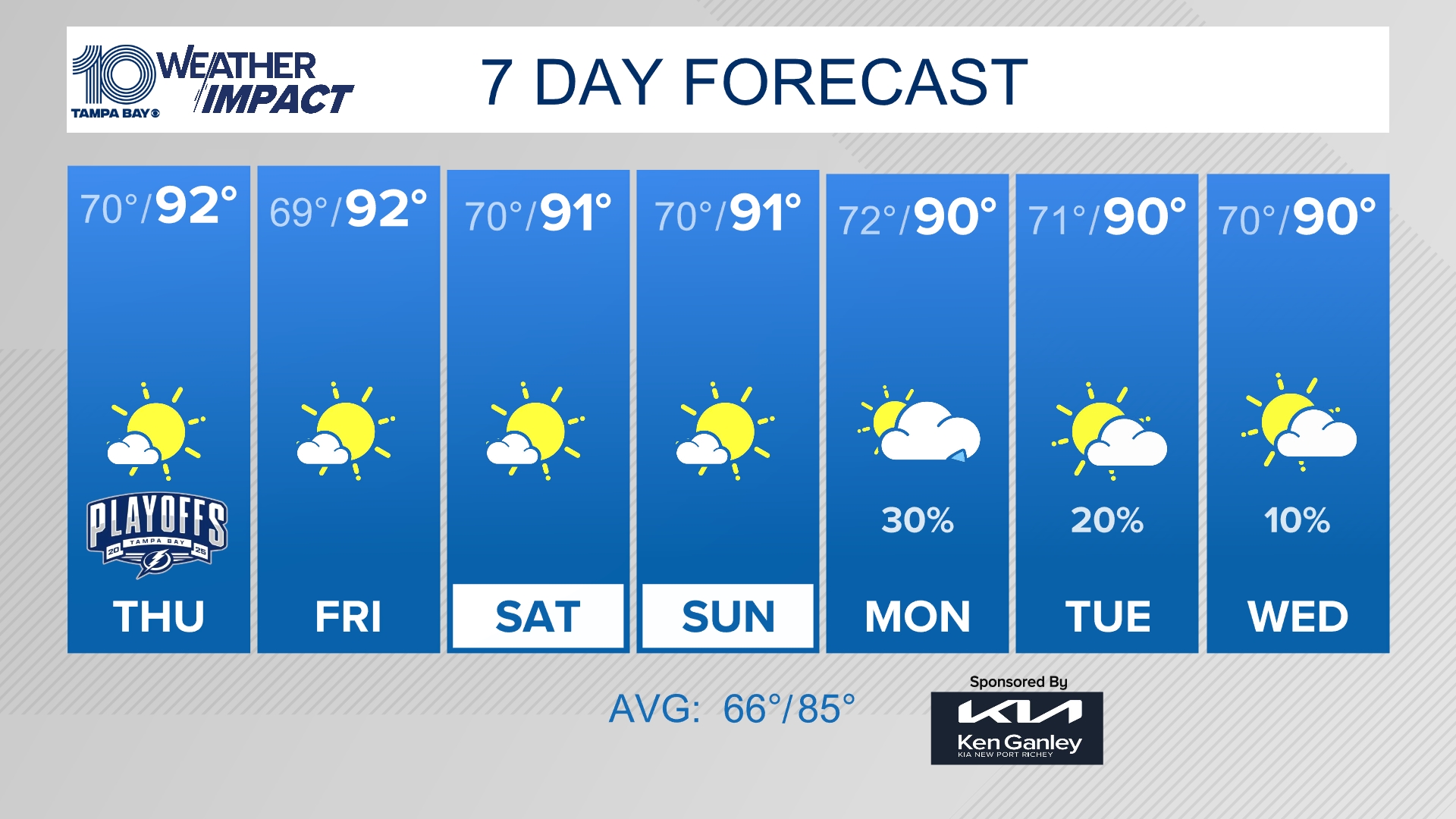 10News WTSP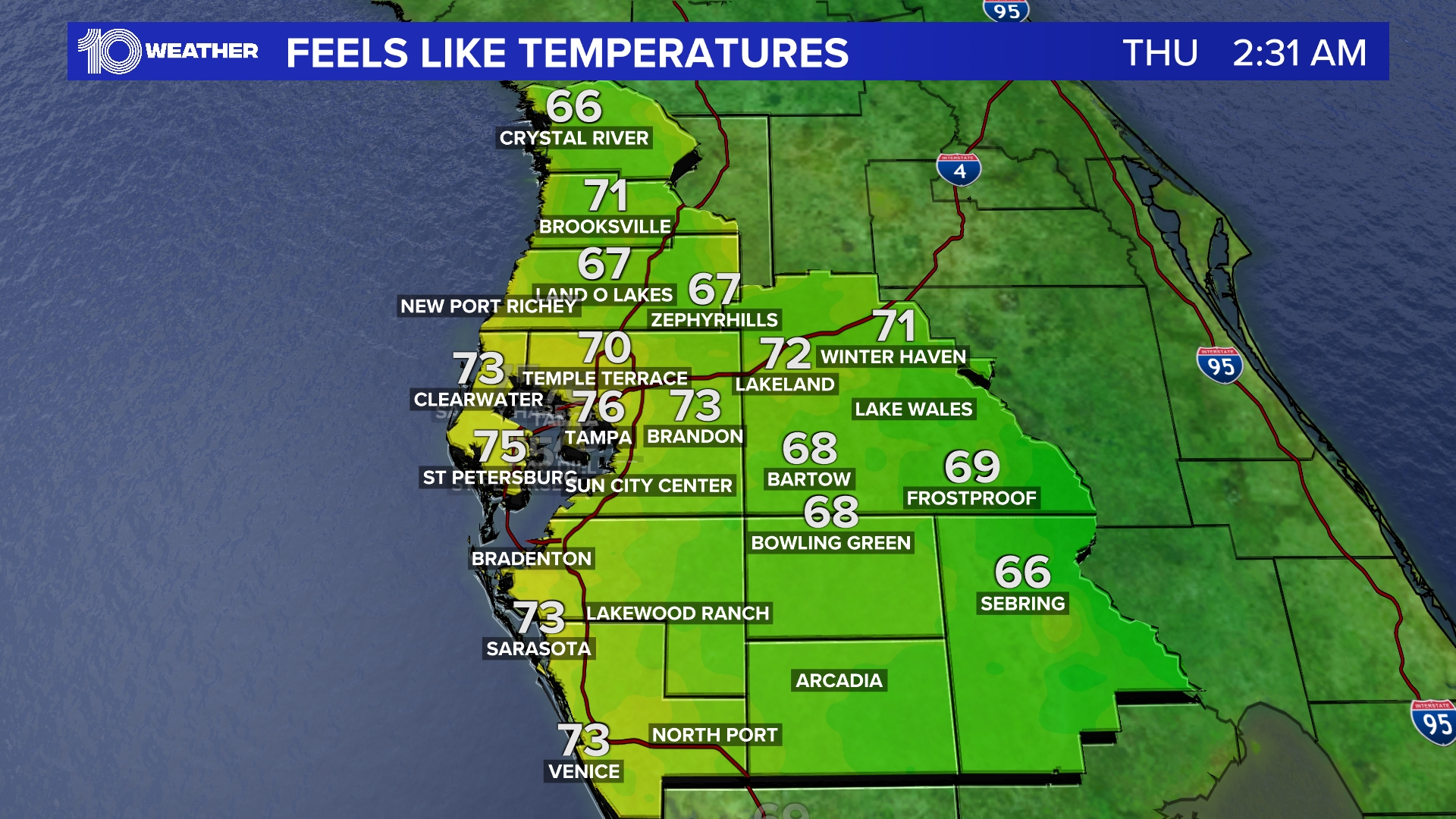 10News WTSP
• As you head out for your morning commute, check out our live blog for the latest traffic updates and road conditions across Tampa Bay.
• Two days after the deadliest mass shooting in modern U.S. history, Angel Santiago told the world he was fine. He wasn't. The Tampa Bay Times has followed his journey in the months since the massacre at Pulse Nightclub, as he tried to make something of his life, to feel worthy of survival. Tap here to read our special report.
• A key indicator of a community's economic health is how many homeowners are 'equity rich' and how many are underwater. See how Tampa Bay's numbers stack up in a story by real estate reporter Susan Taylor Martin.
• Stored behind a city warehouse near MacDill Air Force Base, Snow White's face is melting. Sleeping Beauty's has caved in. The statues were once part of Fairyland, a 15-acre North Tampa park with a winding walking path that took visitors on a journey through storybooks. Now the city plans on auctioning them off in mid-January.
• AccentHealth, a local company that provides health care-focused programming for doctors' offices and other locations, will have a new parent company. To read more details, see a full story this morning at tampabay.com/business.
• Tampa City Council meets at 9 a.m. They are expected to discuss banning truck traffic on 21st and 22nd streets in Ybor City and may talk about rules regarding the awarding of government contracts to small and minority owned businesses. Follow along with Richard Danielson at @Danielson_Times as he covers the meeting.
• Gov. Rick Scott is traveling to New York today to meet face to face with President-elect Donald Trump. Scott has already spoken to Trump three times since Election Day, but the meeting today will give the governor a chance to congratulate him on his victory in person and offer his help to "reinvent the federal government," Scott's spokeswoman Jackie Schutz said.
• Representatives from the Junior League of Tampa, Eckerd Community Alternatives and the Children's Board Heart Gallery of Tampa Bay hosted a special music-themed ceremony called Adoption Rocks this week. Families, friends, children, caseworkers and supporters came to celebrate the finalization of adoptions, some of which had taken years to become official. Check out Libby Baldwin's story on the event this morning on tampabay.com.
• President Barack Obama, making his final visit to Germany today, is stressing a message of solidarity. Germany is a top trade partner, home to thousands of American troops, and a key NATO ally.
• Over the last year, the University of South Florida pulled in a boatload of national rankings, attracted millions more in research money and reached the cusp of joining UF and FSU as one of Florida's "preeminent" universities. Those and other accomplishments will be part of USF president Judy Genshaft's latest job evaluation today. Times higher education writer @clairemcneill will report from campus as the USF Board of Trustees discusses whether Genshaft's 2015-16 performance will lead to another six-figure bonus.
• Years after a popular gay resort closed and its property was sold to Home Depot, the empty, weed-strewn site is about to be developed. Phillips Development & Realty, which expects to close on the parcel in December, has unveiled plans for a $70 million mixed-use project that will have 300 apartments and about 15,000 to 25,000 square feet of retail space, including a restaurant on 34th St S. Read more about the plans here this morning.
• If you're gonna sing like a rock star – and Carrie Underwood has never had a problem in that department – then you might as well do it on a stage that looks like it was built for one, Jay Cridlin writes. That was the theme of Underwood's Storyteller Tour, which sold out Tampa's Amalie Arena on Wednesday, packing nearly two dozen hits into an overpowering set that felt a whole lot more like arena rock than a country bar. Read his review here.
• Billy Lynn's Long Halftime Walk can't be assessed for what it is without considering what it must have been, movie critic Steve Persall writes. Ang Lee's Iraq War drama is a victim of technology he insisted upon and designed the movie around to show off what's possible, if not necessary. Lee's 3-D cameras filmed 120 frames per second, five times conventional speed, for the highest definition Hollywood ever attempted. Only five theaters in the world reportedly have projectors to show this version. Read his review here.
• And we've got a lot to choose from this weekend, so check out our Weekend Planner page for our critics and writers' top picks. There's sand sculpting in Treasure Island, lots of markets popping up for holiday shopping and we've got lots of date night ideas.