• Tuesday's temperatures should warm up to the low 70s by the afternoon as the area goes through a warming trend through Friday, according to 10Weather WTSP.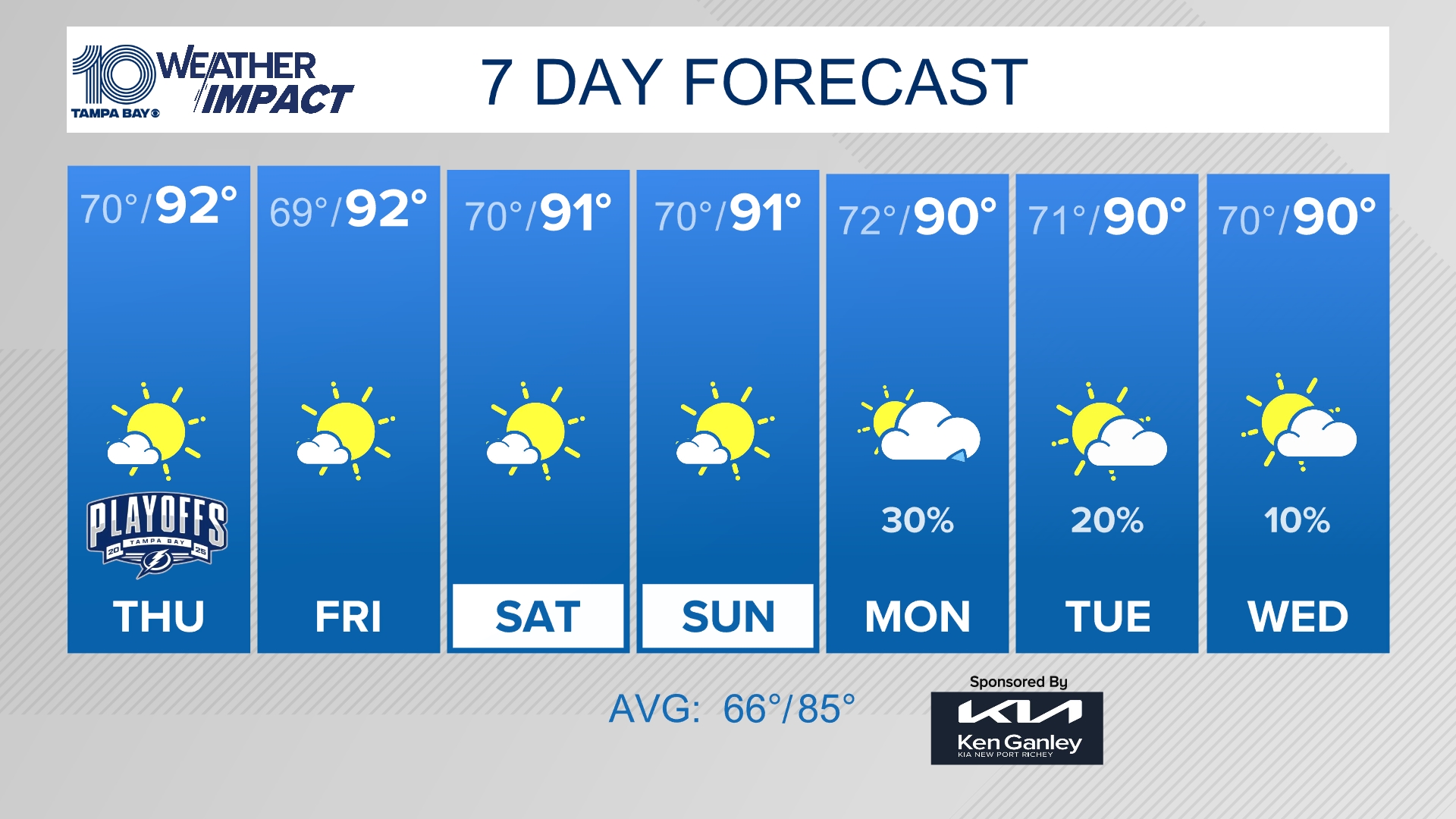 10News WTSP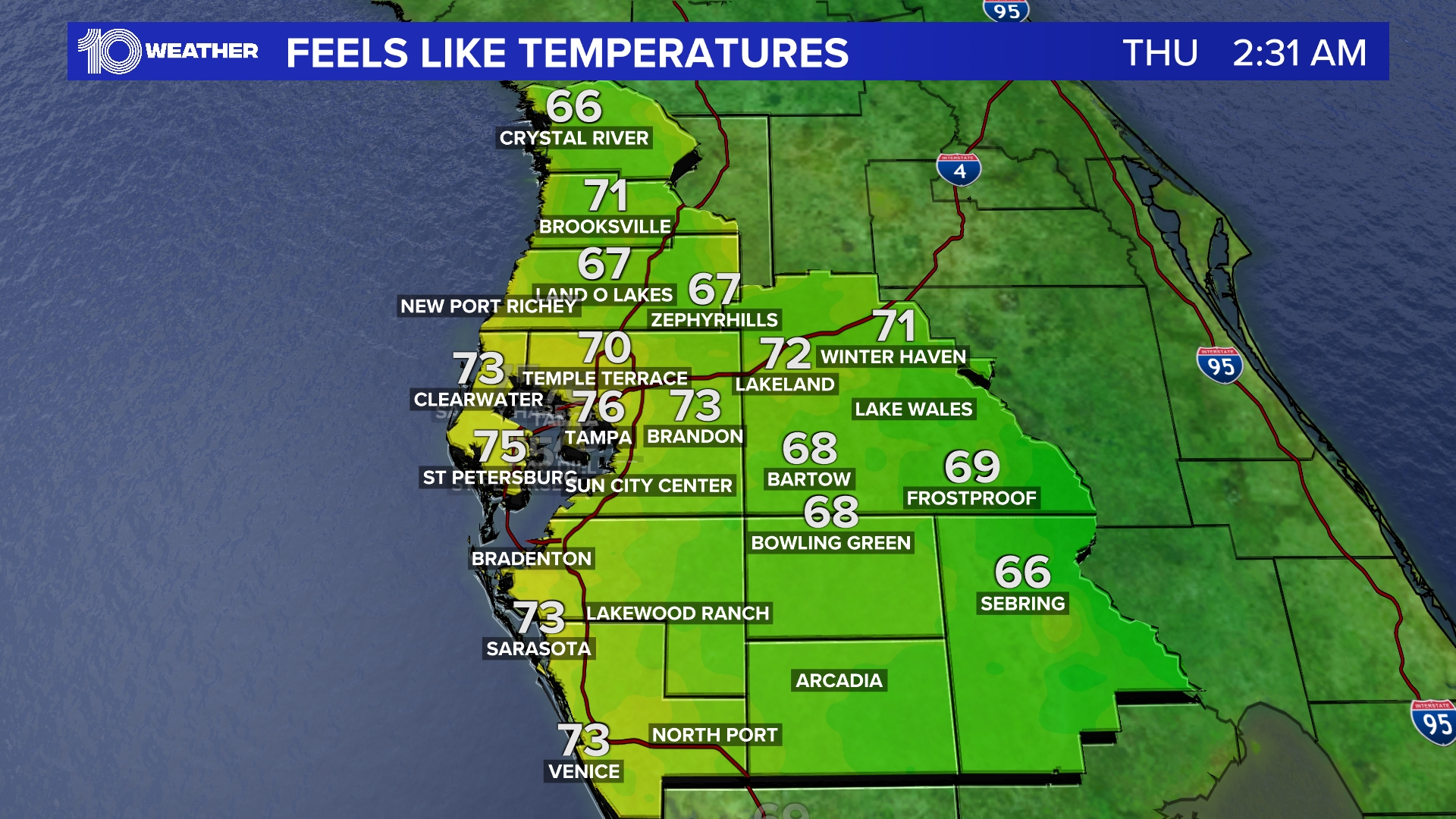 10News WTSP
• As you head out for your morning commute, check out our live blog for the latest traffic updates and road conditions across Tampa Bay.
• While some of you may have been sleeping, Clemson QB Deshaun Watson threw a 2-yard touchdown pass to Hunter Renfrow with one second left to cap off a 35-31 thriller over Alabama in Monday night's College Football Playoff national title game. It was the third lead change in the final five minutes, and it sent the orange-heavy Raymond James Stadium-record crowd of 74,512 into a frenzy as the Tigers (14-1) won their second national championship (and first since 1981).
• Before the game, country star Dierks Bentley took the stage for the Championship Tailgate. Jay Cridlin writes that after three days of meteorological anarchy, Tampa's atmosphere found its sweet spot, which made Bentley's festival-sized pregame show for ticketholders feel all the more special. Read his review here.
• Check out our Road to Tampa page for a complete game recap, and a look back at an historic week for the Tampa Bay area.
• If Craigslist had a Communities-For-Hire category, Tampa Bay Times columnist John Romano says Tampa would have the first ad. After Monday night, Tampa Bay can add the college football national championship to its resume. See how, if he has his way, Tampa Bay Sports Commission executive director Rob Higgins will seek to make it a regular gig.
• A busy week of Senate confirmation hearings begins for President-elect Donald Trump's cabinet nominees. This guide to all the hearings will help you keep track. First up is Republican Alabama Sen. Jeff Sessions, who has been tapped to be attorney general. Much of what Trump has promised would land on the attorney general's desk. Retired Gen. John F. Kelly, who was head of U.S. Southern Command, is expected to be easily confirmed. But the biggest challenge for Kelly might come from within the new Trump administration, particularly over the threat posed by Russia and over the Trump plan to build a border wall and to increase the number of border agents.
• President Barack Obama gives his farewell address at 9 tonight at Chicago's McCormick Place. When Obama took office as the 44th president of the United States, PolitiFact created an unprecedented database of his 533 campaign promises. We've spent the past eight years amassing the definitive account of his record. Read in-depth reports on his promises about the economy, Iraq and Afghanistan, health care, climate change, drug sentencing, taxes and bipartisanship at tampabay.com/obameter.
• Florida remains the nation's most deadly state for those who journey on foot, a new report has found. The seven most dangerous metropolitan communities for pedestrians are all in the Sunshine State, according to the Dangerous by Design report released by Smart Growth America. That includes the Tampa-St. Petersburg-Clearwater area, which was ranked seventh with 821 pedestrians killed over a 10-year period through 2014.
• Among Richard Gonzmart's fondest childhood memories are playing at nursery rhyme-inspired Fairyland park then heading over to Goody Goody Burger for dinner. Now, he's planning to bid on the life-sized concrete and fiberglass nursery rhyme figures that once populated the 15-acre North Tampa park. The city of Tampa will auction the figures Saturday and Gonzmart hopes to walk away with them. He would restore them and place them at his Ulele Restaurant and Brewery in Waterworks Park along the Tampa Riverwalk.
• The trial of Daniel Lynds, a St. Petersburg man charged with first-degree murder in the slaying of a commercial fisherman who was raising eight children, began this week. Opening statements are scheduled for this morning. If convicted, Lynds, 30, faces up to life in prison.
• He's the guy who approved a confidential $1 million contract with the Miami superstar Pitbull. Now Will Seccombe, the CEO of Visit Florida, appears to be on his way out as the head of the state's tourism agency. The 31-member Visit Florida Board of Directors meets in Orlando at 9 a.m. this morning to decide Seccombe's fate.
• Bright House Field is no more. The Clearwater sports venue is changing to Spectrum Field (Spectrum is a Charter Communications brand) in a new naming rights deal between the Phillies and Charter, which bought Bright House last year.
• It must still be Christmas, because U2, Green Day, Foreigner and Cheap Trick all announced they are bringing their tours to Tampa. See our Soundcheck blog for these and more concert announcements.
• On the heels of last year's successful referendum, Hillsborough County commissioners will discuss new rules for where medical marijuana dispensaries can locate. A vote is not expected today but the goal is to put the rules in place before a county moratorium on new medical marijuana dispensaries expires in April. Commissioners meet at 9 a.m. For updates, check out the BayBuzz blog.
• The last time Florida A&M University's Marching 100 band was in St. Petersburg for the Martin Luther King Jr. Day parade was 2007. That was also the year the band backed Prince during one of the greatest Super Bowl halftime shows of all time. So excitement is high in St. Petersburg to have the FAMU Rattlers back after almost a decade. They will be joined by another lauded marching band, the Tuskegee University Marching Crimson Piper Band.
What comes in, must go out, which means Tampa International Airport could be bustling with Clemson and Alabama fans who will be making a quick exit this morning following Monday night's national championship game. We'll be at the airport this morning to monitor the crowds and get some reaction from the (we expect) weary travelers.
• Truth is tricky business for many filmmakers, but not Peter Berg, who in collaborating with Mark Wahlberg goes to uncommon lengths getting it right. Patriots Day is their third re-enactment of bravery in true-life catastrophe, the 2013 Boston Marathon terrorist bombings and the ensuing manhunt. Read movie critic Steve Persall's review here.
• Here are the top things to do today in Tampa Bay including a spoof of Broadway shows and one of the state's top all-breed dog shows.