• It should be another day of clear skies, with highs in the mid-80s, as the region prepares for another cold front toward the end of the week, according to 10Weather WTSP.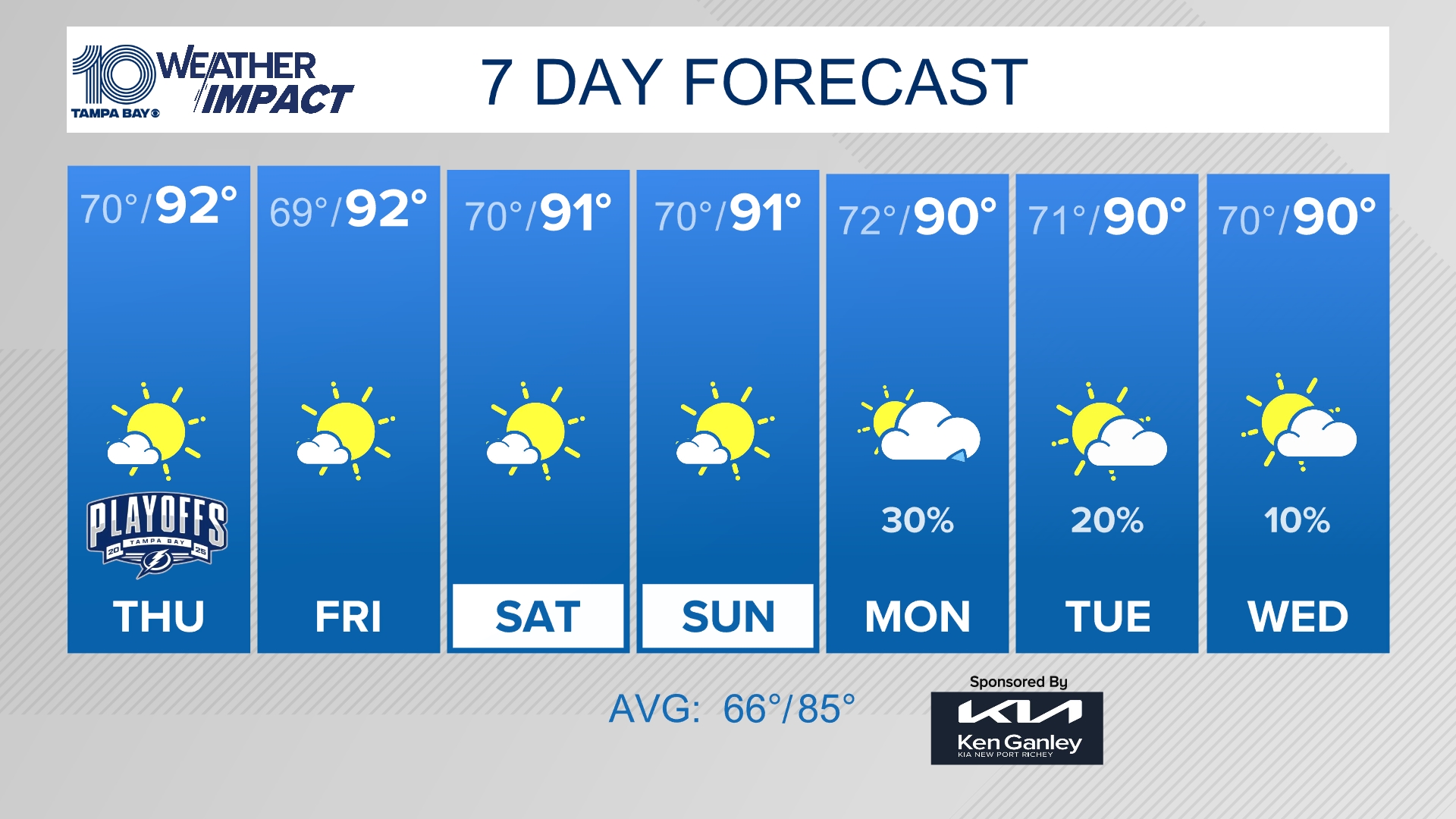 10News WTSP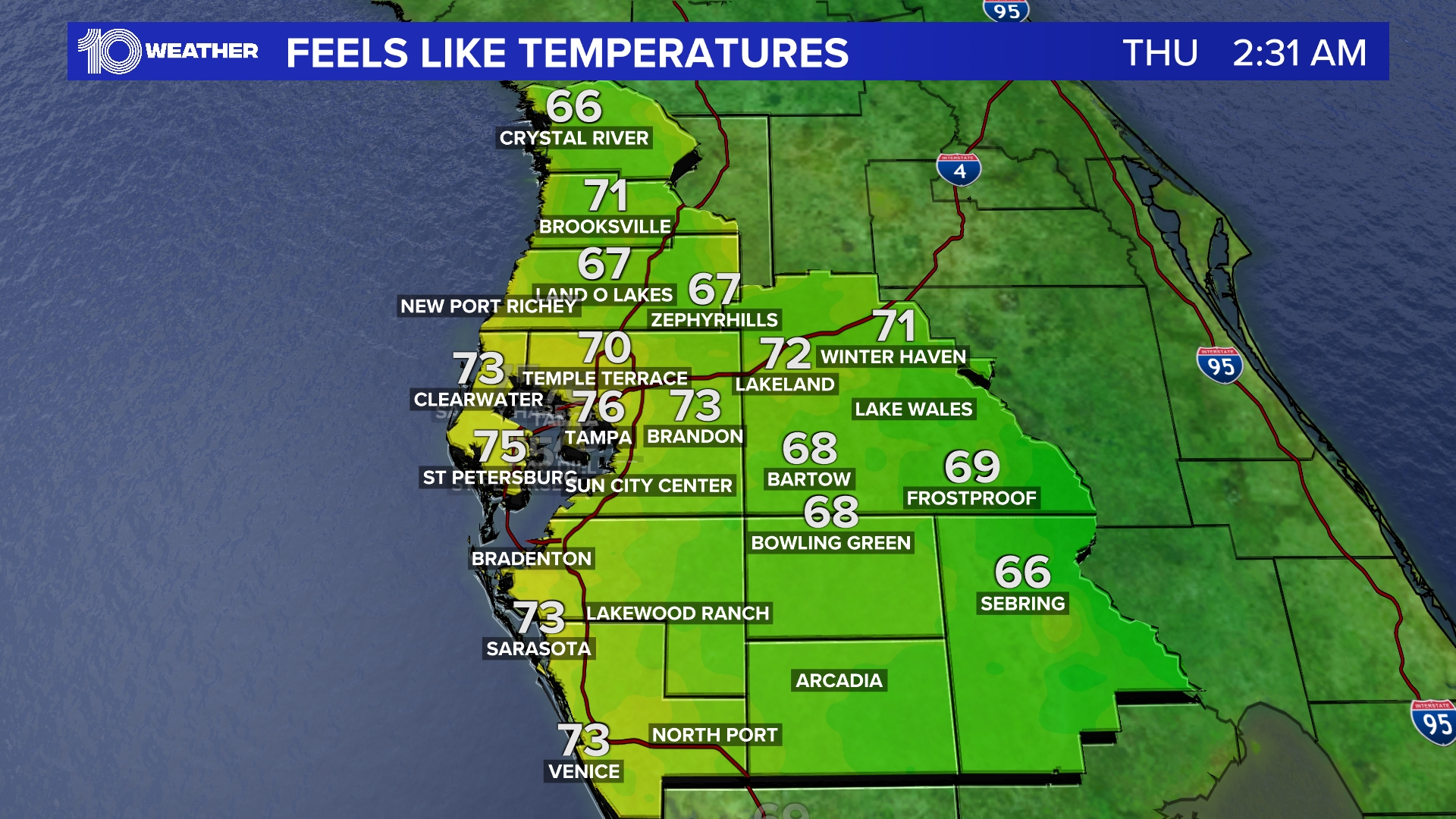 10News WTSP
• As you head out for your morning commute, check out our live blog for the latest traffic updates and road conditions across Tampa Bay.
• Only a week or so ago, many Florida Republicans fretted and Democrats gloated over the trend with mail ballots cast. Democrats had nearly erased the Republicans' long-standing advantage in mail voting and were positioned to take the lead quickly after early, in-person voting started. Pundits and some political operatives started to talk about a Clinton rout in Florida. Now, most are back to questioning whether she can eke out a win, Tampa Bay Times Political Editor Adam C. Smith writes.
• Hillary Clinton starts a three-city Florida swing on Tuesday in Pasco County with a 3 p.m. speech at Pasco-Hernando State College East Campus, 36727 Blanton Road, Dade City. The campaign says she will "outline her plans to create an economy that works for everyone, not just those at the top, and her vision for an America that is stronger together." People interested in going can RSVP here. Follow Times staff writer Josh Solomon for updates.
• Former President Bill Clinton will end a three-city Florida swing on Tuesday in St. Petersburg with get-out-the-vote event at Thomas "Jet" Jackson Recreation Center at Wildwood Park, 1000 28th Street S. People interested in going to the 6:30 p.m. event can RSVP here. Follow Times staff writer Charlie Frago for updates.
• How could a pool of acidic water on top of a massive gypsum stack suddenly start draining away at the Mosaic plant in Polk County? The answer: A sinkhole 45 feet wide and 220 feet deep had opened up beneath the stack. Down went 215 million gallons of contaminated water, gurgling into the aquifer that supplies the region's drinking water. Yet, Craig Pittman writes that although geologists say the reason should have been obvious, state records show that it took 10 days before Mosaic officials used the word "sinkhole."
• With a week left in the election, now's not a bad time to brush up on the issues and the candidates for those who haven't already voted. Take a look at the Times' Know Your Candidates 2016 voter's guide.
• With Halloween out of the way, it's time to gear up for the holidays and, of course, shopping. Analysts are predicting a strong holiday shopping season for retailers, but the move by consumers to online will continue.
• Who's buying and selling homes today? The National Association of Realtors on Monday unveiled its annual survey of home buyers and sellers, offering both demographic and financial insights into the current market. Business columnist Robert Trigaux details the latest trends in real estate in an increasingly tight housing market.
• The inaugural voyage of the Cross-Bay Ferry is today. Though not yet open to the public, the ferry will depart on its maiden voyage from St. Petersburg's Vinoy Basin at 10 a.m., sail across the bay to downtown Tampa, then come back. Today's trip is for VIPs only, but regular service starts Nov. 26. Follow Caitlin Johnston, @cljohnst, who will be along for the ride, for updates.
• St. Petersburg has become nearly synonymous with craft beer and artisanal cheeseburgers, but a new Virtual Progressive Dinner is part of the Healthy St. Petersburg program, with participating restaurants offering drinks, appetizers, main courses or desserts that focus on healthier, lighter preparations. And we offer our own tips for eating healthy when dining out.
• Are you awash in Halloween candy today? Our food editor offers 5 ideas for using up leftover Halloween candy (assuming you have any).
• Here are the top things to do today in Tampa Bay including free admission this afternoon at the Glazer Children's Museum and Hamilton star Daveed Diggs bringing his rap group Clipping to St. Petersburg.