• After some early morning showers, the sun should come out, with temperatures in the mid-70s, according to 10Weather WTSP.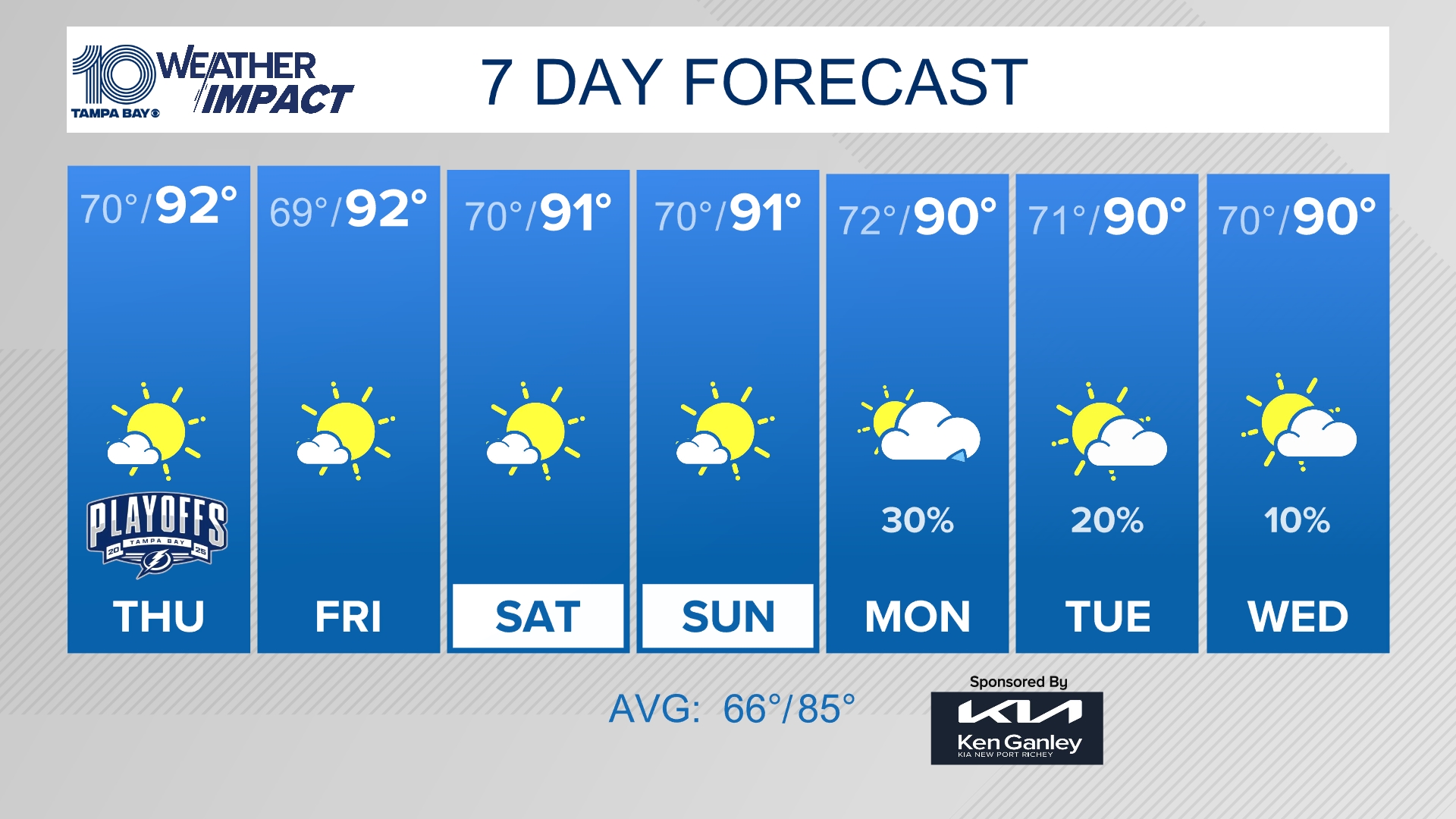 10News WTSP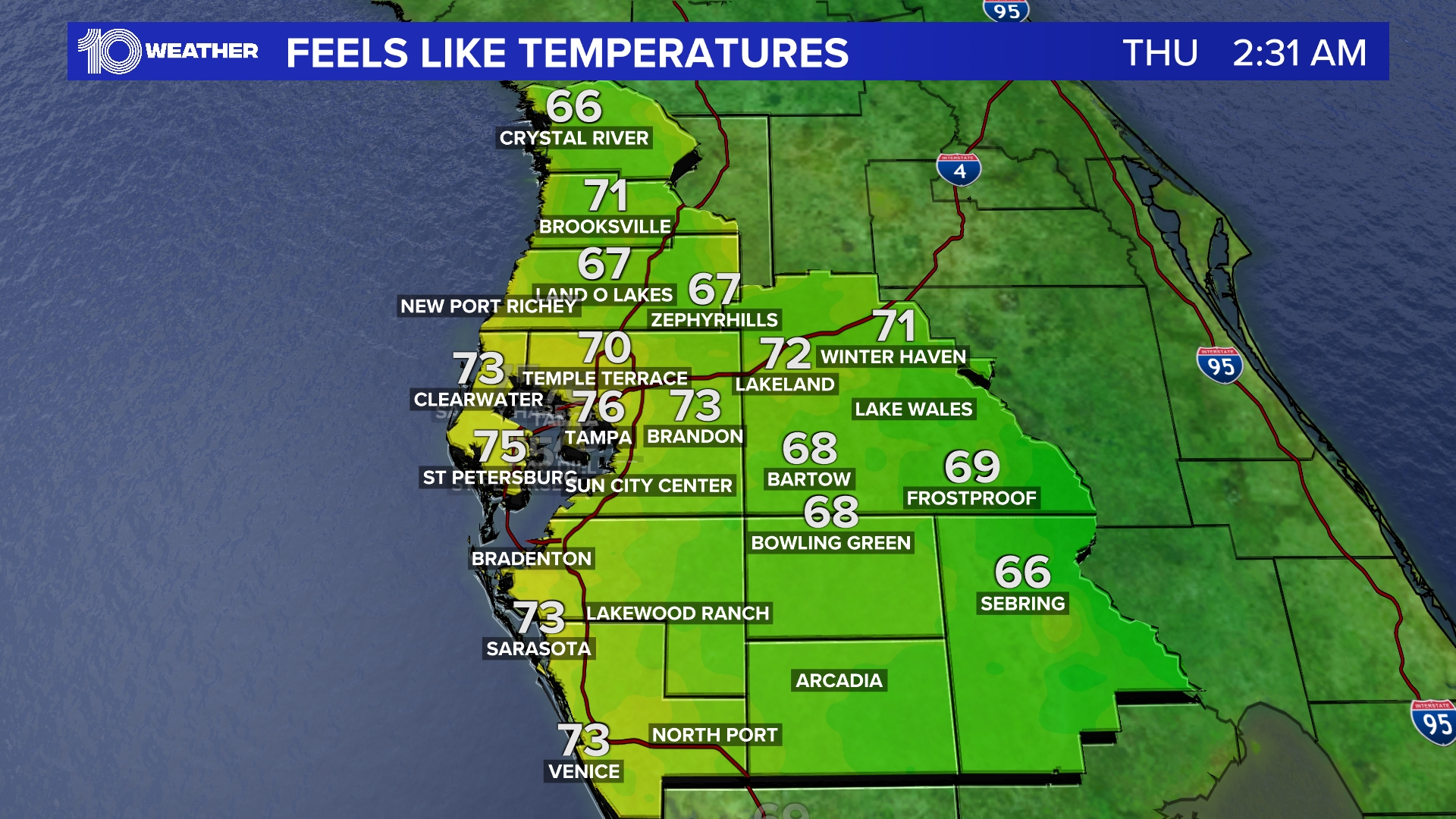 10News WTSP
• As you head out for your morning commute, check out our live blog for the latest traffic updates and road conditions across Tampa Bay.
• Young professionals are riding the ferry. What do they think of Tampa Bay's beleaguered transportation network? Do they think the ferry is a real solution or is it more of an entertainment option? Read reporter Caitlin Johnson's story here.
• The Hillsborough County Public Schools are improving their student discipline strategies and even making headway in narrowing a stubborn gap between black and white suspension rates, the School Board will be told today. A workshop is scheduled for 1 p.m. to discuss intervention and rehabilitation methods that began in 2015, when Jeff Eakins took over as superintendent. Follow Marlene Sokol @Marlenesokol for updates.
• Chart-topping pop superstar Bruno Mars is embarking on a gargantuan 85-date (so far) world tour in 2017, and it features a solid swing through Florida, including an Oct. 19 date at Tampa's Amalie Arena. (The other Sunshine State dates: Oct. 14 at Orlando's Amway Center, Oct. 15 at Fort Lauderdale's BB&T Center and Oct. 18 at Miami's AmericanAirlines Arena.)
• Ruskin's Phil Thompson is helping to start a program in Cuba focused on teaching skills needed to protect nature and earn a living through eco-tourism to children living around the island's Zapata Swamp National Park. Check out Paul Guzzo's story here.
• The Republican Governors Association holds its annual conference this week in Orlando and today's topic is "Leading the Change." A panel with Wisconsin Gov. Scott Walker, Arizona Gov. Doug Ducey, Arkansas Gov. Asa Hutchinson and South Carolina Gov. Nikki Haley is the afternoon focus. Follow Tampa Bay Times Political Editor Adam C. Smith Adam C. Smith for coverage.
• Before his sold-out talk in Tampa on Thursday, we talked to pop culture-savvy astrophysicist Neil deGrasse Tyson. We couldn't resist the chance to ask such a smart man to explain some things, and he told us Florida will be underwater in the not too distant future and why the rise in popularity of Comic-Con gives him hope that people care about science.
• Paul Hogan, former managing editor of the Tampa Tribune, died Monday. He's remembered by those who knew him for being an "old-school" newsman, and for his work upholding journalistic values such as pressing for open government. Read more about the beloved editor here.
• Are you planning to cook for Thanksgiving? We asked the pros for their tips on large-scale meal success.
• Here are the top things to do today in Tampa Bay including twin pop singers Tegan and Sara and YouTube star Laci Green giving a free talk at USF. The sex education host was named one of the "30 Most Influential People on the Internet."