• There will be a little more humidity today, but it should still feel comfortable, as the region will experience a fairly sunny day, according to 10Weather WTSP.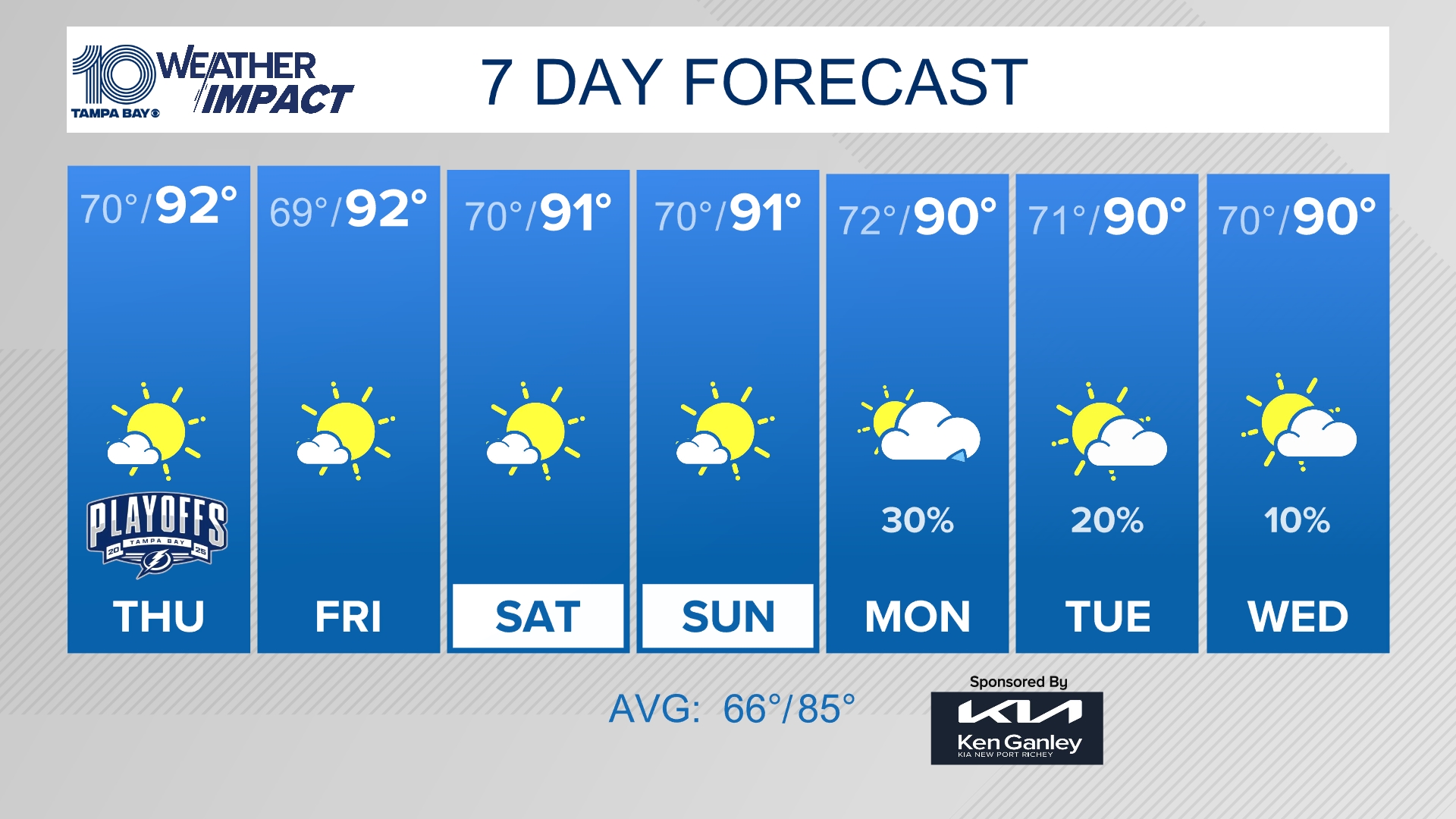 10News WTSP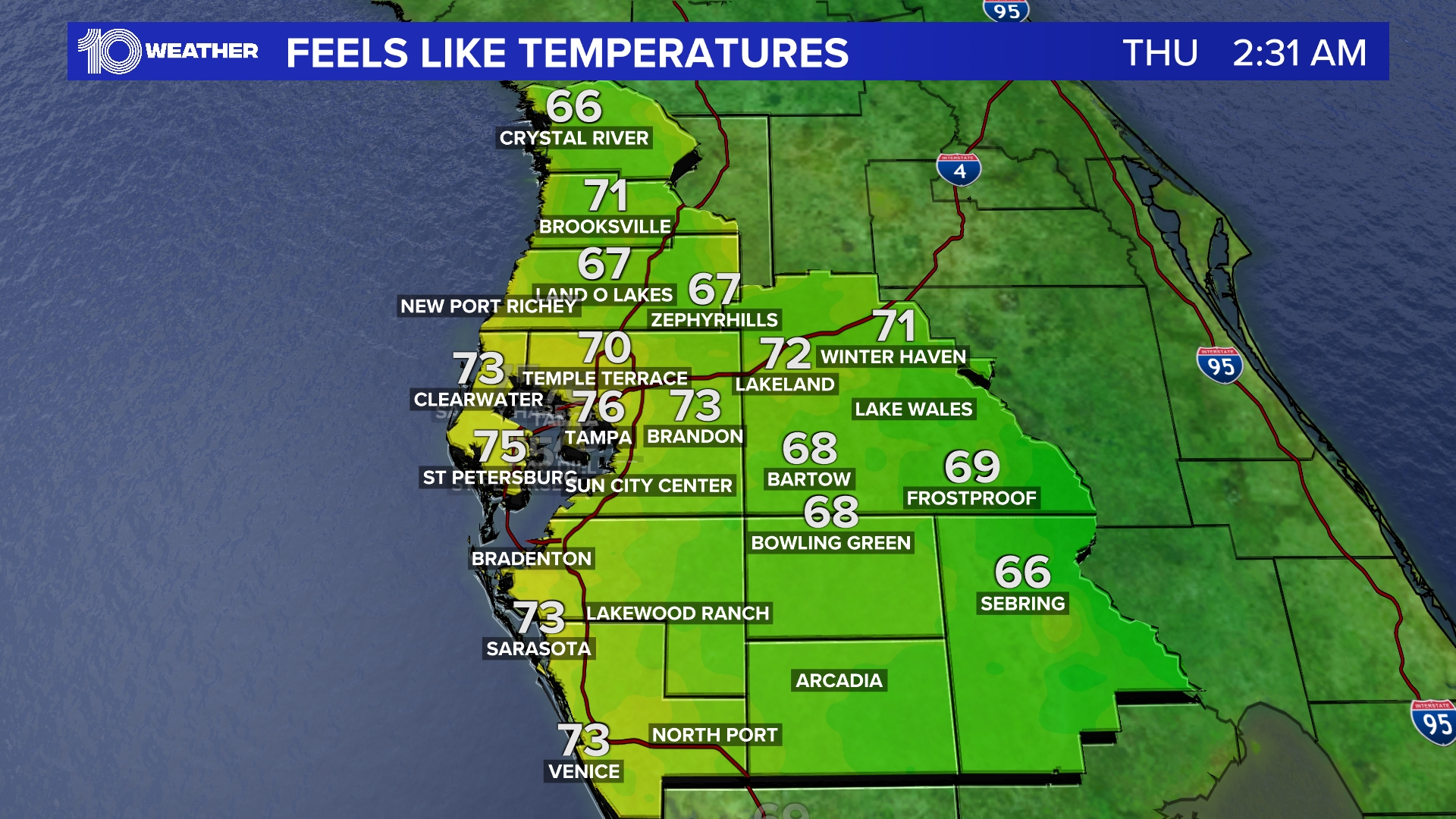 10News WTSP
• As you head out for your morning commute, check out our live blog for the latest traffic updates and road conditions across Tampa Bay.
• Today would have been the last day to register to vote in the Nov. 8 general election. But thanks to a federal judge, you have at least one more day to get your application in.
• Donald Trump returns to Florida for a two-day campaign swing that kicks off Tuesday night in Panama City. Tampa Bay Times' Washington Bureau Chief Alex Leary previews the trip this morning on the Buzz.
• Hillary Clinton wants no Floridian to forget: She's bringing Al Gore to Miami with her Tuesday as a not-so-gentle reminder that in a tight election, protest votes can have grave consequences. The Miami Herald's Patricia Mazzei previews the visit this morning. Bill Clinton, meanwhile, is in Pinellas County, speaking at the Safety Harbor Community Center, 650 9th Ave S. Doors open at 5:45 p.m.
• Fall asleep before the Bucs' 17-14 win over the Panthers? Rick Stroud, Greg Auman and Tom Jones have you covered with post-game analysis at tampabay.com/bucs.
• The fighter jet survived new pilots who put it through the motions learning how to fly, even a stint with the demanding flight demonstration team known as the Air Force Thunderbirds. But the old F-4 Phantom II with the iconic drooping tail fins couldn't endure the salt air blowing in off Hillsborough Bay during the decades it stood on display at MacDill Air Force Base. Howard Altman describes what will happen to this impressive aircraft.
• The Times editorial board weighs in with recommendations on the Pinellas County Commission and county charter recommendations. Find them and our other recommendations at tampabay.com/opinions.
• The Hillsborough County School Board will dig into a major report on its finances and operations this morning. The document is the work of the Gibson Consulting Group, which is being paid more than $800,000 to help the district cut costs and protect its reserves. Times education reporter Marlene Sokol will be tweeting from the board's workshop. See her story on the report, and follow the discussion @Marlenesokol.
• Meanwhile, the school district should not be released from an ongoing federal investigation into alleged racial disparities in teaching and discipline, a civil rights activist says. In a letter that takes issue with the school district's view of how black students are doing, retired educator Marilyn Williams says Hillsborough has not proven it is on a path to provide equity. Williams, who filed a discrimination complaint in 2014 with the U.S. Department of Education's Office for Civil Rights, sent her rebuttal to the agency earlier this month.
• Food critic Laura Reiley checked out the changes at the Tampa Bay area's three Ceviche restaurants — new menu, new plates and cutlery, new presentations. Read here to see what she found.
• Stay with tampabay.com for updates on Rebecca Lewis, the missing 4-year-old Lakeland girl who was taken by a family friend on Saturday and found in Tennessee on Monday. Her abductor, 31-year-old West Wild Hogs, is in custody.
• Happy birthday to Ruth Eckerd Hall CEO, Zev Buffman, 86 today. What was his present? Another contract renewal. Read about it here.
• Amy Schumer visited Tampa once. You may have read about it in her book. She's coming back this weekend, but things are not so simple for her anymore. Read Jay Cridlin. Also, read how Schumer isn't the only celebrity to use Tampa as a punch line.
• Here are the top things to do today in Tampa Bay, including Korn performing in Tampa and a horror-themed escape room.