• Another cool front passes through, bringing morning temperatures possibly in the upper 50s, according to tampabay.com, but it should warm to the mid-80s by the afternoon. There is a slight chance of rain.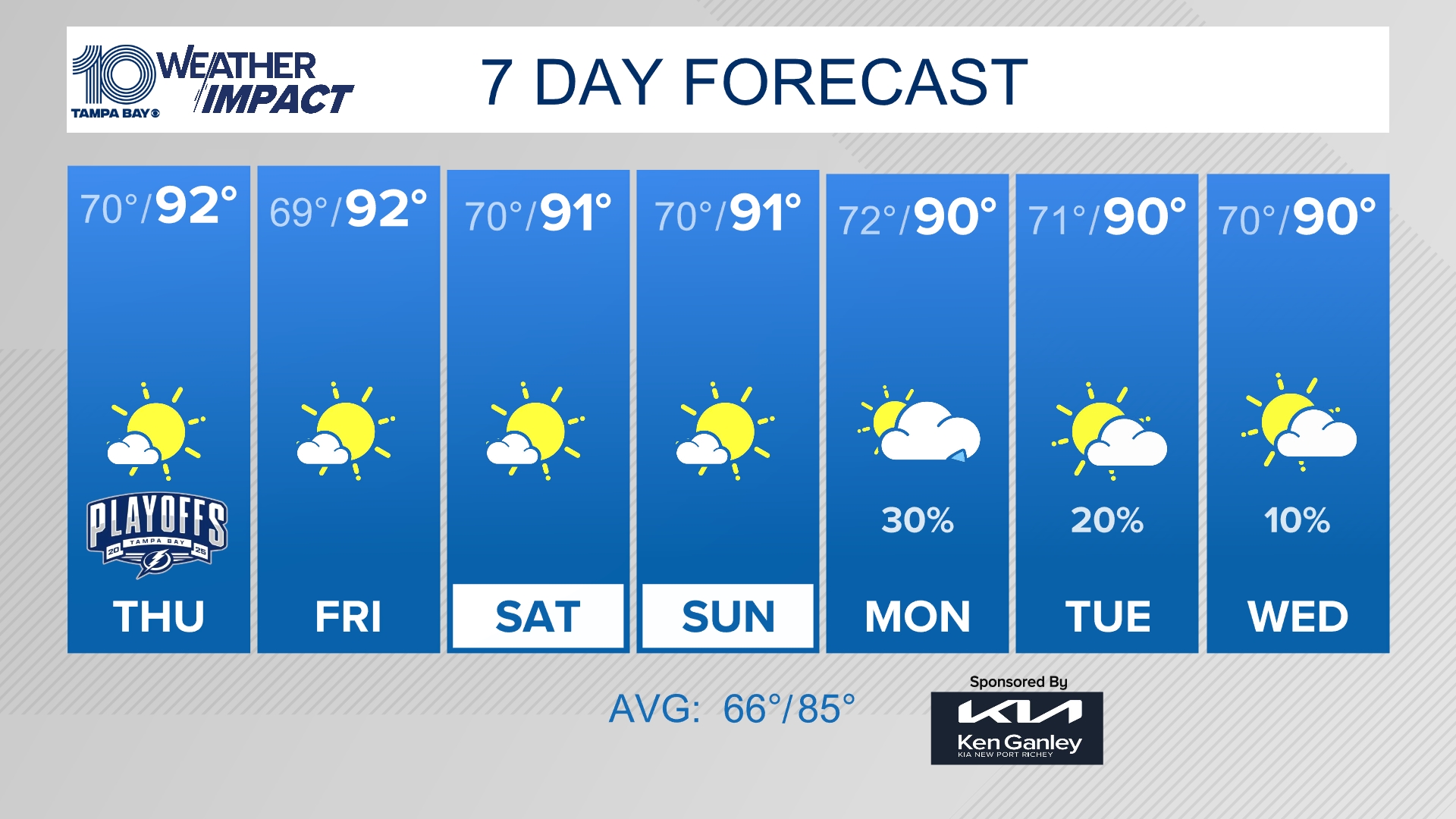 10News WTSP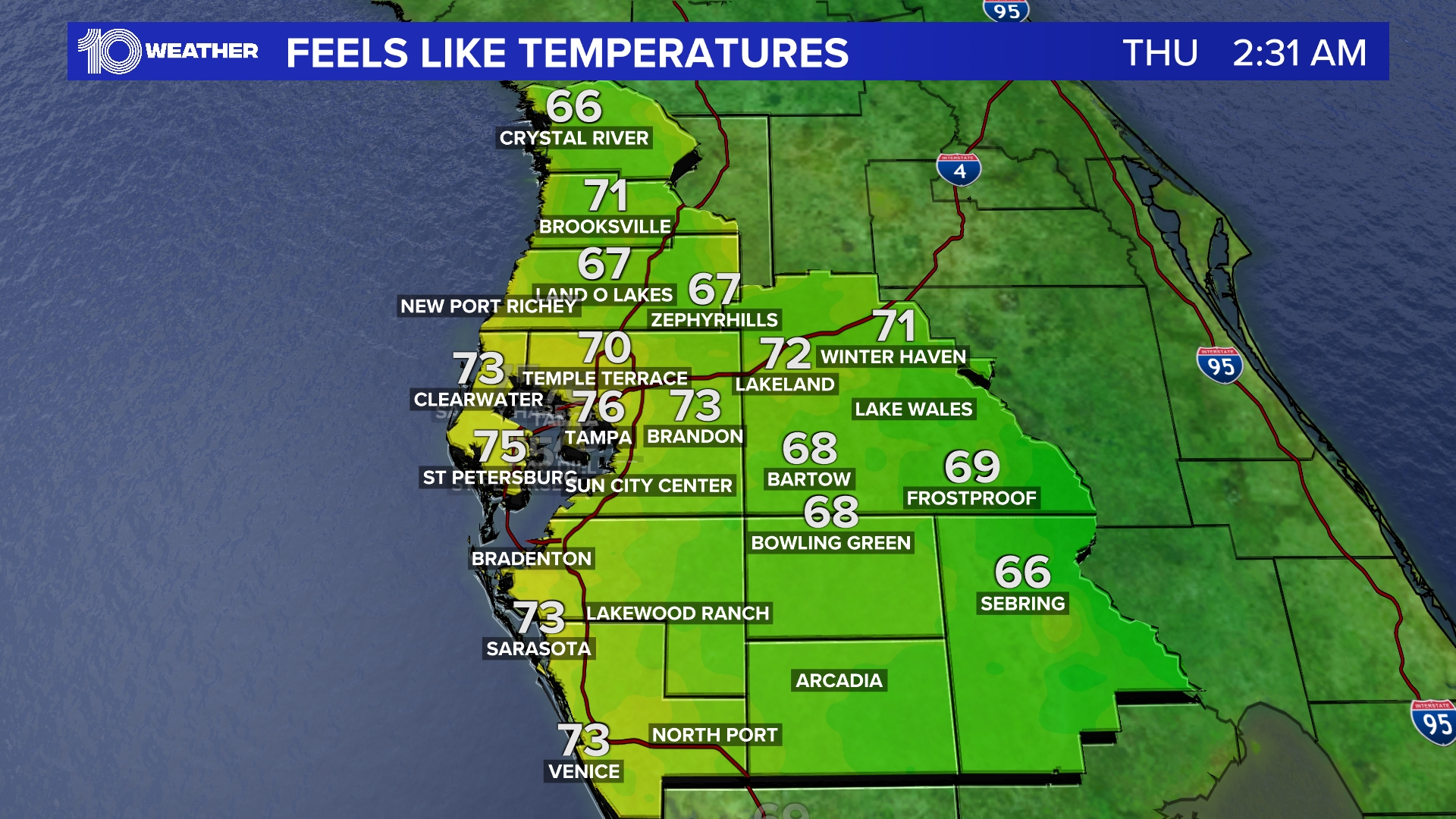 10News WTSP
• As you head out for your morning commute, check out our live blog for the latest traffic updates and road conditions across Tampa Bay.
• Donald Trump, who drew wild cheers Monday night before a crowd of more than 15,000 at the MidFlorida Credit Union Amphitheatre in Tampa, completes his three-day campaign swing through Florida with events in Sanford and Tallahassee later this afternoon. Follow Tampa Bay Times Political Editor Adam C. Smith for coverage in Sanford. Follow Michael Auslen for the news in Tallahassee.
• At the 13th annual assembly of Faith and Action for Strength Together (FAST) on Monday night, a coalition of churches called on candidates running for the Florida Legislature to back a bill that would expand access to the state's juvenile citation program. If passed, it would prevent kids from having a criminal record for minor offenses. The coalition of about 40 churches pushes to hold elected officials accountable on issues in Pinellas County ranging from poverty and education to housing affordability.
• Judges, prosecutors and defense attorneys across the state are trying to figure out what to do about death penalty cases since the Florida Supreme Court ruled that the only way to sentence a defendant to death is by a unanimous jury vote. Case in point: Patrick Evans, who faces retrial for the 2008 murders of his estranged wife and her friend. But he also faces the death penalty. What could happen? Laura Morel explains the legal dilemmas facing all sides. Follow her at @lauracmorel to find out what the judge decides at the 8:45 a.m. hearing.
• Stacks of the University of Tampa's student newspaper, the Minaret, disappeared last week after it published a story referencing a reported frat-house rape at the University of South Florida. The paper suspects fraternity members are to blame and a student has claimed responsibility. Read higher education reporter Claire McNeill's story this morning at tampabay.com.
• For more than 50 years, an aluminum shell has encased the nearly 100-year-old Pheil hotel in downtown St. Petersburg. But now the shell is off and the original red brick facade is viewable for the first time in five decades. Check out video of the building's demolition and photos of the brick.
• Wells Fargo, rocked by a banking scandal that resulted in the ouster of its CEO and projections that it could lose customers, launched a TV ad campaign Monday night in which it tells customers it will make things right.
• Cubs or Indians: Who do you have? As the teams try to erase their cursed history and ease their tortured fan bases, Marc Topkin examines the two fascinating wizards standing in the dugout calling the shots — former Rays manager Joe Maddon, now with the Cubs, and Indians counterpart Terry Francona.
• Tampa Bay is already turning into a crowded marketplace for services that deliver groceries and other goods to your door. Amazon, Shipt and Drizly are a few that have set up shop in Tampa Bay. Today, another major player will launch in Tampa Bay as well.
• When she arrives at the Ritz Ybor tonight, Kesha is reclaiming what began as the most promising pop career of this decade. As our pop music critic Jay Cridlin writes, "The gap is narrowing between the Ke$ha the world thought it knew, and the Kesha it never really did."
• It's been a banner year for Halloween costume inspiration. We've mined the lowlights, and the highlights of the past 10 months to create a list of costume ideas based on pop culture and the news.. Here are our best costume ideas taken from pop culture. While we were at it, with the geeky sci-fi and comic MegaCon Tampa Bay in town this weekend, we came up with a few suggestions for combining classic Halloween horror with your best geek chic. Doctor Who-N-Furter anyone? You'll find that and more on our Halloween page here, with a link to all the parties and events this week.
• Why pineapples and watermelons make better jack-o-lanterns for decorating your house.
• Here are the top things to do today in Tampa Bay including ghost tours and a spooky pipe organ concert to get ready for Halloween and pop star Kesha takes the stage.