• Wednesday morning will be foggy before a mostly sunny day, as highs reach the mid-70s, according to 10Weather WTSP.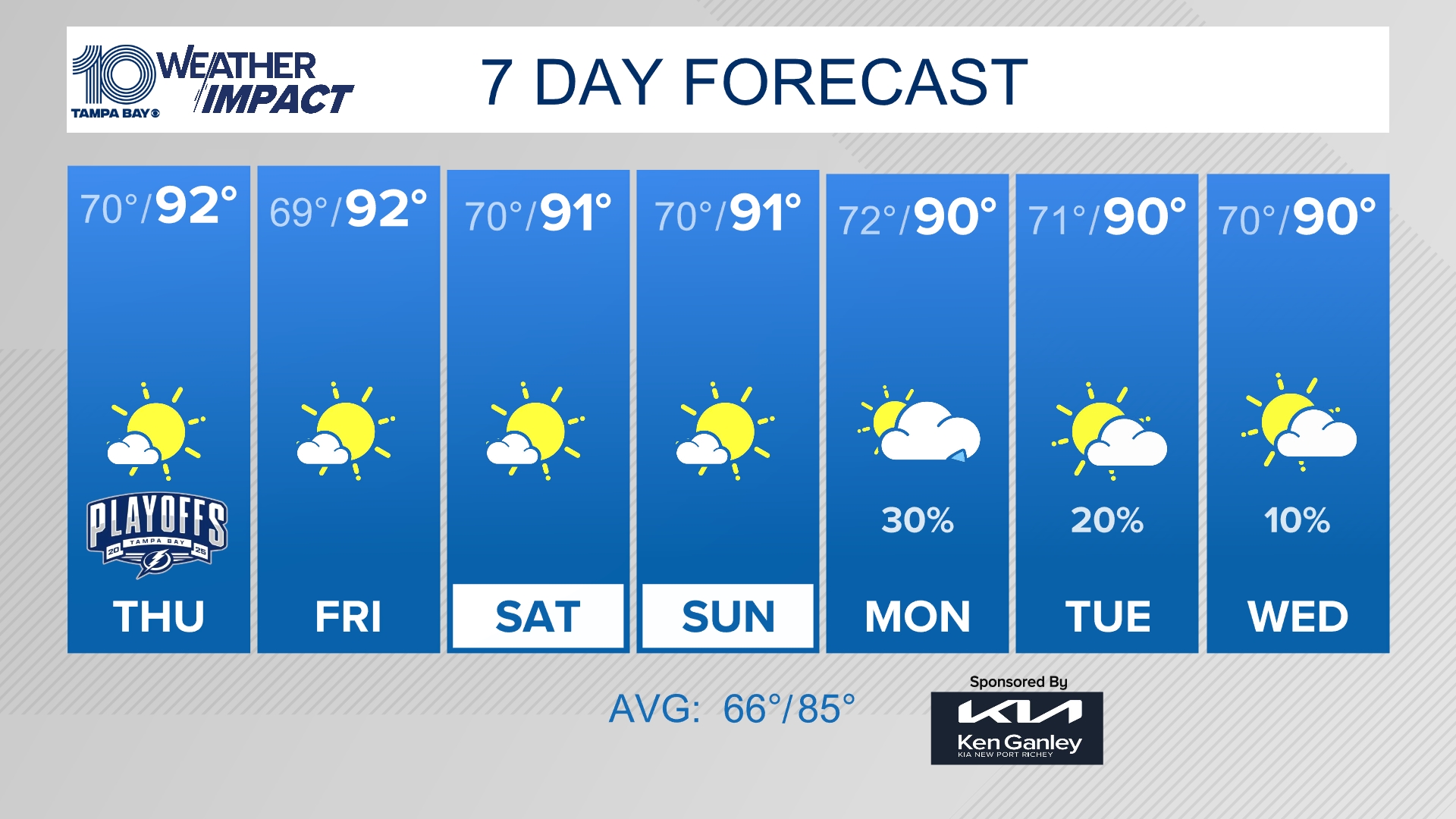 10News WTSP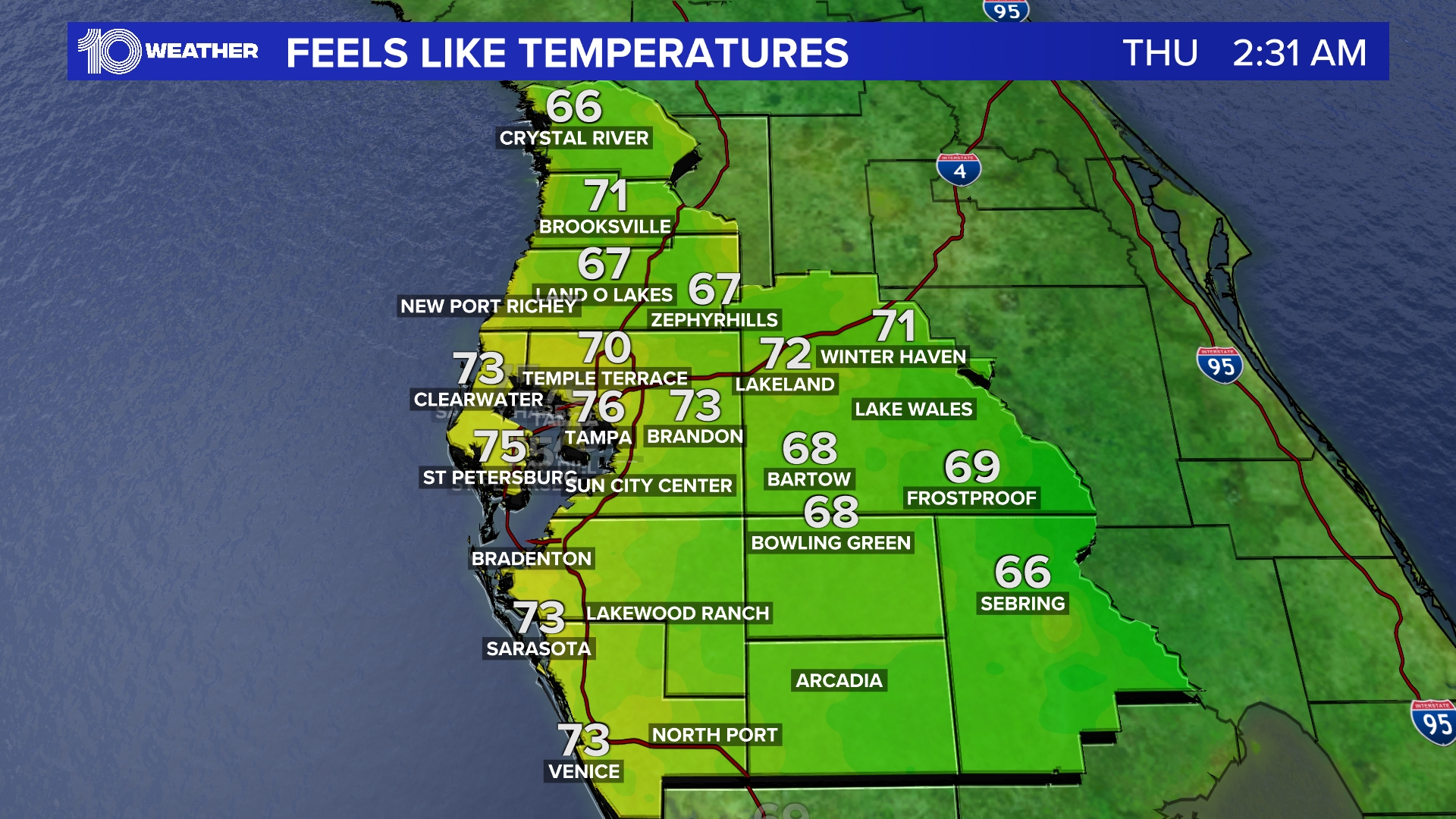 10News WTSP
• As you head out for your morning commute, check out our live blog for the latest traffic updates and road conditions across Tampa Bay.
• We're following reports that USF football coach Willie Taggart will be named coach at Oregon. Follow Joey Knight @TBTimes_Bulls for updates.
• Tampa Bay Times staff writer Lane DeGregory and photographer Eve Edelheit will discuss their latest story, Prince Vinegar's last stand, live on Facebook at 12:15 p.m. today. The story explores right-to-die issues and whether we actually know when it is time to go. Join the discussion at tampabay.com/facebook at 12:15.
• The brutal night of June 17, 2015, is about to come alive again for the worshippers of Emanuel African Methodist Episcopal Church, and the rest of Charleston as opening arguments are scheduled to begin today in the federal hate crimes trial of Dylann Storm Roof. "The wound is open, the pain will be there surely. We are taking one day at a time," Pastor Eric S.C. Manning said in his basement office, next to the room where nine black men and women, ages 26 to 87, were murdered. "Our faith is founded on the fact that God said, 'Trust me.'"
• Tampa Bay Rowdies owner Bill Edwards wants to become part of first division Major League Soccer, announcing a campaign toward that goal during a highly attended event before fans at the Birchwood in downtown St. Petersburg on Tuesday night. A presentation included renderings of renovated Al Lang Stadium, which would have to be expanded well past its current capacity of around 7,000 for an MLS franchise. Edwards said renovations would be privately funded. But for any of it to happen, he needs the appropriate fan support. There will be no 18,000-seat Al Lang without an MLS franchise.
• To mark the end of this bizarrely improbable year, columnist Sue Carlton offers some not particularly fact-based but still possible political speculation on the futures of Pam Bondi, Bob Buckhorn, Ken Hagan and others.
• Follow business reporter Justine Griffin on Twitter @SunBizGriffin for updates from the last Hillsborough County Aviation Authority meeting of the year beginning at 9 a.m. Board members and airport staff will be recapping new flights announced in 2016 and will be looking at the plans for upcoming renovations in the next year.
• Hillsborough County has reached a settlement,/a> with the family of a 39-year-old Tampa nurse and mother of three who died in 2010 after her car crashed into a county semitrailer. Under the terms of the agreement, the county will pay $200,000 to the estate of Darcia Dominguez, an amount that could grow to $600,000 if the state Legislature approves a claims bill to further compensate the family.
• Florida Supreme Court justices will hear oral arguments in two death penalty cases under review after the U.S. Supreme Court ruled that the Florida death penalty is unconstitutional.. One of those cases under review is John Lee Hampton, who was sentenced to death for the 2007 murder of Lashonda McKinnes in Clearwater.
• The Rays made a surprising strike to land a potential major impact player, agreeing on a two-year deal with All-Star catcher Wilson Ramos, who will be sidelined until midseason while recovering from major right knee surgery. At the same time, the Red Sox's acquisition of pitcher Chris Sale could set the market for Chris Archer.
• Hillsborough County has settled a wrongful death case with the family of a woman who died when she crashed into a county garbage truck. The case has taken six years because Hillsborough's insurance company threatened to block any settlement, an issue the county ended up taking its own insurance company to court over. The settlement is for $200,000 (with potential to increase to $600,000). Commissioners will vote on the terms of the settlement on Wednesday.
• Twenty years ago, the world had never seen anything like Lauryn Hill: An incandescent musical prodigy who could sing like a soul queen and spit with the finest MCs. Twenty years later, we've still never seen anyone quite like L. Boogie, Jay Cridlin writes. Which may be why she can get away with booking a tour with no new music, hitting the stage some 80 minutes late, remolding her signature hits until they're virtually unrecognizable — and somehow leaving a crowd enthralled by the end. Read his review,/a> from Tuesday's show at the Mahaffey Theater in St. Petersburg.
• Here are the top things to do today in Tampa Bay, including Ice Skating at Tampa's Winter Village and Santa's Flight Academy at the International Plaza.