• The warming trend continues Wednesday following the weekend's cold front, as highs will be in the low 70s, according to 10Weather WTSP.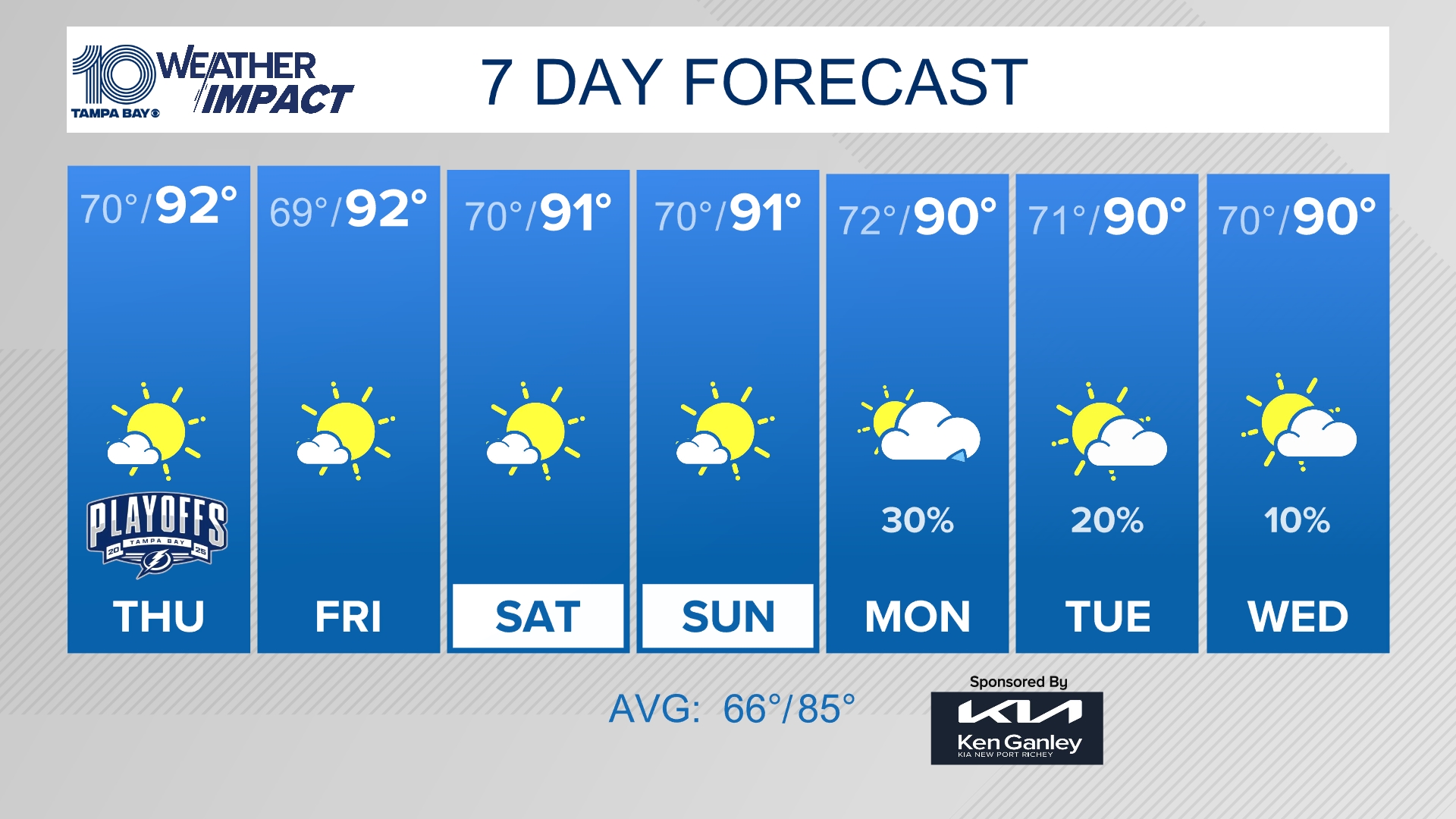 10News WTSP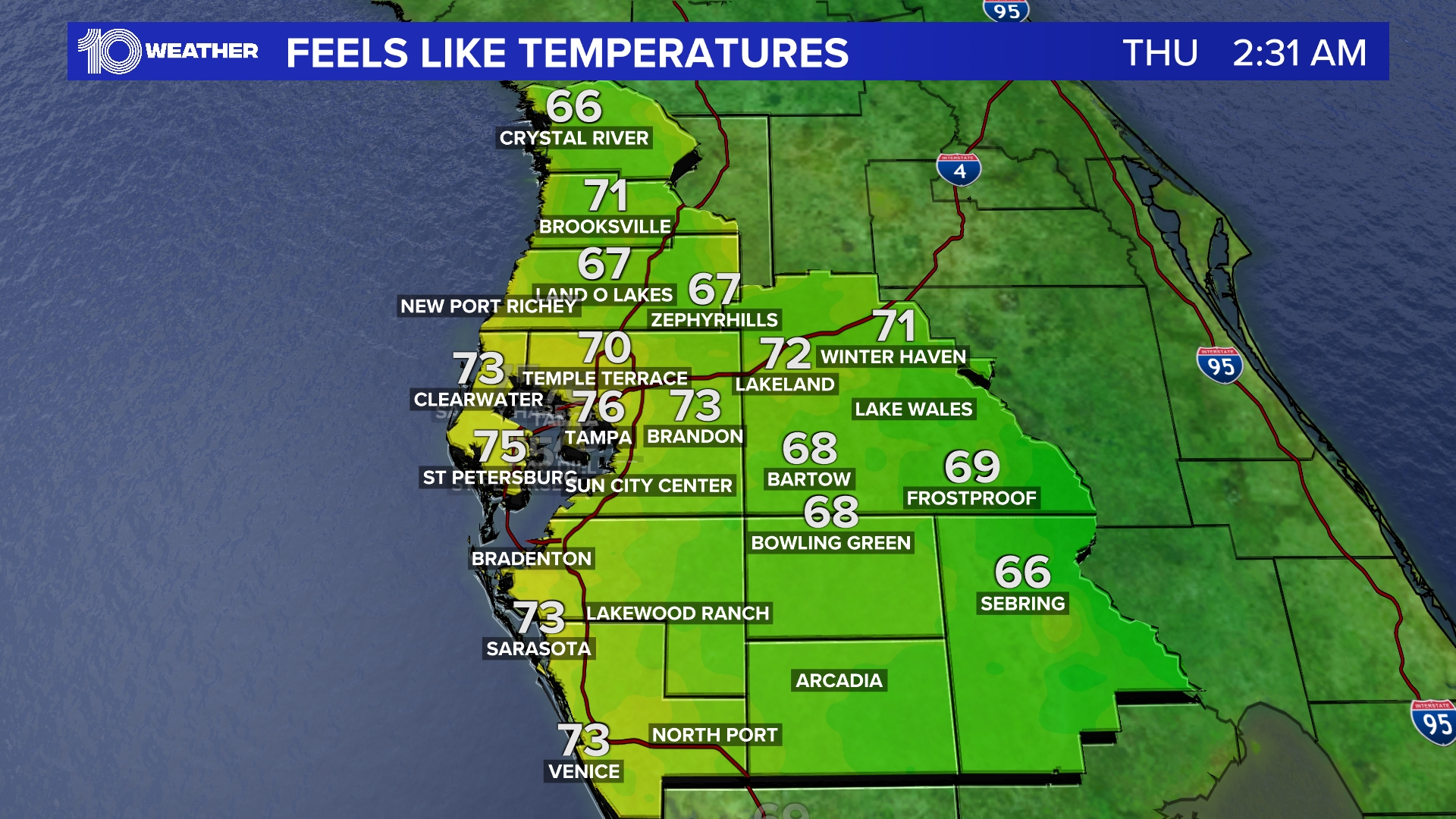 10News WTSP
• As you head out for your morning commute, check out our live blog for the latest traffic updates and road conditions across Tampa Bay.
• President Barack Obama delivered a nostalgic and hopeful farewell address to the nation on Tuesday evening, but warned both the divided country he led for eight years and his successor not to shrink from the challenges of economic inequality, racial strife, political isolation and voter apathy that still threaten its ideal of democracy.
• Donald Trump was scheduled to give his first press conference as president-elect at 11 this morning at Trump Tower in New York City. Trump canceled a December press conference where he was expected to detail how he would handle his businesses as president. Wednesday's event would be the first time Trump has held an official news conference since July 27 at Trump National Doral. That was a memorable day, as Tampa Bay Times Washington Bureau Chief Alex Leary details this morning on The Buzz.
• The Senate confirmation hearings for Trump cabinet nominees continue today with Trump's picks for secretary of state, Rex Tillerson, and transportation secretary, Elaine Chao. Also, a second day of hearings is planned for Alabama Sen. Jeff Sessions, Trump's pick for attorney general.
• Now that the old Pier is gone from the St. Petersburg waterfront, some have questioned whether the city even needs one now. Not Mayor Rick Kriseman, who told the Times editorial board on Tuesday that the project is proceeding as planned. Delaying it now would cost millions and make it harder to build a pier in later years, he said. The schedule calls for installing the new pier pilings in May. Read his comments this morning.
• The venture capital industry staged a sharp national pullback in its investments to business startups in the last quarter of 2016, with last year overall posting a decline from VC investing in 2015. In Florida, 2016 was a solid year for venture capital with $1.2 billion of investments in startups.
• A key part of solving the city's sewage crisis lies underground. Or, more precisely, four wells drilled up to 1,100 feet into the Earth over the next year that are designed to safely dispose of fully treated wastewater. If all goes well, the city hopes to have at least one of the wells ready by rainy season. The injection wells are the way the city disposes of treated waste from its three sewage plants that isn't used for reclaimed water, pumping it hundreds of feet below the part of the Floridan aquifer that's used for drinking water and into the aquifer's brackish layer.
• The Hillsborough County School Board voted in December to end so-called "courtesy busing," meaning free bus service for middle and high school students who live within 2 miles of their school. Since then, commissioners said their offices have been inundated with calls to step in to save the program or provide alternatives, like building more sidewalks between neighborhoods and schools. In the short-term, county Administrator Mike Merrill said the School Board should look to fill the funding gap with other sources, like grants from the Metropolitan Planning Organization, or seek out a private solution.
• Crowley's Pub at 269 Central Ave. has reopened under new owners after legal troubles shuttered the restaurant's doors for a few months. Teresa Hwa and Zach Horgan, who worked at Local Brewing Company in Palm Harbor, along with a few other business partners, bought Crowley's from former owner Alice Crowley and opened a few weeks ago. Hwa, who declined to say how much they paid for the business, said she hopes Crowley's can continue to be part of the fabric of downtown that it has been since it first opened in 2010.
• About 80 percent of construction firms , with nearly a third intending to increase their headcount by more than 25 workers, according to an outlook survey this week by the trade group Associated General Contractors of America. None of the companies surveyed said they planned to cut jobs.
• Cody Fowler Davis, an accomplished local attorney and the brother of a former U.S. congressman, died of a heart attack Saturday. He was 57. Mr. Davis. whose family has deep roots in Tampa, built his reputation on his work practicing civil trial law for more than 30 years, family said. "He was a highly ethical, effective lawyer, and he was fearless," said former congressman Jim Davis of his brother.
• With the big game over and most fans already departed, Tampa on Tuesday remained a town festooned with banners, street-lamp signs and memorabilia from the College Football Playoff national championship. But soon, every vestige of the city's big party will be gone. Christopher O'Donnell tells us where all of this stuff will wind up.
• The new film Hidden Figures tells the story of three African-American women who worked as mathematicians for NASA and were responsible for the calculations behind the agency's first successful space launches in the early 1960s. It is resonating with local women of color who are in STEM careers themselves, and who recently attended a special screening designed to encourage younger women to explore the worlds of science, technology, engineering and math.
• A man pleaded guilty in Hillsborough Circuit Court last week to killing a woman 37 years ago. But his plea deal didn't send him to prison. Instead, it set him free. Nathaniel Bigbee's crime? He twisted a wire coat hanger around the neck of a 25-year-old mother of two, choking her until she died. It happened in Plant City in September 1979.
• It is tempting to begin discussion of the recent dispute in a downtown Tampa park thusly: Good news, everyone! Apparently serious crime is nonexistent and Tampa police have plenty of time to arrest good-hearted people who dare to serve food to the homeless, columnist Sue Carlton writes. Particularly when there's a big college football game packing the town. Except the truth — like the problem of homelessness at the root of all this — is more complex. She explains why.
• Even more shows were announced this week. Sheryl Crow, Bill Maher, Big Sean, Explosions in the Sky and more are coming to the Tampa Bay area in coming months. Details can be found on our Soundcheck music blog..
• Here are the top things to do today in Tampa Bay including punk legend Henry Rollins performing spoken word in Clearwater and Cirque Dreams Jungle Fantasy on stage.