• The morning starts off cool with temperatures around 50 degrees, but it will warm into the 70s with sunny skies by the afternoon, according to 10Weather WTSP. Then a front will bring in cooler weather through the weekend.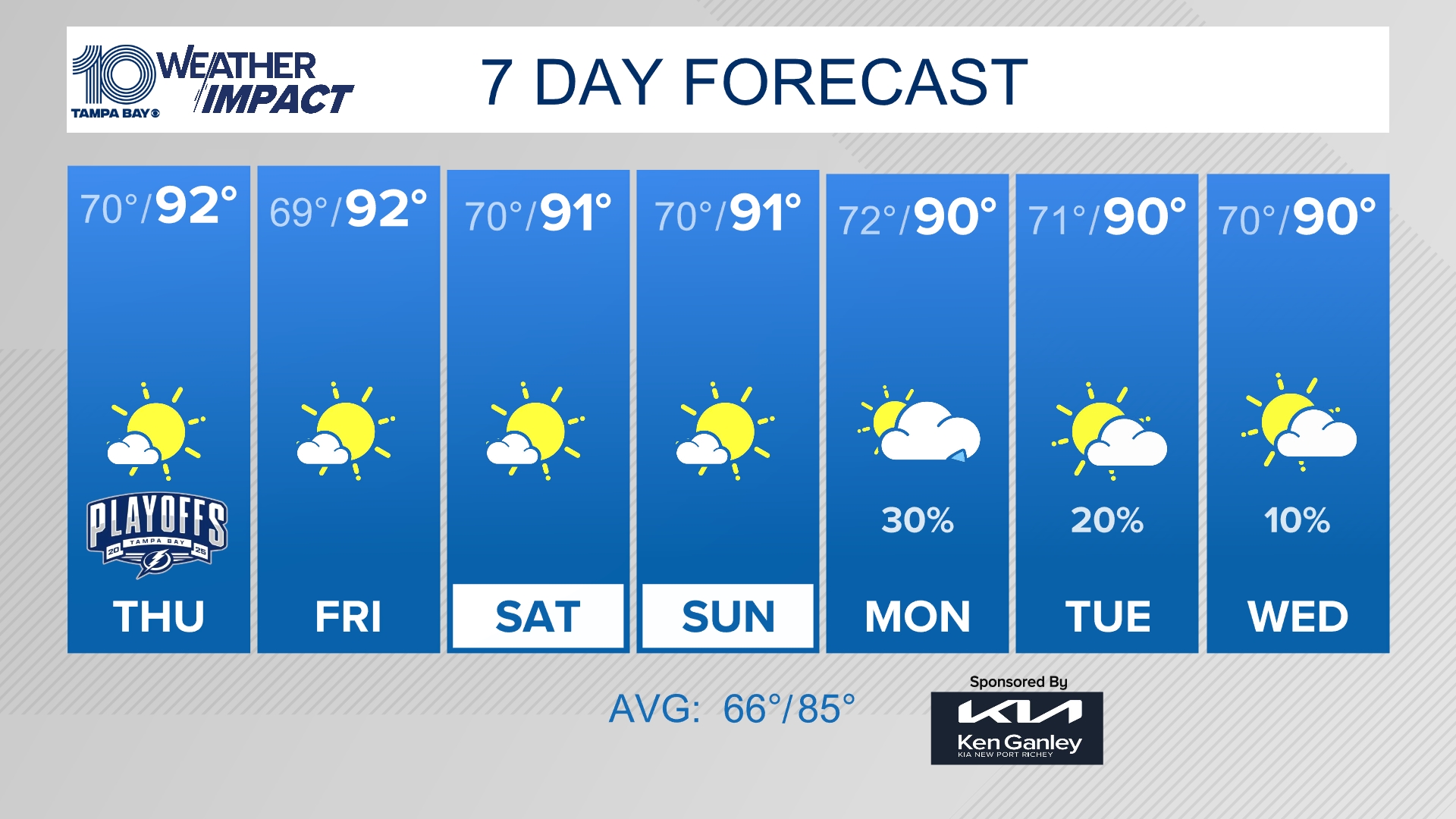 10News WTSP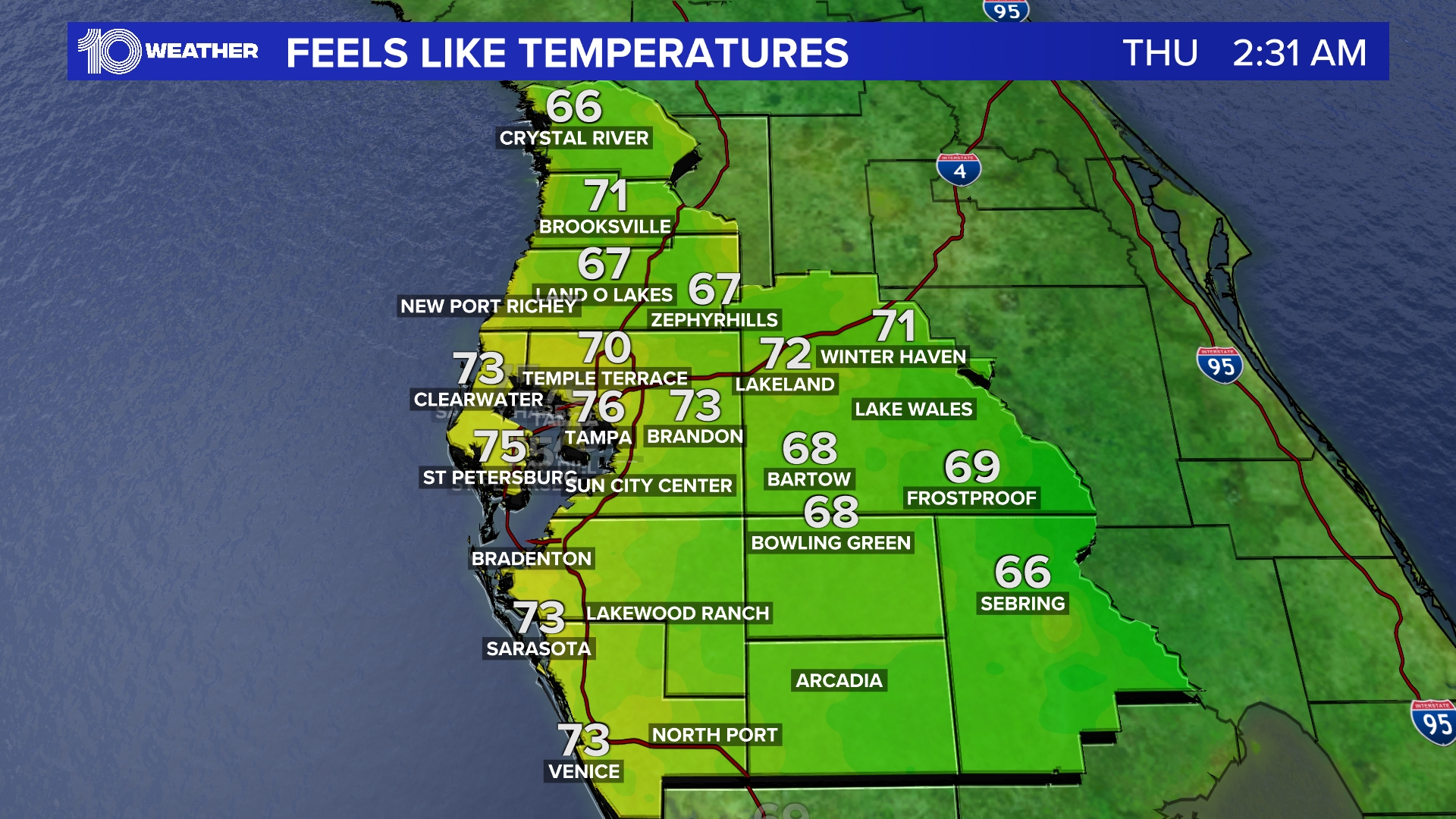 10News WTSP
• As you head out for your morning commute, check out our live blog for the latest traffic updates and road conditions across Tampa Bay.
• J.S.G. Boggs was kicked out of Brandon High School in the 11th grade but went on to become an artist of international acclaim, a merry prankster with a flair for publicity and an iconoclast whose disturbingly precise drawings of cash stirred up legal trouble on three continents. Mr. Boggs was born James Stephen George Boggs but was better known as J.S.G. Boggs and often just as "Boggs." His art was all about money. He was found dead Sunday at the Howard Johnson Hotel near Tampa International Airport. He was 62.
• Today begins the five-day run of the Ringling Bros. and Barnum & Bailey Circus, performing in Tampa for the last time ever before the 146-year-old institution shuts the tent flaps for good in May. Read here about what to expect in this last show, called Circus Xtreme, and why the performers feel the weight of history.
• President Donald Trump will order the construction today of a Mexican border wall — the first in a series of actions this week to crack down on immigrants, including slashing the number of refugees who can resettle in the United States and blocking Syrians and others from "terror-prone" nations from entering, at least temporarily.
• The Pinellas County Commission has joined the chorus of officials calling for the Pinellas County Construction Licensing Board to be reformed. But the commission also believes that the agency should be brought under the control of county government. Read the latest story by Mark Puente and read the Tampa Bay Times special report on the problems with the agency.
• It was only last November when Florida voters overwhelmingly approved legalizing access to medical marijuana for those suffering from debilitating illnesses. Today, lawmakers in the Florida House will discuss how to provide that access during a 9 a.m. health subcommittee hearing in Tallahassee. Check out what they decide at tampabay.com.
• Get a preview of Times food critic Laura Reiley's Top 50 Restaurants of Tampa Bay for 2017, which goes live on tampabay.com on Thursday. This year, it's all about cheap eats, grabbing a quality meal in the $10 range.
• Slowly but surely, President Donald Trump is getting his Cabinet nominees through the Senate. But that hasn't stopped Democrats from trying to scuttle some, and today liberal groups are launching TV ads in Florida urging Sens. Marco Rubio and Bill Nelson to oppose Treasury pick Steven Mnuchin. The ad features a widow who says she was misled and foreclosed on by Mnuchin's bank. Times Washington Bureau Chief Alex Leary has the story this morning on The Buzz.
• The Tampa Armature Works, a key component to the Heights 43-acre mixed use redevelopment near Water Works Park, was already booking wedding receptions in anticipation of the building's grand opening in early 2017. Now it's forcing some couples to scramble for an alternate venue.
• Florida's economy is humming along — more or less — but Times Business Columnist Robert Trigaux looks at why a half dozen states have already slipped into recession.
• Experts on immigration will gather at Town 'N Country's Leto High School tonight to discuss U.S. policy that could affect young people known as "dreamers." The program includes U.S. Rep. Kathy Castor, Hillsborough School Board member Susan Valdes and Lydia Medrano of the League of United Latin American Citizens. The American Immigration Council estimates there are 1.8 million residents who, although lacking legal immigration status, were brought to the United States as young children.
• Wednesday is the grand opening for the long-awaited Florida Hospital Center Ice facility in Wesley Chapel. It's billed as "the largest hockey complex in the southeast United States" and is a focal point for Pasco County's sports tourism push. Look for our story later today at tampabay.com.
• The Lightning rallied for a 5-2 come-from-behind victory over the Blackhawks. It was Chicago's first regulation loss when leading after two periods in three seasons. For Tampa Bay (22-22-5), veteran Brian Boyle said this might have been its biggest game of the season. It snapped a three-game losing streak and is a sign the Lightning has plenty of fight left.
"It just shows what we have in here," Killorn s
• Pasco County commissioners agreed Tuesday to let the outdoor advertising industry step into the digital age along the county's federal and state highways, Pasco columnist C.T. Bowen writes. After nearly two years of public workshops and negotiations with billboard companies, commissioners voted unanimously to allow the firms to take down static billboards and replace them with high-tech digital light-emitting diode billboards that can rotate messages.
• From the Times editorial board: With two years left in Gov. Rick Scott's second term, the golden parachutes have opened. The leaders of the transportation and environmental regulation departments are leaving for well-connected private firms in Tallahassee. But Florida cannot afford to stall until 2019 on improving transportation and protecting the environment. These departments need strong leaders now. Read more at tampabay.com/opinion.
• On Thursday, we unleash our annual list of the Top 50 Restaurants of Tampa Bay, in which Tampa Bay Times food critic Laura Reiley helps you figure out where you'll be eating for the next few months. Here's what you can expect.
• Buddy Hall has had to replace his right foot three times in about three months, all because of his passion for pickleball. Fortunately, Hall doesn't have to shell out cash every time. The $3,500 foot attachment for his prosthetic right leg comes with a three-year warranty. A toned man of 58, Hall spends four to five mornings each week dashing about a pickleball court, where the stop-and-start action of the game puts a lot of stress on the carbon fiber foot. He thought pickleball — a combination of tennis, ping-pong and badminton — sounded kind of silly when friends first suggested he play.
• Ann Daniel Borgialli's store in downtown Brooksville, House of Passage, sells high-end used furniture — not the sort of merchandise usually associated with street fairs, Hernando columnist Dan DeWitt writes. So before Brooksville hosted the first Florida Blueberry Festival in 2012, she didn't expect much of a boost for her then-new business. Fortunately, she said, she was dead wrong. Not only has the festival weekend remained the best each year; it shows off her store to the out-of-town shoppers who sustain it.
• Music fans can find out what happened last night at the much buzzed-about rap duo Run the Jewels, who performed at Jannus Live. And our Soundcheck music blog also has the latest concert announcements including the lineup of '90s R&B hitmakers at the Spring Jam.
• Here are the top things to do today in Tampa Bay, including the Ringling circus and Broadway's Cabaret at Tampa's Straz Center.