It'll be warm, dry and a little breezy Wednesday, with temperatures in the mid- to upper-80s, according to 10Weather WTSP.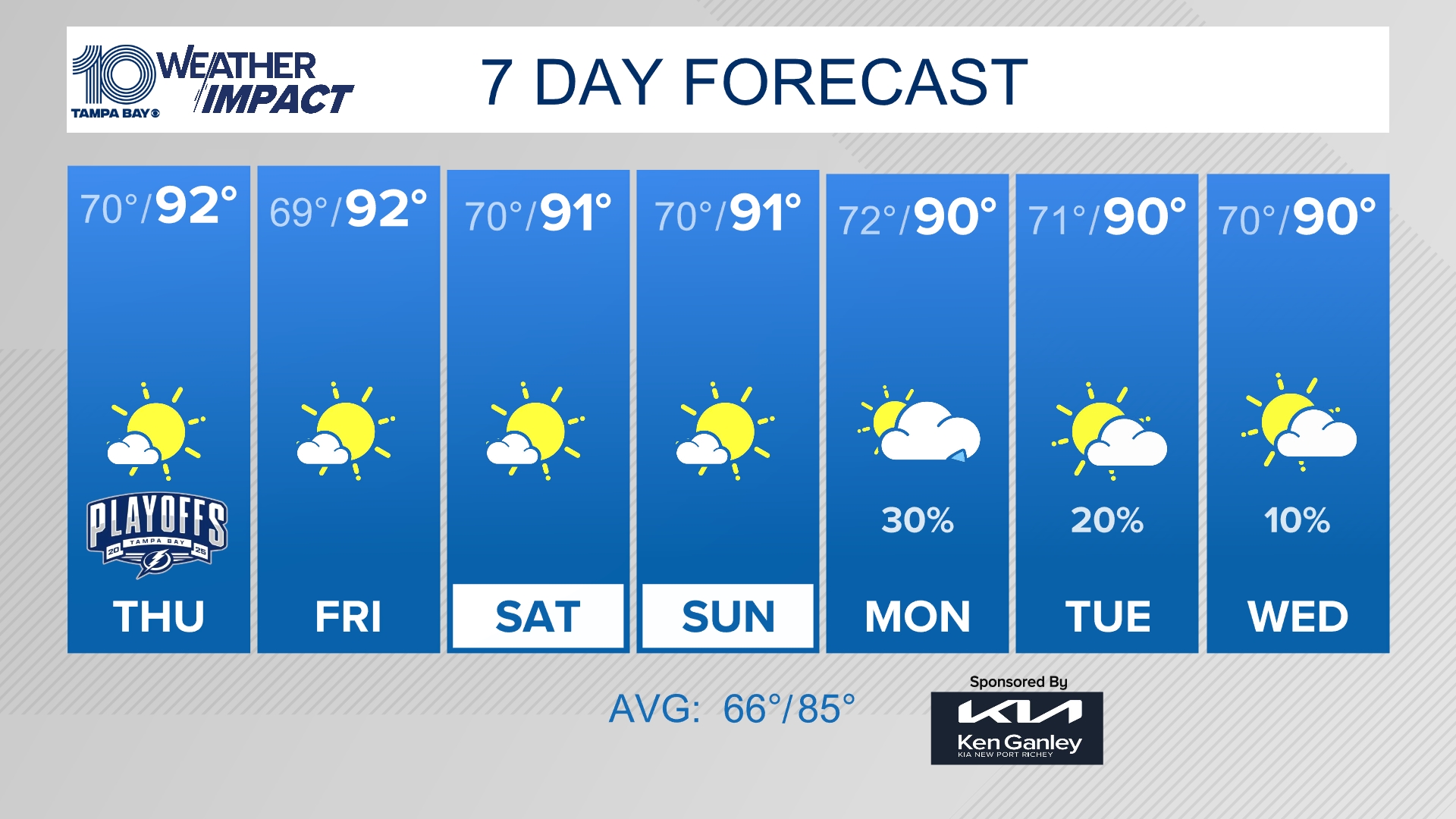 10News WTSP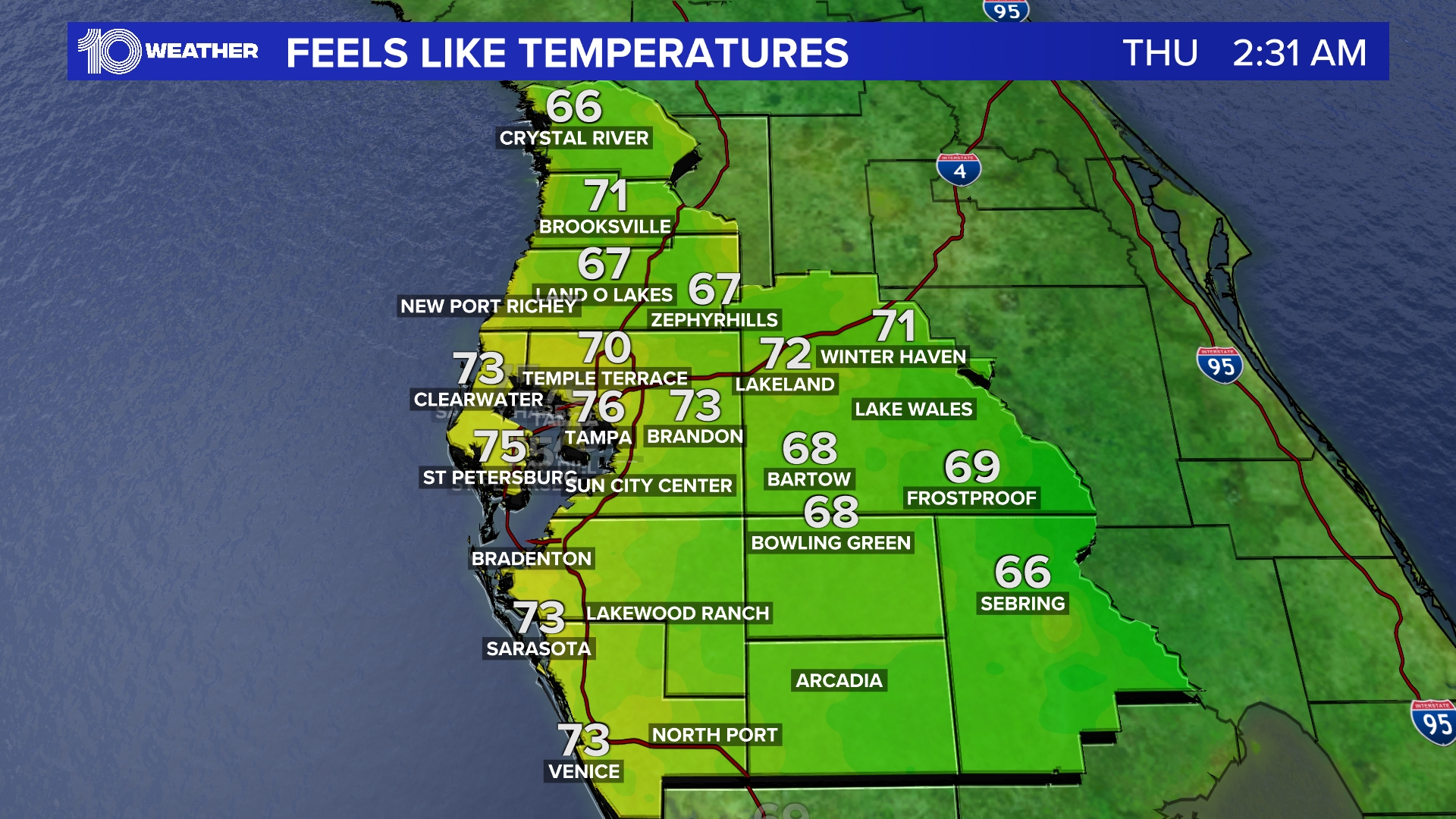 10News WTSP
• As you head out for your morning commute, check out our live blog for the latest traffic updates and road conditions across Tampa Bay.
• Donald Trump returns to Florida for a two-day, four-city swing with stops in Miami, Orlando, Pensacola and Jacksonville. Watch for coverage today on tampabay.com.
• Vice President Joe Biden travels to Tampa today to campaign for Hillary Clinton. Biden will hold an early-vote event at 11:15 a.m. at the Museum of Science & Industry, 4801 E Fowler Ave. People interested in going can RSVP here. For updates on the vice president's visit, follow Tampa Bay Times staff writer Anastasia Dawson.
• Two police officers in central Iowa are dead following what police are calling "ambush-style attacks," according to KWWL. The attack came in two parts. The first shooting occurred at 1:06 a.m. when an Urbandale officer responded to a report of shots fired. This officer was shot and killed while sitting alone in his patrol car, ABC reported. The shooting took place at the corner of 70th St. and Aurora Ave., KCCI reported. Stay with tampabay.comfor updates.
• The World Series is going to Game 7 tonight. The Cubs forced the deciding game, and took the excitement and any suspense out of Game 6, with a 9-3 victory that was pretty much decided by the third inning thanks primarily to shortstop Addison Russell, and his Series record-tying six RBIs, with an assist from the Indians.
• Meanwhile, Cubs manager Joe Maddon, formerly with the Rays, confirmed what many had already figured: He said the Rays could have gone on a dynastic run similar to late-90s Yankees had the team not been broken up for financial reasons.
• The Lightning topped the Islanders 6-1, drawing boos from the disgruntled crowd at the Barclays Center. The victory salvaged a split of a six-game, 12-day road trip for the Lightning, and could be a galvanizing moment for a Stanley Cup contender that had underachieved so far.
• A longtime researcher who retracted 19 articles from the Journal of Biological Chemistry last month has parted ways with Moffitt Cancer Center, the center confirmed Tuesday. Dr. Jin Cheng asked to have his work withdrawn after an investigation found he used the same images to represent different experimental conditions, the journal's deputy editor Fred Guengerich said.
• A Pasco attorney caught on camera altering official court records has been criminally charged with foreclosure fraud. Read the full story, which broke late Tuesday, this morning here.
• With the squeezing of the middle class, many boat owners haven't been able to buy new boats or any boat at all. But Clearwater's MarineMax, the largest boating retailer, is still seeing solid sales because the wealthy are buying boats at a fast clip — and they want all the bells and whistles, business columnist Robert Trigaux writes.
• A left-leaning political advocacy group is accusing state Rep. Dana Young of benefiting from the oil drilling and fracking industry while voting for legislation that would encourage drilling and fracking in Florida. The organization, Florida Strong, says Young, a Republican from Tampa, has become wealthy while in the Legislature from the proceeds of her husband's investment firm, which has had stakes in companies that profit from the oil industry.
• More than 100 emails and phone calls poured in after September's Floridian story about 16-year-old Adán Martinez and the viola that changed his life. He had been busking to make payments on the instrument he named Lamar and had more than $1,200 to go. But within a week, readers calling Violin Shop Tampa had paid off his tab. They didn't stop there. Check out John Pendygraft's update.
• In our ramp-up to the Times Festival of Reading on Nov. 12 we have a look at some of the authors coming for the free festival including Laura Coffey, the author of the bestseller My Old Dog: Rescued Pets With Remarkable Second Acts.
• We also have an excerpt today here.
• From her perch at the top of the food celebrity heap, Ina Garten — better known as the Barefoot Contessa in her bestselling cookbooks and Food Network shows — comes to the Straz Center in Tampa tonight to dish out details of her life. Read our interview with the chef where she talked about her cooking and her newest book and why she thinks millennials are bringing cooking back.
• Here are the top things to do today in Tampa Bay including music icon Stevie Nicks in Tampa and a dare devil competition of nearly 80 wingsuit-clad skydivers jumping from planes and flying through the sky like winged squirrels.